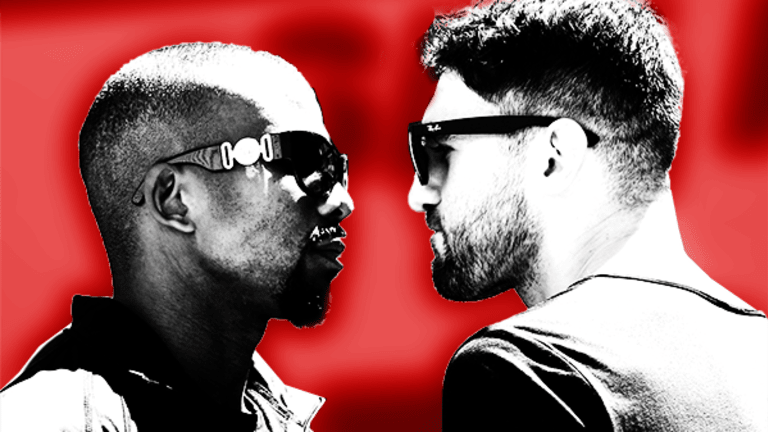 Mayweather-McGregor Will Be All About Promoting Showtime
For $99, fans can watch the Mayweather-McGregor fight, and expect to see a lot of promotional advertisements for Showtime's direct-to-consumer service.
CBS Corp.'s (CBS)  Showtime will broadcast the Floyd Mayweather-Conor McGregor fight on Saturday, Aug. 26, as a pay-per-view event, and announcers Mauro Ranallo and Al Bernstein will aim to convince viewers that they made the right decision by spending $99 to watch the festivities in high-definition TV.
Already, assorted pundits and the fight's promoters are projecting record sales and viewers. More than 4.4 million people paid a similar amount in May 2015 to see Mayweather defeat spirited Filipino Manny Pacquiao in a contest that could charitably be called decent if not downright frustrating. Revenue for that event generated nearly $600 million, ESPN reported. Mayweather won a unanimous decision.
The Mayweather-McGregor fight could generate $700 million in worldwide revenue, Deadline Hollywood reported Wednesday.
But CBS CEO Leslie Moonves isn't just thinking about the cash that his premium cable channel will get for airing this unusual boxing match with a mixed martial arts fighter (McGregor) and the pound-for-pound champion (Mayweather) emerging from retirement. He's betting that most of the people watching the fight didn't even realize that Showtime offers a standalone, digital service separate from a pay-TV contract that they can get for $10.99 per month.
For while the viewing audience Saturday evening will witness a heavily hyped boxing match between two ostensibly talented fighters from the T-Mobile Arena in Las Vegas, they'll also be watching a fair amount of promotional advertisements for Showtime, the company's direct-to-consumer service. 
In a little over two years, Showtime has attracted more than 2 million subscribers to its standalone service. CBS launched it in July 2015, four months after Time Warner Inc. (TWX) rolled out its HBO Now platform in an effort to generate revenue and cut into Netflix Inc.'s (NFLX) domination of the video-on-demand market.
For CBS, the Mayweather-McGregor fight is a chance to advance the company's video subscriber goals, which have come to seem rather modest, of surpassing 8 million total subscribers by 2020 on Showtime and CBS All Access. Earlier this month, CBS COO Joseph Ianniello admitted that such a target was indeed "conservative." CBS All Access, its platform for current and past network TV shows, and Showtime are on pace to attract more than 4 million total subscription-based video-on-demand subscribers by the end of the year.
Those looking to access the fight on their mobile devices will be required to download a specially created Showtime PPV app. (It will also be accessible through pay-TV.) The PPV app is separate from the Showtime Anytime app used by pay-TV subscriber to access the network. It's also separate from the app for the Showtime standalone service.
In other words, those wishing to watch the fight digitally will be asked to download a Showtime app that offer its users a special free trial of the Showtime standalone service as well as CBS All Access. Showtime also is making additional content available on the Showtime PPV app leading up to the fight.
The idea here is to sell subscriptions to millions of people who might not even be aware of Showtime's programming, such as the recent return of "Twin Peaks" or the option of subscribing to the network outside of a pay-TV contract.
Additionally, the need for a separate app for the fight stems from the one-off nature of a pay-per-view event. Distribution issues along with carefully dividing the proceeds among a host of players make a separate app essential.
At the top of the list of those getting a cut is Mayweather Promotions, the fight's promoter. Mayweather, 40, has assembled one of the most successful careers in boxing. A 12-time world champion in five different weight classes, he also has proven to be a wily businessman. His fight with Pacquiao earned him $235 million, according to ESPN. Pacquiao earned roughly $150 million.
Then there's the Ultimate Fighting Championship, which isn't an official promoter but is certainly getting a cut of the proceeds. McGregor, who in effect is an employee of UFC, will be paid by the mixed martial arts organization, also based in Las Vegas. Nonetheless, McGregor has also launched his own sports entertainment company to promote the event separate from UFC.
The most outstanding element of this fight for media companies is that it stands to be the most widely distributed pay-per-view event ever. While Mayweather Promotions and CBS have sold the event to the usual long list of pay-TV providers in the U.S. and around the world, digital distribution is likely to give it a much wider reach. The fight also will be available through UFC.tv.
Of course, when it comes to subscription video-on-demand, it's still a Netflix world. Bernstein Research media analyst Todd Juenger reminded industry watchers that during the second quarter, Netflix added a net of 5.2 million paying subscribers, more than HBO, Showtime, Starz and CBS All Access "have accumulated in their lifetimes."
The Mayweather-McGregor fight is one step in a long process.  
More of What's Trending on TheStreet: