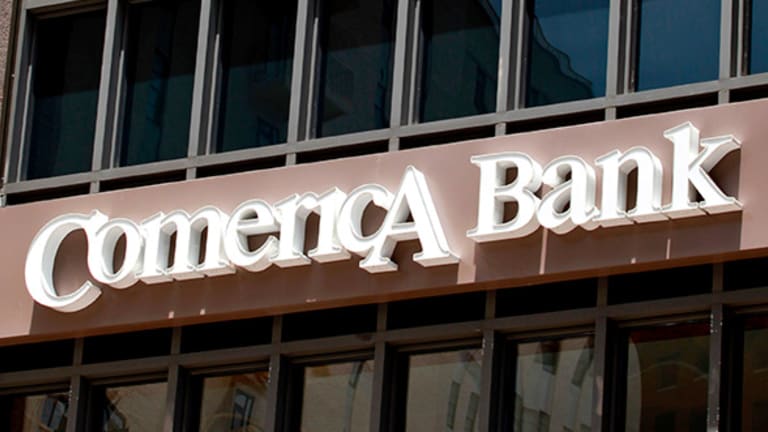 Mayo's Comerica Rant Puts Critical Focus on Soviet-Era Board Members
Comerica hasn't had a new board member for eight years -- drawing criticism from CLSA analyst Mike Mayo amid growing investor concern that America's corporate boards are becoming stale.
When Alfred Piergallini joined lender Comerica's (CMA) - Get Comerica Incorporated Report board of directors, the year was 1991. The Soviet Union was collapsing, Arkansas Gov. Bill Clinton was just starting a run for president, and Prince played the MTV Video Music Awards in a cheekless suit made of paisley yellow netting. 
A lot has changed since then. And, for corporate-governance firebrand Mike Mayo, Piergallini's continuing tenure as a Comerica director is a symbol of how the Dallas-based bank has failed to keep up with the times.
Mayo, an analyst at brokerage firm CLSA who famously tangled with Citigroup's board during the 2000s, says Comerica's poor performance warrants a board shakeup, management changes, a new strategy, a sale of the entire bank, or all of the above. The matter is especially urgent, he argues, now that oil prices have tumbled to around $40 a barrel, swelling loan defaults in the lender's home state of Texas.
While Comerica argues that long-serving directors bring deep knowledge of the company and perspective on the vagaries of economic cycles, Mayo says the board has simply become stale. The bank's directors have served an average of 12 years, or 50% higher than the average for U.S. companies. And no new directors have been appointed in eight years -- a yellow flag given at least two recent studies showing stock prices suffer when boards don't get fresh blood.
"Six of the nine directors have been there for at least 10 years," says Mayo, who plans to travel to Dallas from New York to speak at Comerica's annual shareholder on Tuesday. "This is about as disgruntled of a shareholder base as I've seen among major banks this decade."
Mayo's complaints come amid a growing investor crackdown on so-called entrenched boards, characterized by long-tenured and aging directors. The focus is partly a result of people living and working longer; given a choice, many board members simply hang on to the lucrative part-time gig. 
The California Public Employees' Retirement System, or CalPERS, the largest state pension fund at $297 billion, adopted a provision in March calling for companies to evaluate whether directors have lost their independence once they've served more than 12 years. Starting in 2017, the $1.1 trillion firm Legal & General Investment Managementplans to vote against a board's nominating-committee chairman if no new directors have been added within five years.
And the National Association of Corporate Directors this month created a 29-person commission to study "board refreshment" -- the polite term used by industry professionals to describe the art of clearing out deadwood.
"It's a hotly discussed topic," said Ric Marshall, executive director for MSCI Inc.'s ESG Research Team, which advises investors on environmental, social and governance factors. "A lot of institutional investors are looking at the idea of board refreshment, whether some of these boards are entrenched, and if that's a negative and contributes to problems."
In 2014, UK regulators went so far as to require companies to justify directors' status as independent if they've served for more than nine years. If that test were applied to Comerica, only four of nine would qualify as independent, versus the eight-member majority the company claims now.
According to one paper published in the Harvard Business Review in 2014, Standard & Poor's 500 companies with no board turnover for three years underperformed peers in the stock market during the following three years by an average 1.85 percentage points.
Another analysis, by MSCI's Marshall, found that stocks with entrenched boards returned 7 percentage points less over five years than those without them. 
Comerica has returned an average 5.5% over the past five years, compared with 11% for all regional banks, according to Morningstar. Last week, the bank said first-quarter net income tumbled 45% from a year earlier, as bad loans more than doubled. Ralph Babb, who has served as chief executive officer for 14 years, told investors on a conference call that Comerica had hired Boston Consulting Group to look for ways to cut costs and boost revenue.
Wayne Mielke, a spokesman for the bank, wrote in an e-mail that the company "regularly assesses and reviews the skills and mix of expertise to ensure that they continue to provide a competitive advantage."
"We believe it is important for boards to refresh themselves periodically, just as we did in the midst of the financial crisis," he wrote. Comerica added three board members in 2008, including former AT&T CFO Richard Lindner, who now serves as lead independent director. Mielke declined to make Piergallini, Lindner or Babb available for an interview.
According to Comerica's 2016 shareholder letter, mailed on March 16, the 69-year-old Piergallini was CEO of baby-food maker Gerber in the 1990s. He later served as CEO of Wisconsin Cheese Group, a maker of Mexican-style "fresco" cheese under the brand names "El Viajero" (the traveler) and "La Morenita" (the little brown-skinned woman). He's now a consultant with Desert Trail Consulting, a marketing organization.
"As a senior executive with experience in general management, marketing, sales and branding, as well as experience in several of our key markets, Mr. Piergallini contributes valuable insight to the board," the shareholder letter reads. Last year, he earned $157,703 in fees and stock awards.
Like most corporations, Comerica has no explicit term limits for directors. It does have a mandatory retirement age of 72, but Piergallini, the oldest member of the board, is still three years away. In fact, Comerica's board is relatively young, with an average age of 60, compared with 62.9 for all U.S. companies. CEO Babb is 67.
Most big investor-advisory firms, including Institutional Shareholder Services and Glass Lewis, oppose such caps anyway, arguing they're arbitrary and ignore the reality that some older or longtime directors can be very good.
That said, many companies keep age limits because they're a convenient and face-saving way of bidding adieu to directors who have overstayed their welcome; about 73% of Standard & Poor's 500 companies have mandatory retirement ages, ranging from 72 to 80, according to the headhunter firm Spencer Stuart.
Nell Minow, vice chair of corporate governance for ValueEdge Advisors, which advises shareholders on such issues, recalls one board member confiding that age limits were the only way to get rid of a fellow director with a drinking problem.
Age limits "absolve them of having to make the difficult decisions and having the difficult discussions," Minow said. "This is why we pay them the big bucks, to not get squeamish when it's time to say, 'Thank you very much, we need to go in a different direction now.'"
One reason investors like CalPERS are looking so hard at the number of years served by directors like Piergallini is that it's so hard for anyone not in the boardroom to know who's contributing, and how much.
"It's really hard to judge that from the outside," said Peter Gleason, president of the National Association of Corporate Directors. "The business environment now is very different from the environment 10 years ago."