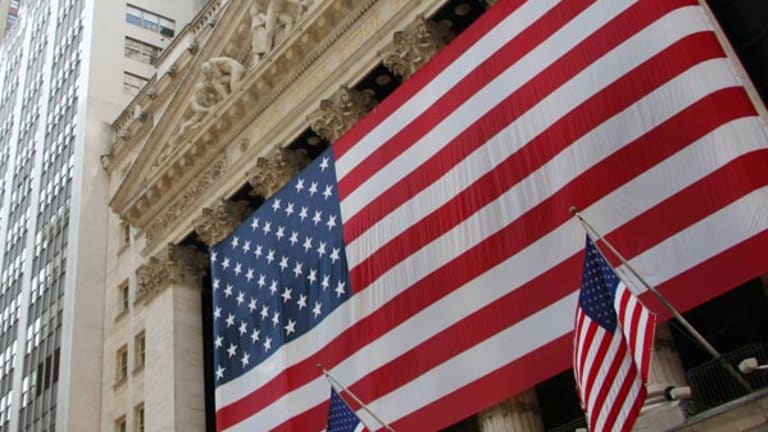 May 29 Premarket Briefing: 10 Things You Should Know
U.S. stock futures are tipping into negative territory as investors think over GDP numbers that show a shrinking U.S. economy.
Updated from 6:58 a.m.
NEW YORK (TheStreet) -- Here are 10 things you should know for Friday, May 29:
1. -- U.S. stock futures were tipping into negative territory as investors think over GDP numbers that show a shrinking U.S. economy.
European stocks slid backward Friday, gripped by pessimism about the chances of a resolution of the Greek debt crisis. Meanwhile, Switzerland unexpectedly announced that its economy shrank.
Asian stocks were mixed, as Tokyo's Nikkei 225 closed up for the eleventh straight day. In China, the sudden volatility of the last few days has continued. The Shanghai Composite fell slightly after Thursday's dramatic 6.2% plunge. In Hong Kong, the Hang Seng sank too.
2. -- The economic calendar in the U.S. on Friday includes Gross Domestic Product numbers at 8:30 a.m., the the Bureau of Economic Analysis' corporate profits data at 8:30 a.m., Chicago Purchasing Manager Index numbers at 9:45 a.m., and the University of Michigan's Consumer Survey Center data on consumer sentiment at 10 a.m.
3. -- U.S. stocks on Thursday closed slightly lower after bigger drops during the day.
The Dow Jones Industrial Average (DIA) - Get Report dipped 0.2% to 18,126.12. The S&P 500 (SPY) - Get Report closed off 0.13% to 2,120.79. The Nasdaq (QQQ) - Get Report sank 0.17% to 5,097.98.
4. -- U.S. first-quarter Gross Domestic Product fell at a 0.7% rate. The general expectation was that the GDP numbers would show that the economy shrank, so the results are not a shock.
Bad weather, a beaten-down oil sector and a strong dollar all appear to have hurt the economy. The consensus estimate was that the economy contracted at a 0.8% annual rate in the quarter, so the results are slightly better than expected. 
Still, outside of the first quarter, economic signals overall are not too bad, and not very bubbly either.
5. -- Investors are sorting out the details of Thursday's announced buyout byAvago Technologies (AVGO) - Get Report of fellow chipmaker Broadcom (BRCM) . The $37 billion deal will likely have large repercussions in the semiconductor industry, which has already seen a large wave of mergers. The new company will be called Broadcom and will be headquartered in Singapore.
In premarket trading, Avago was rising by 1.03%, while Broadcom was rising by 0.3%.
6. -- In another deal for chipmakers, Intel (INTC) - Get Report is reported to be close to making a deal to buyAltera (ALTR) - Get Report. Further details -- or a denial -- are likely forthcoming Friday or over the weekend.
In premarket trading, Altera stock was jumping by 5.92%, and Intel stock was rising by 0.41%.
7. -- U.S. data center operator Equinix (EQIX) - Get Reporthas made a deal to buy U.K. rival Telecity (TLEIY) for £2.35 billion ($3.60 billion). The companies rent data storage capacity to other companies in bulk. The combined company will form Europe's largest data center business.
In premarket trading, Equinix was sinking by 0.44%.
8. -- JPMorgan Chase (JPM) - Get Reportis expected to cut back -- reducing expenses, selling some businesses and laying off thousands of employees. The bank --the largest in the U.S. -- could cut up to 5,000 jobs, according to The Wall Street Journal. The company will be shifting more toward Internet and mobile banking, the report said. JPMorgan currently has 5,570 branches and more than 240,000 employees.
In premarket trading, JPMorgan was rising by 0.06%.
9. -- The U.S. Federal Trade Commission is cracking down on drug companies who pay other drugmakers to delay releasing generic versions of drugs. Teva Pharmaceuticals (TEVA) - Get Report will be forced to reimburse $1.2 billion in costs to insurers, pharmacies and others who bought its Provigil drug at full price after Teva paid companies to hold back on releasing a generic rival. Israel-based Teva has already settled hundreds of millions of dollars worth of consumer claims over pricing of the drug.
Provigil was made by Cephalon, a company Teva acquired in 2011 for $6.8 billion. The settlements drive up the price of the acquisition after the fact.
Drugs have a 20-year patent after they are created.
In premarket trading, Teva's ADRs were falling by 0.07%.
10. -- Oil prices were increasing. U.S. production has tapered and the U.S. dollar has weakened somewhat, boosting prices. U.S. West Texas Intermediate crude oil was above $58 a barrel, and Brent crude oil was over $63 a barrel. OPEC has a meeting on June 5; the results could affect markets strongly.