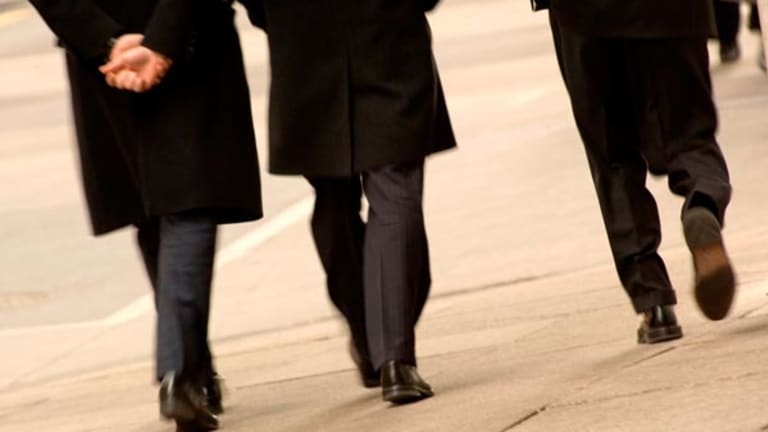 May 28 Premarket Briefing: 10 Things You Should Know
U.S. stock futures are sinking slightly as investors ready for unemployment numbers and pending home sales data. Chipmaker Avago Technologies is buying Broadcom for $37 billion.
Updated from 6:59 a.m.
NEW YORK (TheStreet) -- Here are 10 things you should know for Thursday, May 28:
1. -- U.S. stock futures were sinking slightly as investors readied for unemployment numbers and pending home sales data.
European stocks were mixed to lower on Thursday as the U.K. left its first-quarter GDP growth estimate unchanged and worries over Greece continued ahead of next week's loan payment deadline. On a brighter note, strong corporate results pushed several stocks higher across the region.
Asian stocks were mixed, as the Hang Seng was down in Hong Kong but the Nikkei rose in Tokyo. In Hong Kong, Hanergy Thin Film Power was suspended from trading, as the Securities & Futures Commission announced an investigation into the company, whose shares inexplicably plunged more than 50% in a single day last week. The company has yet to say anything publicly about it.
2. -- The economic calendar in the U.S. on Thursday includes initial jobless claims data at 8:30 a.m., pending home sales data at 10 a.m., and the Energy Information Administration Petroleum Status Report at 11 a.m.
3. -- U.S. stocks on Wednesday snapped back with the biggest gains in two weeks.
The Dow Jones Industrial Average (DIA) went up 0.67% to 18,162.99. The S&P 500 (SPY) jumped 0.92% to 2,123.48. The Nasdaq (QQQ) soared 1.47% to 5,106.59.
4. -- Chipmaker Avago Technologies (AVGO) is buyingBroadcom undefined for $37 billion, the companies confirmed in a press release. The deal is the biggest yet in the semiconductor field. The new company will be worth $77 billion in enterprise value. Broadcom stock was up 21.8% and Avago stock rose 7.8% on Wednesday over speculation about a sale. The deal marks yet another contraction in the semiconductor field. Avago reports earnings after the closing bell Thursday.
Broadcom stock was down 0.9% in premarket trading on the news. Avago was rising by 3.5%.
5. -- Amazon (AMZN) will offer free same-day delivery to 14 U.S. cities via its Amazon Prime membership, the company announced. The Prime delivery service had previously provided free two-day shipping. Not everything will be available for delivery immediately, and orders will need to be placed before noon. Prime memberships cost $99 a year and include video streaming and some other benefits.
In premarket trading, Amazon stock was down 0.29%.
6. -- Jobless claims numbers for last week clocked in at 282,000, according to the U.S. Department of Labor. That is higher than estimates from economists at Econoday, who predicted that about 270,000 new jobless claims were filed last week. In the prior report, 274,000 new unemployment claims were recorded.
In recent weeks, both new unemployment claims and continuing claims have been at 15-year lows, signalling a strengthening economy. The higher unemployment figures this week remain below 300,000, but are less encouraging than they've been lately.
7. -- CA Technologies (CA) is buyingRally Software (RALY) for $480 million, the companies announced. The deal will help CA expand its project management software in the cloud. Rally focuses on so-called agile development environments, in which software developers work together to build software fast.
In premarket trading, CA stock was level but Rally stock was up a whopping 43.8%.
8. -- In the aftermath of Wednesday's Internal Revenue Service announcement of a major data breach, some experts in security and taxes said that the hacks marked the beginning of a new era of personalized data theft. The information from the data breach isn't only valuable to create fake tax returns, but also can be resold on the black market.
The IRS announced a data breach through which hackers obtained prior tax returns for more than 100,000 people. Through the scheme, fraudsters used already-obtained Social Security numbers and other personal information to look up past returns, and then used the information in those to file new, fraudulent returns and gain large refunds. The IRS paid out almost $50 million to the fraud perpetrators before it caught on.
The IRS is facing an influx of fake demands for refunds even as its budget has been cut 18% since 2010, adjusted for inflation.
9. -- McDonald's (MCD) said it is changing the way its iconic burgers are cooked. The company will toast its buns longer and change how its burgers are seared in an attempt to improve flavor, warmth and juiciness. The move is part of a larger overhaul at the company designed to lure back customers and improve profits.
In premarket trading, McDonald's stock was down 0.97%.
10. -- The earnings calendar for Thursday includes Abercrombie & Fitch (ANF) and Express (EXPR) before the opening bell and Avago Technologies (AVGO) , GameStop (GME) and Splunk (SPLK) after the closing bell.