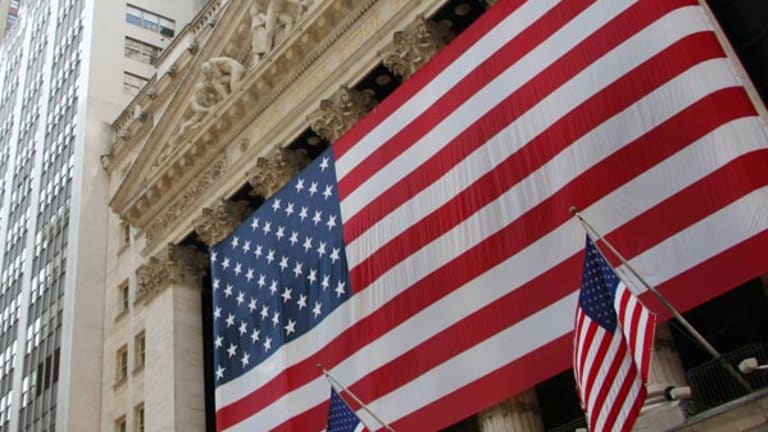 May 26 Premarket Briefing: 10 Things You Should Know
U.S. stock futures are drifting downward as investors return from a long Memorial Day break.
Updated from 7:13 a.m.
NEW YORK (TheStreet) -- Here are 10 things you should know for Tuesday May 26:
1. -- U.S. stock futures were drifting downward as investors return from a long Memorial Day break.
European stocks fell, as continued worries about a Greek debt default weighed on European markets. Stocks reacted to progress made by challenger parties in elections in Spain and Poland.
Asian stocks rose. Chinese indices continued to benefit from enthusiasm generated by a government announcement on Monday that it will seek private capital for a $300 billion infrastructure program, and by news of a reciprocal easing of retail investment restrictions in Hong Kong and mainland China. Hong Kong's Hang Seng and the Shanghai Composite Index rose, as did Japan's Nikkei 225 and Topix.
2. -- The economic calendar in the U.S. on Tuesday includes durable goods orders at 8:30 a.m., the FHFA House Price Index at 9 a.m., the S&P Case-Shiller house price index at 9 a.m., the Purchasing Managers' Index U.S. Services Flash Index at 9:45 a.m., and new home sales data at 10 a.m.
3. -- U.S. stocks on Friday closed without huge changes before the long Memorial Day weekend.
The Dow Jones Industrial Average (DIA) dropped 0.29% to 18,232.02. The S&P 500 (SPY) closed down 0.22% to 2,126.06. The Nasdaq (QQQ) dipped 0.03% to 5,089.36.
4. -- Charter Communications (CHTR) is buyingTime Warner Cable (TWC) in a deal that values the acquired company at $78.7 billion. The massive deal will help Charter compete with Comcast (CMCSA) . More details about the buyout will be forthcoming; it will likely face antitrust scrutiny, which scuttled a merger between Time Warner Cable and Comcast this year.
In premarket trading, Charter stock was up 4.7%, and Time Warner Cable stock was up 8.8%.
5. -- Amazon (AMZN) will be shifting its tax policies in Europe, where it had run transactions through lower-tax countries instead of paying taxes in the countries in which sales took place. The move is likely designed to placate European authorities, who are cracking down on the tax treatment of tech companies.
In premarket trading, Amazon stock was dropping by 0.04%.
6. -- Media company CEOs are among the highest paid company heads, according to a study by the Associated Press and data company Equilar.
David Zaslav of pay-TV company
Discovery Communications
(DISCA)
earned the most -- more than $156.1 million in 2014, including all perks. Les Moonves of
CBS
(CBS)
ranked second at $54.4 million.
Viacom
(VIAB)
,
Walt Disney
(DIS)
,
Comcast
(CMCSA)
and
Time Warner
(TWX)
all paid their CEOs handsomely too.
7. -- Greece is committed to reforming its economy, its Finance Minister Yanis Varoufakis said in an article in an Italian newspaper, but it will not accept further austerity measures.  Greece owes €1.6 billion ($1.75 billion) in loan repayments to the International Monetary Fund next month.
8. -- The U.S. dollar is at a one-month high after Friday's strong inflation numbers and Federal Reserve Chair Janet Yellen's remarks that she expects the U.S. economy to improve. Economic data this week could further strengthen the dollar.
9. -- Brent crude oil prices have dropped to just above $65, and U.S. West Texas Intermediate crude prices have also fallen to the $59 range. Larger available supplies and the stronger dollar are exerting downward pressure on prices.
10. -- China is reducing import taxes in an attempt to boost growth. The move will affect clothing and other goods. China is trying to encourage consumption, which will in turn help its slowing economy.