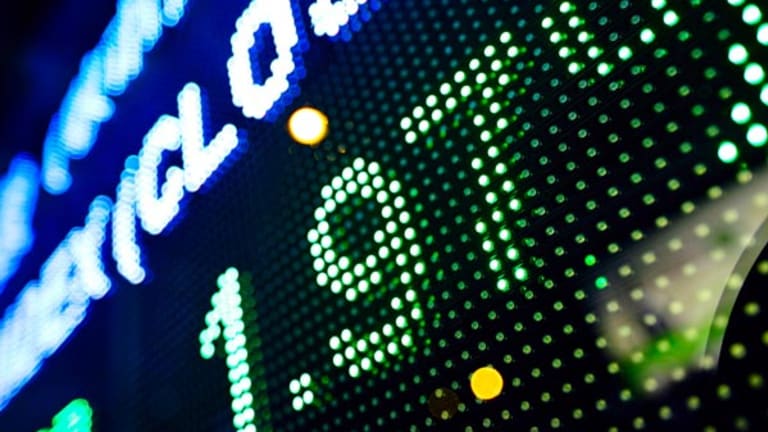 May 22 Premarket Briefing: 10 Things You Should Know
U.S. stock futures are sinking as investors wait to hear Federal Reserve Chair Janet Yellen speak Friday afternoon.
Updated from 7:15 a.m.
NEW YORK (TheStreet) -- Here are 10 things you should know for Friday, May 22:
1. -- U.S. stock futures are sinking as investors wait to hear Federal Reserve Chair Janet Yellen speak Friday afternoon.
European stocks slipped Friday after German Chancellor Angela Merkel met with Greek counterpart Alexis Tsipras, but put a damper on hopes of an early agreement on Greek debt. Markets are also cautious ahead of U.S. inflation figures expected later today. In London, cellphone operator Vodafone (VOD) - Get Free Report rose 4.6%, after strong results released earlier in the week continued to prompt merger speculation. Liberty Global's (LBTYA) - Get Free Report chairman John Malone has said Vodafone would be a "great fit" for his western European cable operations.
Asian stocks rose, as Tokyo's Nikkei 225 and Hong Kong's Hang Seng showed gains. China's Shanghai Composite was up nearly 3% after a strong week as the markets continue to hope for more stimulus from the government.
2. -- The economic calendar in the U.S. on Friday includes the consumer price index at 8:30 a.m. Federal Reserve Chair Janet Yellen speaks at 1 p.m.
3. -- U.S. stocks on Thursday closed with a new record for the S&P 500 after higher crude oil prices drove energy stocks higher.
The Dow Jones Industrial Average (DIA) - Get Free Report closed flat at 18,285.74. The S&P 500 (SPY) - Get Free Report rose 0.23% to 2,130.82. The Nasdaq (QQQ) - Get Free Report went up 0.38% to 5,090.79.
4. -- Janet Yellen, the Federal Reserve chair, will speak about the economic outlook on Friday in Providence, R.I. Yellen's every word is normally scrutinized by investors, who are hoping she will hint about when the Fed's interest rates will go up. If economic data is sufficiently strong, Yellen has said she will support raising interest rates. The latest Fed minutes were coy about the timing of the increase.
5. -- Canadian e-commerce and software company Shopify (SHOP) - Get Free Report saw its shares rise almost 50% above its initial public offering price on Thursday, its first day of trading. Shopify had already hiked the price of its shares before its debut, initially saying a share would sell for $12 to $14, then $14 to $16, and finally pricing them at $17 a share. The stock closed Thursday at $25.68.
Shopify now trades both on the New York Stock Exchange as SHOP and on the Toronto Stock Exchange as SH. The company provides software to help e-commerce companies manage their online stores and businesses, including accepting payments.
6. -- CVS Health (CVS) - Get Free Report is buying Omnicare (OCR) for $12.7 billion, the companies announced Thursday. Analysts and investors have been thinking over the move, which allows retail pharmacy CVS to expand its reach into nursing homes and assisted living facilities. The deal will allow CVS to sell more directly to senior citizens, a growing demographic as Baby Boomers age. Both companies' boards have approved the deal, but Omnicare shareholders will also need to accept it.
CVS stock rose 2.4% on Thursday and is rising 0.11% more in premarket trading. Omnicare stock rose 1.7% on Thursday and rose 0.77% in premarket trading.
7. -- Hong Kong markets have been roiled by a drop of $35 billion in market valuation in just two days from the vertiginous fall of three stocks.
Short-term financing company Goldin Financial Holdings and sister group Goldin Properties Holdings both plunged more than 40% on Thursday, though both companies said they were unaware of the reasons for the steep losses. And trading was suspended for  shares of solar gear maker Hanergy Thin Film Power after a 47% fall in just 24 minutes on Wednesday. The three companies are controlled by billionaire Li Hejun, who lost $15 billion from Hanergy's drop alone.
Hong Kong marketwatchers didn't see to have an explanation for the losses.
8. -- Not to be appeased with a Happy Meal, McDonald's (MCD) - Get Free Reportshareholders pushed back at the company's annual shareholder meeting in Oak Brook, Ill. Profit and revenue have fallen at the company, and new CEO Steve Easterbrook tried to placate shareholders with promises of returning $9 billion to them via dividends and stock buybacks. The meeting followed protests at the headquarters demanding that McDonald's increase its wages to $15 an hour at both company-owned stores (about 10% of stores) and franchises.
Despite McDonald's opposition, shareholders approved a plan to make it easier for investors to nominate directors for the company's board.
In premarket trading, McDonald's stock was down 0.28%.
9. -- Vanguard Natural Resources (VNR) will buyEagle Rock Energy Partnersundefined, the oil and gas companies announced Thursday. VNR will pay $474 million, plus $140 million in debt, to acquire Eagle Rock's operations in Oklahoma. 
In premarket trading, Eagle Rock stock shot up 15.9% after a rise of 2.1% Thursday. VNR stock was up 0.42% in premarket trading after jumping 3.4% on Thursday. 
10. -- The earnings calendar on Friday includes Ann (ANN) , Campbell Soup  (CPB) - Get Free Report, Deere  (DE) - Get Free Report and Foot Locker  (FL) - Get Free Report, all before the opening bell.