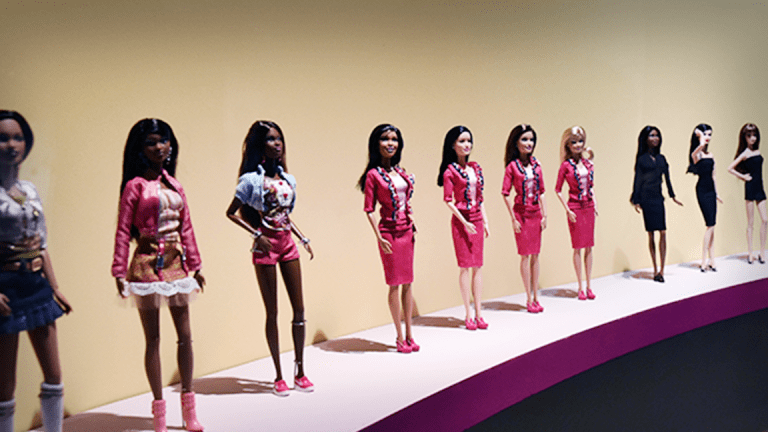 Mattel Suspends Dividends, Warns of Layoffs to Come
Toy maker wants to cut $650 million in costs over next two years.
Life in plastic is no longer so fantastic—at least not for Mattel, Inc. (MAT) - Get Report .
Late Thursday, the toy maker posted a 13% decline in sales in its third quarter, suspended its quarterly dividend of 15 cents a share, and announced plans to cut costs by $650 million over the next two years. Shares fell nearly 30 percent in  after-hours trading.
The company said there will be a "global reduction in headcount,"  and a fewer product offerings.
"We will go after gross margin, which is our largest opportunity, as we simplify by streamlining the number of product lines," Chief financial Officer Joseph Euteneuer said on a call with analysts. "The second largest bucket is SG&A."
The company will "rebalance our workforce," by reducing the number of leadership positions, consultants, and temporary labor spending. "These restructuring efforts will account for more than half of the SG&A reduction."
The recent bankruptcy filing of Toys'R'Us was a curveball for the Barbie and Hot Wheels brand, on top of weak demand across its signature lines. Net sales fell to $1.56 billion in the third quarter, below analyst projections of $1.81 billion. Earnings per share came in at 9 cents, compared with Wall Street predictions of 57 cents. 
Toys'R'Us accounted for 11% of Mattel's revenue in 2016. It owes Mattel $135.64 million in unsecured claims, a tiny fraction of the retailer's roughly $5 billion of debt.
Despite major cutbacks on spending, Mattel will invest $170 million between 2018 to 2020 in areas including toy development, emerging market investments, partnerships in China and e-commerce capabilities, the company said.
Even as Mattel struggles to get out of the woods, its competitor Hasbro (HAS) - Get Report reported strong earnings Monday, projecting that the Toys'R'Us bankruptcy will not affect its balance sheet past 2018.
Hasbro posted earnings of $2.09 per share in the third quarter, above Wall Street estimates of $1.94. It reported $269.6 million in profit and a revenue of $1.79 billion, citing the success of the My Little Pony toy line, as well as that of Magic: The Gathering and Marvel products.
More of What's Trending on TheStreet:
America's Love for Pumpkins by the Numbers: Video
Employees of TheStreet are restricted from owning individual stocks.