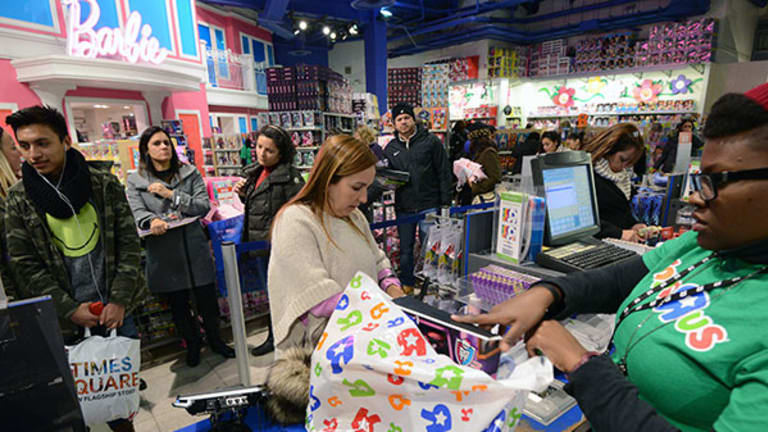 Mattel Brands Selling Fast at Toys 'R' Us on Black Friday
Toy brands by Mattel are selling fast at Toys 'R' Us this holiday season, while hit electronic games such as the Nintendo NES Classic Edition sold out before Black Friday.
On Black Friday, the amount of hot toys being sold by Mattel (MAT) - Get Mattel, Inc. Report  so far are slightly outpacing Hasbro (HAS) - Get Hasbro, Inc. Report  at Toys "R" Us.
Toys "R" Us Freehold, N.J., Store Manager Dean Sirinakis said the best-selling toys this holiday season have been Mattel's Fisher Price Think & Learn Code-a-Pillar and the company's Power Wheels products, while Barbie sales are doing only "OK."
He said sales of Hasbro's Trolls are doing well "because of the movie." DreamWorks Animation's (DWA) "Trolls" was released on Nov. 4.
Toys "R" Us in Freehold saw a peak in store traffic from 9 p.m. to 1 a.m. on Thanksgiving, Sirinakis said this morning. He expects traffic to pick up again later on Friday afternoon.
The store opened its doors on 5 p.m. on Thursday and will be open until 11 p.m. on Friday but discounts will be available until Sunday.
The NES Classic Edition by Nintendo (NTDOY) remains a top seller but Sirinakis said the store will not get another shipment of the game system until after Black Friday. He said Toys "R" Us received "plenty" of NES Classics but it was so popular it sold out immediately.
According to a survey by Adobe (ADBE) - Get Adobe Inc. Report  of website purchasing activity, the NES Classic was flagged as at high risk of being out of stock. As of early this morning, however, out of stock notifications were only running at 6.4%, compared to 11%, reported at the same time last year.
On Amazon (AMZN) - Get Amazon.com, Inc. Report , the NES Classic is listed for $245.50, a steep increase from the Toys "R" Us store price of $59.99.
Adobe said some of the highest out-of-stock risk toys include interactive stuffed Hatchimals and Cozmo by Anki, both of which have been selling fast at Toys "R" Us, according to Sirinakis.
Although Toys "R" Us shopper Natalie Ciarocco, searching for toys for her young nieces and nephews on Friday morning, said going to the stores on Black Friday is "fun," she usually finds it easier to buy electronics online because they disappear off the shelves so quickly.
Thanksgiving Day is estimated to have brought in about $2 billion in online revenue in the U.S., a 15.6% increase from last year. A record $820 million is expected to be generated from mobile devices alone, Adobe said in its survey. The analysis is based on 55 million product SKUs and aggregated and anonymous data of more than one trillion visits to 4,500 retail websites.
Jill DeVito, who was shopping at Toys "R" Us for her young children, said she does not expect to ever stop coming to the stores on Black Friday but thinks online purchasing can be more convenient for certain popular toys.
"I think online can be easier because I know if it's available immediately," DeVito said.
Shopper Jennifer Alexander said she searches for deals both online and in stores to see which have the better discounts.
When purchasing online, she finds the best deals on Amazon. "They're really good," Alexander said.
Alexander was shopping for her niece this year in the Barbie aisle. She said she does not pay much attention to Mattel's new branding of Barbie with plus size, curvy, petite and tall body shapes as she has a 7-year-old son.
"I just want to find one that's not naked," Alexander said jokingly.
Shares of Mattel and Hasbro both rose by under $1 early Friday afternoon.
(Amazon.com is held in the Growth Seeker portfolio. Adobe Systems is held in Jim Cramer's Action Alerts PLUS portfolio. See all of the holdings with a free trial.)