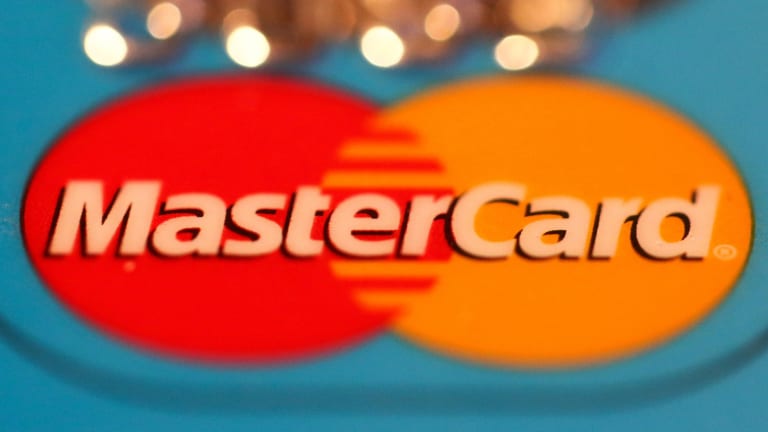 Publish date:
MasterCard's Strong Growth Can Only Be Slowed by External Forces
MasterCard's strategic direction seems to be paying off as the company reported strong earnings and revenue numbers. The only risks that can slow its growth are out of its hands.
MasterCard's strategic direction seems to be paying off as the company reported strong earnings and revenue numbers. The only risks that can slow its growth are out of its hands.
MasterCard's (MA) - Get Report  double-digit profit and revenue growth show that CEO Ajay Banga's strategy to expand its digital footprint, strengthen its global presence and foster synergistic partnerships is working. 
Despite its positive results and outlook, the company said that risks still remain -- predominantly, risks that it sees as out of its own control.
These "unforeseen" forces include: the effects of Brexit on the European market, the U.S. election, slowing growth in China and the results of pending lawsuits, the company said. However, the company did say that Europe is "showing a gradual recovery led by Germany as economic sentiment holds steady," the company said last week.
"We have our ups and downs, but we are executing consistently, growing our share, continuing to leverage services as a strategic differentiator to further drive our core business around the world," Banga said on an earnings call . "I've seen MasterPass as a digital strategy and as a future brand for our company."
MasterCard on Friday, Oct. 28, reported earnings of $1.08 a share, up 19% excluding a special item, beating estimates of 98 cents a share, the average of analysts' estimates in a FactSet survey, for the three months through September. This compared with 86 cents a share a year earlier. Revenue saw a 14% jump to $2.9 billion passing the $2.74 billion, the analysts projected.
The Purchase, N.Y.-based card network climbed 3.5% to $107.25 on Friday afternoon, increasing its gains to over 10.5% so far this year, outpacing its rival Visa's (V) - Get Report  6.6% gain. 
Piper Jaffray analyst Jason Deleeuw, who has an overweight rating with a price target of $125, said that MasterCard is "well-positioned for the evolving digital payments world, which provides good visibility for solid long-term growth."
"Global macro and foreign exchange volatility remain key risks, but MasterCard's secular growth outlook remains strong," Deleeuw wrote in a note to clients.
EXCLUSIVE LOOK INSIDE:Visa is a holding in Jim Cramer's Action Alerts PLUS Charitable Trust Portfolio. Want to be alerted before he buys or sells the stock? Learn more now.
Following a strong GDP report of 2.9%, Banga said that the U.S. economy appears to be growing, while "consumer confidence, unemployment, and wages" hold steady, but the company is watching China. 
"In Asia, the picture still mixed. In China, both exports and imports were down sharply, and we all know the concerns over inflated asset values," Banga said.
Despite being in a "very dynamic industry," the company is working "hard to deliver secure digital payment experience for consumers using master pass across all devices, all channels," Banga highlighted. 
TheStreet's Jim Cramer, who owns Visa, said that the credit card industry is a "great industry," and that he was impressed with MasterCard's "extraordinary" 21% growth. 
"My hats off to the management team, they are very good," Cramer said. 
The revenue growth was helped by an 18% rise in processed transactions to 14.5 billion, a 12% increase in cross-border volume despite global uncertainty, and gross dollar volume of $1.2 trillion, 11% incline, the company said. 
Expenses increased 5%, after being adjusted for foreign currency impacts, due to "continued investments in strategic initiatives, foreign exchange activity and higher data processing expenses." MasterCard expects fourth quarter expenses to show higher rebates and incentives related to renewed branded-card agreements with American Airlines (AAL) - Get Report  , Bed Bath and Beyond (BBBY) - Get Report  and Wal-Mart (WMT) - Get Reportin Canada.
To strengthen cross-border volumes, the company is building relationships in Asian markets from China to Japan, and saw strong commercial and consumer improvements in Europe.
"On Asia Pacific, the volumes year-over-year are a little bit lower," the company said on an earnings call. "China plays into that. We are now at low single digits from a China growth point of view that was higher last year. Australia, India and Indonesia also had a little bit of lower growth." Partnerships with HSBC (HSBC) - Get Report, China Construction Bank, ICBC, and postal savings bank to issue new "single-branded" cards were highlighted to solidify its presence in the Chinese markets.
The company will also benefit from a deal with PayPal (PYPL) - Get Report , the acquisitions of payments company VocaLink, which completed its first phase with U.K. regulators, and cloud-based analytics provider Applied Predictive Technologies (APT) - Get Report . 
And beyond that, MasterCard is grappling with legal issues overseas. Executives have estimated a settlement with U.K. retailers who claimed the company's cross-border interchange fees were "anticompetitive" will cost $270 million, while consumers in the country are seeking £19 billion ($24.6 billion) in damages in a separate class-action lawsuit. MasterCard said the judge will outline a timeline for the case, but that it could take years to complete.
In the U.S., meanwhile, a federal appeals court overturned an antitrust settlement of $7.25 billion with both Visa and MasterCard, opening the door for potentially higher damages, as retailers claimed the companies were unlawfully fixing their processing fees. This case is now back in a Brooklyn Court, the company said.
Keefe, Bruyette & Woods analyst Sanjay Sakhrani said that MasterCard's "solid core trends" and its full-year guidance remains strong. Analysts maintain an outperform rating on the company with a price target of $117.