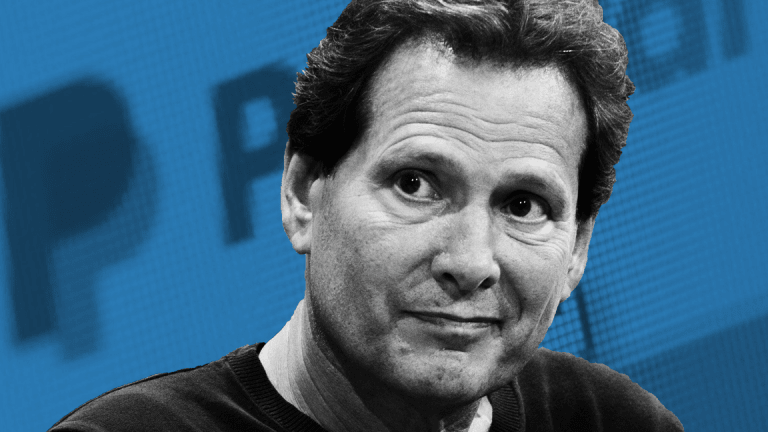 Massive Retail Closures Don't Scare PayPal
The mobile revolution is nigh, and PayPal is cashing in, CEO Dan Schulman tells TheStreet.
More retail stores closed in 2017 than in any other year. But while the empty, desolate parking lots terrify some, PayPal Holdings Inc. (PYPL) - Get Report isn't running for the hills.
The company is pivoting hard to become a platform instead of just a payments service, CEO Dan Schulman told TheStreet. As brick-and-mortar retailers face the decision to move into ecommerce or perish, PayPal is there to hold their hand -- and make a pretty penny.
"[PayPal] allows retailers to move into the digital era of commerce with a set of tools and capabilities that enable them to tap into the pretty massive transformation that's happening in retail because of mobile," Schulman said.
There are two "massive trends" at play, Schulman added. First, the mobile revolution is forging ahead, no-holds-barred. Second, mobile payments companies such as PayPal are ripe for "tremendous tailwinds" from the move to digital payments.
And the trends aren't going anywhere.
When it comes to the mobile revolution, "Everyone talks about it but I don't think you can underestimate the profound impact that will have on multiple industries including financial services and retail," Schulman said.
When was the last time you paid for something other than bills with a check? We're taking pen to checkbook less and less frequently, and instead opting for direct deposit, mobile payments and digital commerce straight from our Apple Inc. (AAPL) - Get Report iPhones. Apple is a long-time holding in Jim Cramer's Action Alerts Plus members only investment club. 
PayPal did $35 billion of mobile transactions in the third quarter alone. Schulman said he expects that figure will grow healthily when the company reports fourth quarter financials later this month.
The mobile revolution is redefining how consumers interact with retailers by blurring the lines that once defined traditional and new-age retail.
"Instead of consumers just coming into offline locations now, there truly is what they call in the retail industry an omnichannel approach," Schulman said, "where people can buy online and pick up in store, skip the line and have a more intimate, more convenient retail experience by combining both the online and the offline world together."
That's especially good news for PayPal, which Schulman said is playing its best cards in the new mobile revolution. The CEO said his firm has the "best mobile checkout solutions in the industry by far" and that its conversion rate on mobile is almost twice that of the industry at large.
"We have over 17 million merchants on our platforms across the world, so this move toward digital is the real reason why the company is becoming a platform company and offering services and capabilities to retailers to allow them to compete in this new mobile world," Schulman said.
But it's hard to think about the changing retail landscape without thinking of Amazon.com Inc. (AMZN) - Get Report .
As for the dreaded "Amazon Effect," PayPal hasn't felt the squeeze. Moshe Katri, managing director at Wedbush Securities, said the Amazon effect doesn't become a risk for fintech firms such as PayPal as long as the company's merchants aren't too exposed to the ecommerce giant.
"We haven't seen it materialize in PayPal," Katri said.
While PayPal has staved off Amazon's growing impact, other firms haven't been so lucky. Katri said Vantiv's decision to merge with WorldBank in 2017 was due to Amazon's impact. Vantiv realized it was losing market share domestically as online commerce grew, so it merged with a global player to focus its growth strategies on a larger stage instead of just in the U.S., where Amazon reigns supreme.
But here's PayPal's take: Retail needs PayPal.
If a traditional retailer wants to gain traction in online sales, PayPal is just the firm to do it. It's "helping retailers close the gap," KeyBanc Capital Markets equity research analyst Josh Beck added.
"PayPal is maybe the best to help them with that," Beck said. "PayPal is going to be a strategic competitor as retailers pivot toward ecommerce."
Check out TheStreet's Other Influencer Interviews