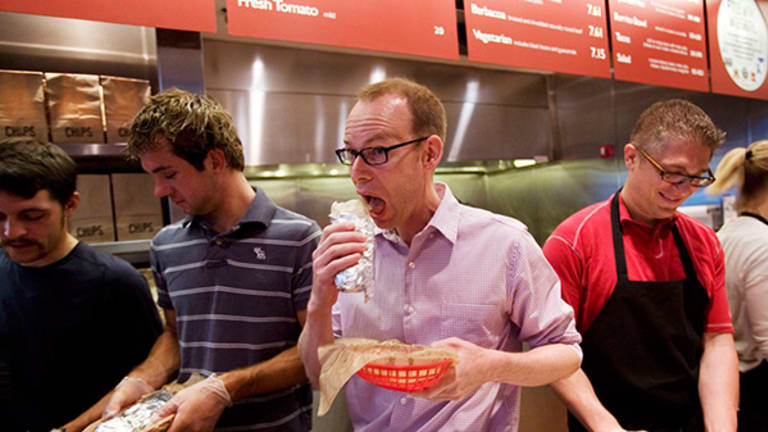 Massive Numbers of People Will Never Eat At Chipotle Again And That Should Terrify Investors
Here's why Wall Street is too optimistic on Chipotle's stock.
Chipotle (CMG) - Get Chipotle Mexican Grill, Inc. Report may have finally removed preservatives from all of its food, but investors should be wary of the company that once served up E. Coli to 60 burrito-hungry customers. That's especially so after shares of the embattled burrito giant have surged about 5% over the past month on a lack of any upbeat news. 
"We have always used high quality ingredients and prepared them using classic cooking techniques," Chipotle Founder and CEO Steve Ells said in a statement Tuesday highlighting the chain removing preservatives from its tortillas. "We never resorted to using added colors or flavors like many other fast food companies."
Ells may want to consider refraining from dissing rival fast food chains until Chipotle stabilizes its own business.
While Wedbush analyst Nick Setyan views Chipotle going "clean" with its food as a way to "get them back on the right path," he told TheStreet that challenges still lie ahead for the company.
"Obviously there are headline risks," Setyan said. "There's probably some five to 10 percentage of customers that will never return."
While Setyan, which has a neutral rating on Chipotle stock, expects the burrito chain's same-store sales to improve slightly - in the low- to mid-single digits - in the first quarter, profit margins will remain pressured throughout the year due to the resulting company turnover from the E. Coli scandal.
Setyan suggests "holding off" on buying shares of Chipotle until 2018, at least, as the company continues to invest in hiring and training.
The analyst's views are held elsewhere on Wall Street. 
"We expect a slower than targeted same-store sales recovery along with higher costs associated with new food safety programs to keep margins below historical levels of 20% plus," wrote Jefferies analyst Andy Barish in a February note. "We believe current valuation is not capturing the fundamental operating changes and potential risks."
Barish has an underperform rating and $300 price target on Chipotle, implying a 31% decline. 
Meanwhile, as TheStreet pointed out recently, Chipotle is opening restaurants at an unreasonable pace. Instead, it should be focused more heavily on cleaning up its image among consumers, operations and board. Last year, a mind-blowing 240 Chipotle restaurants were opened, despite the company being unable to revitalize significant store traffic.
For its recent fourth quarter, Chipotle's comparable store sales fell 4.8%. The company's restaurant level operating margins slipped to 13.5% from 19.6% the previous year.
As for the reason why Chipotle's stock hasn't plunged despite continued weak sales, veteran restaurant analyst Howard Penneyexplained to TheStreet back in February that Wall Street is banking on the company hitting its profit goals for the year. But by September, said Penney, it will likely be apparent Chipotle will not come anywhere near its bottom line expectations.
A Chipotle spokesman didn't return a request for comment. 
More trending news on TheStreet:
Under Armour Just Released $300 Sneakers That May Be Its Coolest Looking Ones Ever
3 Retailers Not Named Payless and Sears That Could Be Next to Go Bust
Why These Wall Street Titans May Be Tripping Over Themselves to Buy Shares of Dying Sears
Editor's Pick: Originally published March 30.