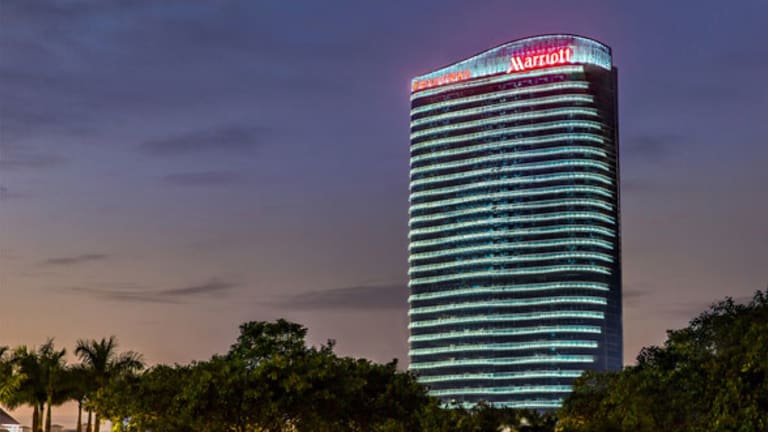 Marriott Reveals One Clue the Hotel Industry Is Still Booming
Not a bad year.
Riding on the boom in the lodging industry, Marriott Int'l (MAR) - Get Free Report saw record growth in the amount of rooms it opened in 2016.
Marriott opened 55,000 rooms this past year, excluding the 381,000 gained through its September $13 billion acquisition of Starwood Hotels & Resorts Worldwide, the Bethesda, Md.-based company said in a statement on Monday.
Combined with Starwood, Marriott said it signed 880 new hotel deals in 2016, representing 136,000 rooms. Under largely franchise agreements, the company also opened more than 400 hotels with more than 68,000 rooms worldwide.
Marriott now operates more than 6,000 hotels with nearly 1.2 million rooms in 90 countries and territories.
The company's focus on adding new brands and non-branded affiliations such as its Autograph Collection over the past several years, plus the overall boom in the lodging industry, helped fuel its unit growth, said Telsey Advisory Group analyst David Katz.
"The business environment for hotels has been pretty strong and approaching peak levels for the past few years, which enhances lending for hotel construction as well as M&A activity across the industry," Katz said.
Other hotel companies that showed strength in 2016 include Hilton Worldwide (HLT) - Get Free Report . The McLean, Va.-based company increased its presence in 91 out of the 104 countries where it does business and on Monday announced that it opened its 14th brand - the upscale Tapestry Collection.
Katz said he expects further growth in 2017 for the hotel industry under President Trump, who claimed throughout his campaign that he will drive job creation at home by cutting taxes and regulations for businesses.
"Prior to the surprise election outcome, we would have expected a flattish hotel market rather than growth," Katz said. "Our view is that the stocks, similar to the broader market are pricing in a very active administration."
Shares of Marriott rose slightly to $84.61 midday on Tuesday.