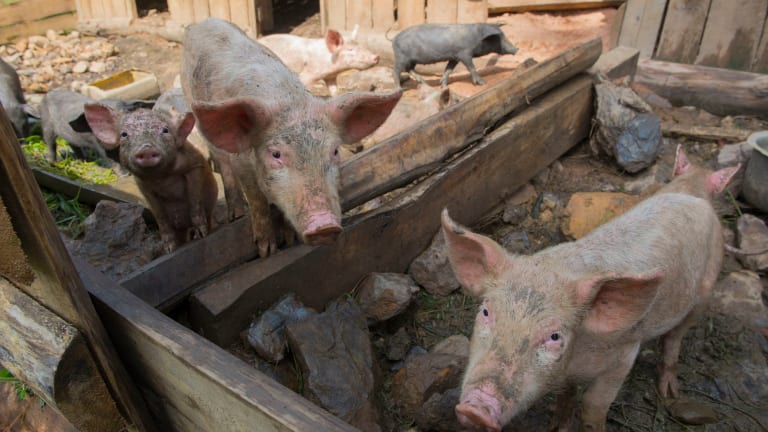 The Stock Market Looks Like a Sloppy Pig Right Now
The markets look so sloppy. The CEOs of Conagra Brands and Chipotle are two executives on a mission - investors should like that. Meanwhile, Amazon continues to innovate.
Markets are like a sloppy pig.
Terrible closes and selloffs after weak gains in futures are the name of the game in the market right now. Full-on sloppiness. It all points to at least one big down day before the tariffs on China are set to go into effect July 6. Markets hate uncertainty, especially when it has global implications.
For the time being, investors are likely to keep taking their cue from violent selloffs in chip stocks such as Micron (MU) and Advanced Micro Devices (AMD) and tech stocks more broadly.  
Names on TheStreet
Confidence. That's how I would sum up my recent chats with CEOs this month.
I haven't heard "the world is ending" from them despite everything going on, such as trade wars. Sure, part of the role of CEO is to be pro-company mission statement at all times. But a trained ear (as I have, just being honest) is always able to detect worry about missing a quarter or an outlook. So take this for what it's worth as stocks continue to fall down the tubes. A sense of confidence is what I heard in chats with the CEOs of Conagra Brands  (CAG) and Chipotle (CMG) on Wednesday afternoon.
Conagra CEO Sean Connolly told me the frozen food sector is stronger than Wall Street thinks, hence he is spending $10.9 billion to buy Pinnacle Foods (PF) . I tend to agree, and think this deal has more potential across sales and cost savings than the market gave Conagra credit for in Wednesday's session (stock finished down 7%). Confidence was also the name of the game while I was on the phone with new Chipotle CEO Brian Niccol. The former Taco Bell leader told me he is making an aggressive push to digital (including delivery) while also infusing the restaurant chain with new leaders. Wall Street reacted slightly negative to Chipotle's guidance on Wednesday evening, but that's to be expected given the stock's run since Niccol's arrival on March 5 (the stock has gained 42%).
Stick with Niccol, he is a proven winner with a clear plan to win. In the meantime, look out Domino's Pizza (DPZ) and Papa John's (PZZA) -- digital efforts by burger players like Wendy's (WEN) and McDonald's (MCD) , and now from a burrito chain in Chipotle, could cut into your sales.   
Stock of the Day
How can the stock of the day NOT be the digital beast known as Amazon (AMZN) ? Amazon has rolled out a program that lets entrepreneurs around the country launch businesses that deliver Amazon packages, pointed out TheStreet's Joseph Woelfel in his morning "5 Things" newsletter. In a statement, Amazon said it would take an "active role" in helping entrepreneurs start, set up and manage their own delivery business. According to Amazon, successful owners can earn as much as $300,000 in annual profit operating a fleet of up to 40 delivery vehicles.
Yet another shot across the bow to shipping kings UPS (UPS) and FedEx (FDX) . For Amazon shareholders, it's hard not to smile at this announcement and the big deal for PillPack. It shows the company's relentless desire to create innovative solutions that support faster, and more cost effective growth. Amazon wants to control its own destiny, which is a positive thing long-term. Cut out the middlemen who don't share Amazon's appetite to win at all costs. Amazon to a trillion dollar valuation and beyond.