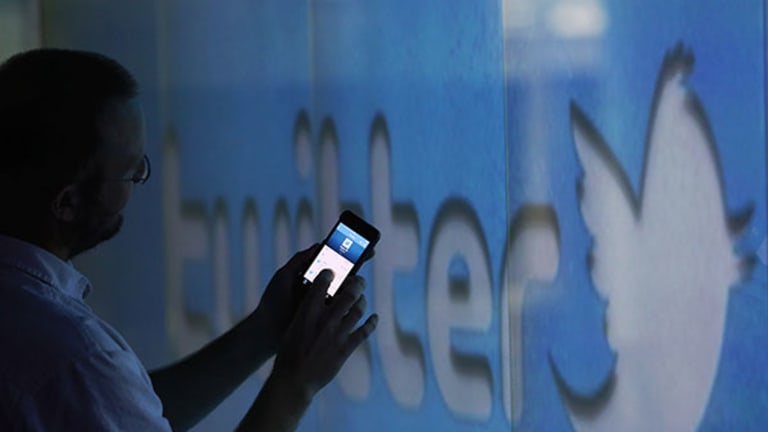 March Madness Means Twitter Madness -- but Will It Attract New Users?
March Madness will match Twitter's lineup of new products against a prospective audience of newcomers.
SAN DIEGO (TheStreet) -- Over the next two-and-a-half weeks, as college basketball teams compete for a national title, Twitter (TWTR) - Get Twitter, Inc. Report will be in a challenging battle of its own.
The NCAA Men's Basketball Tournament, known popularly as March Madness, will test Twitter's lineup of new products against an audience of potential users, some of them quite skeptical given that they haven't signed up for the free service or don't use it all that much. 
Twitter shares could face resistance at $50. See what the charts in Top Stocks say for free during our Open House.
Because there are few events anymore that attract a very large mainstream audience, March Madness is an opportunity for Twitter to determine if its many new features are working. It'll help determine whether the company can do what Wall Street investors want: secure new users who stay put.
In recent months, the social network has added an assortment of new bells and whistles: the ability to upload videos, improved private messaging to support links and groups, a mobile feature known as "While You Were Away" to recap top tweets and "Instant Timeline," which automatically creates a timeline of tweets for new users on mobile based on their interests.
Ultimately, Twitter aims to be "largest virtual sports bar where fans, teams, celebs and analysts can gather to talk all things college basketball in real time," the company said in a blog post.
To help hoop fans follow the college basketball, Twitter has served up accounts to follow including a list of all tournament teams and @MarchMadness, the official tournament account from Turner Sports and the NCAA.
The tournament could help demonstrate the power and potential of Twitter, said Brian Solis, Altimeter Group principal analyst. Then again, it could also expose its weaknesses.
"All of these different tools that Twitter is deploying and experimenting with, and the acquisition of Periscope ... demonstrate that it's playing around in a lot of different arenas without necessarily a vocalized vision for what the platform is and what it could be," Solis said.
Twitter enters March Madness with a mixed record.
The company has proven it can grow sales on a quarterly basis given that its fourth-quarter revenue rose 97% over the prior year to $479 million. Despite that growth, Twitter has struggled to increase the number of people who use the service on a monthly basis. In Twitter's most recent quarter, the social network reported a total of 288 million active users -- active users are defined as those who log in to Twitter at least once per month -- adding just four million net new users, half of Wall Street's already conservative estimate.
Twitter also has a noticeable turnover problem. People who sign up for Twitter but stop using the service are "by far" the company's number-one opportunity, CFO Anthony Noto told investors at an investor conference at the beginning of the month. "It's a number we all look at everyday as an operating committee."
The slowing pace of user growth as well as the nagging problem of user churn have created problems of perception and reality for a company that only went public in November 2013.
On the perception front, Twitter has developed a reputation as a slow-moving vehicle unable to keep pace with rivals, particularly Facebook (FB) - Get Meta Platforms Inc. Class A Report as well as Facebook-owned Instagram, which supplanted Twitter as the No. 2 social network in December when it reached 300 million active users.
Shares of Twitter have gained 34% since the start of the year, but the stock has been penalized in the past by investors who want to see the company increase its audience. Share prices still remain 18% off from the company's 52-week high of $55.99 and 55% shy of its all-time high of $74.73.
At its analyst day in November, Twitter executives promised to accelerate the pace on product development and produce improvements to address its greatest challenges: convincing people why they should use Twitter and educating them on how to use the social network. Four months later, it has delivered on the first half of that promise.
"Instant Timeline, our goal there is to drive healthy users, getting them to the best content instantly," Noto said at the investor conference. The feature takes away the complexities often associated with Twitter, he said. Enter a phone number or email address, pick a password and hit enter. "Boom, you have a great experience." 
Is it working? The results are "neutral" as Noto characterized them, with some positives and some negatives. The CFO added the company still has a lot of work to do on improving the offering.
But if ever there was a time to demonstrate Twitter's new offerings can help new people understand and stay on Twitter, that time is now.
The NCAA Tournament promises prolonged, increased activity and exposure for tweets. Last year, 10 million people saw one or more of 2.6 million tweets about the championship game featuring the universities of Kentucky and Connecticut, according to data provided by Nielsen. The Final Four games produced equally large Twitter activity and audiences with 8.4 million people viewing 1.3 million tweets around the Kentucky-Wisconsin matchup, and 8.3 million people seeing 788,000 tweets about the Connecticut and Florida semi-final game.
The company may succeed in improving the attention span of existing users during the NCAA tournament, Solis said, but the social network could struggle to maintain new users' attention once the last game is played. The value of Twitter beyond these types of events is still unclear for those new to the network, he said.
Perhaps this year's tournament, in combination with service improvements, can help Twitter prove otherwise.