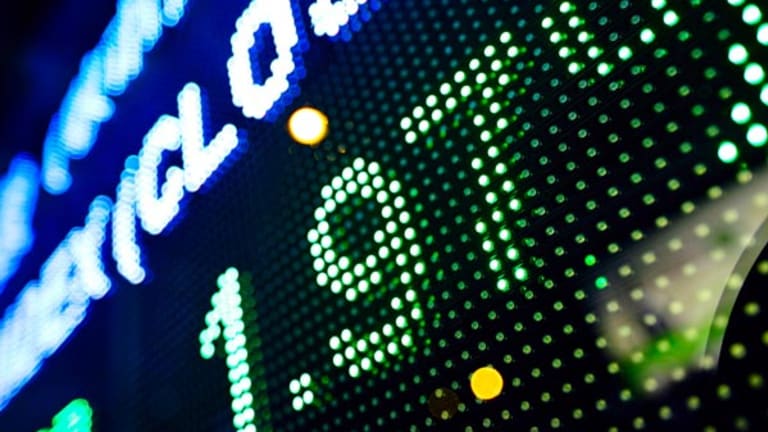 March 30 Premarket Briefing: 10 Things You Should Know
U.S. stock futures are trending upward Monday as investors look to a short trading week with important economic data reports.
Updated from 7:00 a.m. EDT.
NEW YORK (TheStreet) -- Here are 10 things you should know for Monday, March 30:
1. -- U.S. stock futures are trending upward Monday as investors look to a short trading week with important economic data reports.
European stocks rose on Monday as March gains in eurozone economic sentiment and the business climate indicator added to confidence that an economic recovery is gaining ground.
2. -- The economic calendar in the U.S. on Monday includes data on personal income and spending at 8:30 a.m., the pending home sales index at 10 a.m. and the Dallas Fed general business activity index at 10:30 a.m.
3. -- U.S. stocks on Friday closed up after four days of losses, although the gains didn't outweigh the fall during the rest of the week.
The Dow Jones Industrial Average (DIA) - Get SPDR Dow Jones Industrial Average ETF Trust Report rose 0.19% to 17,712.66. The S&P 500 (SPY) - Get SPDR S&P 500 ETF Trust Report increased 0.24% to 2,061.02. The Nasdaq (QQQ) - Get Invesco QQQ Trust Report closed up 0.57% to 4,891.22.
4. -- Important economic data will come in this week, although it's a short trading week due to the Good Friday holiday.
On Monday, personal income and spending data will appear before the opening bell. The U.S. monthly non-farm payroll report is released Friday.
If the economic data is especially strong, the Federal Reserve may move to raise interest rates sooner rather than later. Fed Chair Janet Yellen has said that she will not raise rates until the economy can support the move.
5. -- A unit of UnitedHealth (UNH) - Get UnitedHealth Group Incorporated Reportwill buyCatamaran (CTRX) , a pharmacy benefits company, for $12.8 billion. The deal price is at a 27% premium to Catamaran's closing stock price Friday.
In premarket trading, Catamaran stock leapt 24.8%. UnitedHealth stock was up 3.8%.
Two other big pharmaceutical mergers were announced Monday. Teva (TEVA) - Get Teva Pharmaceutical Industries Limited Sponsored ADR Reportwill buyAuspex Pharmaceuticals (ASPX) for $3.5 billion in an effort to avoid trouble when its multiple sclerosis drug Copaxone faces generic competition in September. Through the buyout, Teva expands its core business of treatments for diseases of the central nervous system.
In premarket trading Monday, Teva shares were down 1.3%, while Auspex shares were up 41.5%.
Horizon Pharma (HZNP) - Get Horizon Therapeutics Public Limited Company Reportsaid it is buyingHyperion Therapeutics (HPTX) for $1.1 billion. Horizon is seeking to add to its portfolio of drugs treating rare diseases.
In premarket trading Monday, Horizon shares were up 7.4% and Hyperion stock was up 6.6%.
6. -- Nutritional supplement company GNC Holdings (GNC) - Get GNC Holdings, Inc. Class A Reportwill increase its testing and oversight of products after the New York attorney general pushed back against GNC's labeling practices and unlisted ingredients. The new standards will exceed current federal rules. Using DNA testing, the New York attorney general's office found that four out of five of the supplements tested did not contain the ingredients they advertised.
GNC runs 2,600 stores and has revenue of over $2.6 billion a year. In premarket trading, GNC stock was steady.
7. -- Crude oil prices are falling Monday as a possible nuclear deal with Iran means it is possible that a large new source of oil will open up. Oil prices are already low due to large-scale shale oil production, or fracking, in the U.S. As oil storage in the U.S. gradually fills, prices may continue to drop.
Brent crude oil was below $56 a barrel Monday, and West Texas Intermediate crude was just under $48 a barrel.
8. -- Greek Prime Minister Alexis Tsipras will speak to his parliament Monday on the results of talks in Brussels with Greece's European creditors. Tsipras has likely been asked to agree to more reforms to secure support for Greece's debt. Syriza, Tsipras' party, was elected on a platform that opposed austerity measures.
9. -- Volvo Cars will spend $500 million to build a U.S. carmaking plant, the company announced Monday. The company currently manufactures its cars in Europe and China.
The Swedish carmaker was sold to Chinese company Geely Auto Holdings (GELYY) by Ford (F) - Get Ford Motor Company Report in 2010.
10. -- Derivatives trading by Euronext was interrupted Monday due to a technological glitch. Most orders were canceled and need to be resubmitted. The Euronext system was down for about an hour but has been restored. Euronext separated from Intercontinental Exchange in June.
Euronext runs indices for Belgium, France, the Netherlands and Portugal.