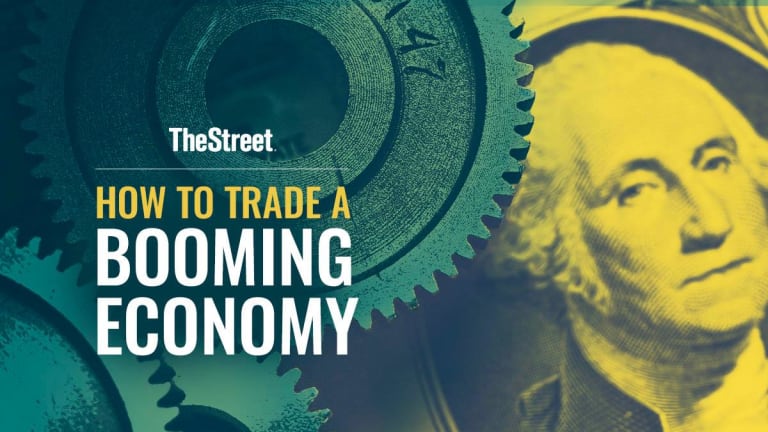 Famed Chartist Marc Chaikin Gives Jim Cramer His Top Picks
Listen to a full replay of Chaikin and Cramer's one-hour webinar on what stocks to buy, sell or hold in today's economy.
The U.S. economy is booming, but that doesn't mean every stock is a winner. That's why I sat down with TheStreet's founder and Action Alerts PLUS chief Jim Cramer for a free webinar where I revealed my top stock picks for today's economy. Sign up here and watch a full replay.
Now, I'd normally look to the cyclical sectors to decide which stocks to buy in a booming economy, but we have a lot of cross-currents hitting the market that make stock selection challenging. Yes, the United States has the world's strongest economy -- just look at the recent earnings from Walmart (WMT)  and the 4.1% second-quarter GDP growth. And yes, we're the world's only major stock market that's currently in positive territory for 2018.
Still, dramatic headlines in the U.S.-Chinese tariff tiff buffet the market on a daily basis. A strong U.S. dollar has also taken its toll on industrial stocks like Boeing (BA) and Caterpillar (CAT) that would normally be market leaders in a booming economy. And lastly, a flattening yield curve has spooked investors in financial stocks.
So, when the normal rules of investing are tossed aside, investors looking for the best stocks to buy need to rely on proven stock-selection tools and reliable technical indicators. That's why I'll be telling Jim about stocks I've found using my Chaikin Power Gauge, which identifies the stocks most likely to outperform. I've also screened names using my well-known Chaikin Money Flow indicator, which monitors institutional accumulation and tells us whether the big buyers are interested in a given name.
For example, check out this chart of Medicaid provider Centene  (CNC)  , which I give a bullish rating. Centene shares are up 42% year to date vs. just 7% or so for the S&P 500:
The chart above illustrates the type of stock that investors should be looking for in a booming economic climate. Cramer and I talked about lots of great names like this during our Webinar. Sign up here to watch the full video.
(This item has been updated.)