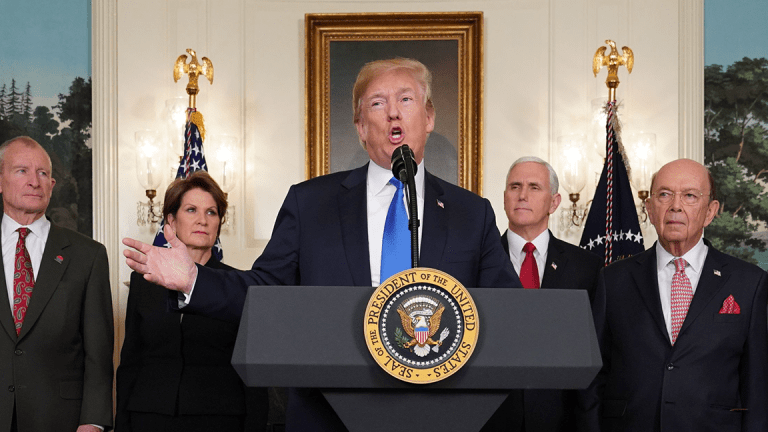 Why Many Tech Firms Won't Feel Much Pain From Proposed U.S. and Chinese Tariffs
It's hardly a given that the tariffs just floated by Washington and Beijing will go into effect. But if they do, the impact on many tech hardware and chip firms will be limited.
After opening sharply lower on Wednesday in response to fears of a trade war with China, U.S. equity markets gradually recovered their losses and closed higher, as investors bet that some kind of compromise will eventually be reached.
Though it's impossible to know exactly how Washington and Beijing will act in the coming weeks, this looks like a reasonable bet for now. Neither the $50 billion worth of 25% tariffs just proposed by the Trump Administration on about 1,300 types of Chinese goods, nor the proposed retaliatory 25% tariffs just announced by China on 106 types of U.S. goods, go into effect immediately. A public hearing on the tariffs proposed by the U.S. won't happen until May 15, and a trade official has signaled that there's no firm deadline for producing a final tariff list.
Likewise, China hasn't announced a start date for its new tariffs, and has said on multiple occasions it's open to a compromise. Among other things, Beijing has proposed upping its purchases of semiconductors from the U.S. relative to South Korea and Taiwan. A deal could also feature stronger commitments by China to protect U.S. intellectual property rights, the violation of which has been the Trump Administration's official grounds for launching its tariff proposal.
Still, it's worth taking a look at who would get stung in the event that no deal is reached and the tariffs do go into effect. With the proposed U.S. tariffs hitting (among other things) many Chinese tech and electronics exports, a number of U.S. hardware and chip suppliers could in theory benefit. However, the fact that so much global tech manufacturing -- including from U.S. firms such as Apple (AAPL) - Get Free Report , HP (HPQ) - Get Free Report and Dell -- now takes place in China and other Asian countries, limits the impact.
Jim Cramer and the AAP team hold a position in Apple for their Action Alerts PLUS Charitable Trust Portfolio. Want to be alerted before Cramer buys or sells AAPL? Learn more now.For example, while LED maker Cree (CREE) - Get Free Report would benefit from the tariffs since they cover LED exports from low-cost Chinese rivals, this is offset by the fact that a large portion of the finished goods relying on LEDs (light bulbs, phones, TV sets, etc.) are made in Asia. Likewise, a U.S.-based analog chip manufacturer competing against Chinese rivals could see its automotive sales get a boost from proposed tariffs on Chinese analog chips, since a lot of cars are still made in the U.S. But it probably won't see much of a lift for its consumer electronics sales.
It follows, of course, that U.S. hardware makers relying on overseas manufacturing won't see a big impact from tariffs on their component costs. HP and Dell, for example, might not be hurt too badly from proposed tariffs on Chinese monitor and storage device imports given their heavy reliance on Asian manufacturing.
Meanwhile, a lot of the proposed tariffs for finished tech and electronics hardware cover products for which Chinese firms have limited share. In theory, U.S. chip equipment makers such as Applied Materials (AMAT) - Get Free Report and Lam Research (LRCX) - Get Free Report  would get a boost from proposed tariffs on Chinese chip manufacturing gear. In practice, however, U.S. chip equipment makers are much more likely to compete for deals against Japanese and European firms than Chinese ones.
All of this helps explain why the estimated dollar value of the tariffs ($50 billion) is only equal to about a tenth of 2017 U.S. imports from China. And that's after accounting for many industrial and medical products that are also on the tariff list.
For its part, Beijing largely isn't targeting U.S. tech products with its tariffs. Rather -- perhaps with an eye towards targeting states that Trump won in the 2016 election -- it's going after agricultural, industrial, chemical and automotive goods. While U.S. suppliers of sorghum, orange juice, propane and polycarbonate stand to get hit, the same doesn't hold for suppliers of semiconductors and storage equipment.
However, China's proposed automotive tariffs do put electric vehicle maker Tesla (TSLA) - Get Free Report  in the crosshairs. As it is, Tesla cars sold in China are subject to a 25% import tariff and a 17% value-added tax. That leads its Model S sedan to start at over $100,000 in China, compared with $69,500 in the U.S. Tacking on an additional 25% tariff would undoubtedly sting Tesla's sales in a market that produced $2.03 billion in revenue (17% of total revenue) for the company in 2017. That is, at least until its proposed Shanghai car-assembly plant is up and running.
But this of course assumes that the tariffs will both be imposed in full and stay in place for a long time. Markets have their reasons to be skeptical that this will happen.