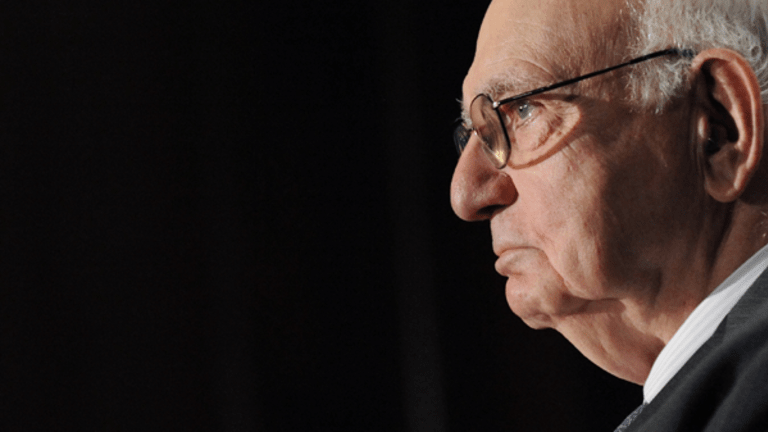 Many Banks Face Brutal Dec. 31 Volcker Deadline
Accounting rules could force many community banks to take significant losses on securities banned by regulators on Dec. 10, possibly putting some banks out of business.
NEW YORK (TheStreet) -- Many community banks may be forced to book significant fourth-quarter losses, because the accounting rules of the Securities and Exchange Commission don't allow extra time for bank regulators to make decisions they should have made years ago.
The problem springs from the finalized set of regulations implementing the Volcker Rule, part of the Dodd-Frank banking reform legislation passed in 2010, which bans "proprietary trading" by banks.  The rule is named after former Federal Reserve chairman Paul Volcker, whose idea was to make sure banks don't "gamble" while enjoying the advantage of gathering deposits insured by the Federal Deposit Insurance Corp.
The idea of a Volcker Rule was first publicly uttered by President Obama in January 2010, with the final rule being unveiled nearly four years later, on Dec. 10.
One of the items that received some -- but apparently not enough -- clarification in the final set of Volcker regulations is the requirement for banks not to invest in "covered funds," which include many collateralized debt obligations (CDOs) backed by trust preferred securities.
Following a "preliminary assessment" of the final Volcker regulations, Zions Bancorporation (ZION) - Get Zions Bancorporation N.A. Report of Salt Lake City on Dec. 16 said it had determined that "substantially all" of its investments in trust preferred collateralized debit oblations (CDOs) would be disallowed under Volcker. The company said it would record a fourth-quarter other-than-temporary impairment charge of $629 million on the transfer of disallowed held-to-maturity securities to held-for-sale.  The bank also said it had until July 21, 2015 to sell the trust preferred CDOs, "unless, upon application, the Federal Reserve grants extensions to July 21, 2017."
KBW analyst Collyn Gilbert wrote in a note to clients on Dec. 16 that there were two community banks -- Sun Bancorp (SNBC) of Vineland, N.J., and First Commonwealth Financial (FCF) - Get First Commonwealth Financial Corporation Report of Indiana, Pa. --under her firm's coverage that could see relatively large losses from the sale of securities springing from the Volcker Rule. 
The Federal Reserve, FDIC and the Office of the Comptroller of the Currency attempted to stifle an an uproar among community bankers last Thursday when on Dec 19 they released a FAQ Regarding Collateralized Debt Obligations Backed by Trust Preferred Securities under the Final Volcker Rule.  In the FAQ, the regulators said banks could evaluate their CDOs backed by trust preferred securities to determine if they "could be restructured during the conformance period" to take advantage of "another exclusion or exemption under the Investment Company Act."
After publishing a letter expressing its "dismay" over the lack of clarity over the CDO/trust preferred exclusion, the American Bankers Association and several community banks late on Tuesday filed complaints against federal regulators in the U.S. Court of Appeals for the District of Columbia saying "community banks across the country face precipitous write-downs and further irreparable harm on December 31, 2013, if the relevant provision of the Volcker Rule is not immediately suspended."
In their FAQ, the regulators seemed to indicate Zions Bancorporation had taken an unnecessarily aggressive approach in immediately deciding to move the securities in question to "held-for-sale," while taking a significant fourth-quarter loss, even though the bank doesn't have to rid itself of the securities until July 2015.
However, the bank regulators may have forgotten something.  Something rather important to bank accountants and bank investors.
"The banks have to reach a conclusion, to say what their financials are, as of Dec. 31.  If there is a chance they will have to write the CDOs down they have to report them as available-for-sale" immediately," says Lawrence Kaplan, of counsel in the Corporate practice of Paul Hastings in  and is based in the firm's Washington, D.C. office.
The ABA said in its complaint that the Volcker Rule's ban on the CDOs in question "will impact over 275 banks and cause an estimated $600 million in capital to vanish overnight"The ABA said at least 37 banks would be affected."
Even if the banks writing down the CDOs backed by trust preferred securities eventually determine the accounting losses can be reversed, "the banks have a capital hit right away," which means some banks may slip from being considered well-capitalized under regulatory guidelines to being undercapitalized, and "you could have a 90-day clock for regulators to seize the bank," Kaplan says.
"It was the banking regulators and not the market regulators who put out the FAQ.  So you are putting the banks between two agencies, since the SEC requires financial reports to be done per [generally accepted accounting principals, or] GAAP, while the banking regulators have given the banks less than two weeks to figure it out," he adds.
Because of the banks' GAAP reporting requirements, the ABA in its court complaint said the agencies solution of having banks possibly restructure their CDOs backed by trust preferred securities so that they would not be considered "covered funds" under Vocker, is "no solution at all."
When the Volcker Rule was being touted before Dodd-Frank was signed by President Obama in July 2010, supporters said the rule was meant to curb the excess risks of the largest banks, while not hurting small community banks.  This is what is "offensive" to Kaplan, who adds, "not only does it affect them, the consequences are so great, it can put some of them out of business."
The Federal Reserve, OCC and FDIC have until Monday to respond in court to the ABA's demand, which is cutting things rather close for year-end accounting decisions.
RELATED STORIES:
American Express Settlement Is Small Bump in Road
Bankers May Have to Sue Over Vocker Rule
Federal Reserve Gives Up Bailout Powers
Mortgage Applications Sink on Fed Taper Announcement
Smaller Regional Banks are in a Sweet Spot
Morgan Stanley's Global Oil Unit Sale Applauded by Analysts
-- Written by Philip van Doorn in Jupiter, Fla.
>Contact by Email.
Philip W. van Doorn is a member of TheStreet's banking and finance team, commenting on industry and regulatory trends. He previously served as the senior analyst for TheStreet.com Ratings, responsible for assigning financial strength ratings to banks and savings and loan institutions. Mr. van Doorn previously served as a loan operations officer at Riverside National Bank in Fort Pierce, Fla., and as a credit analyst at the Federal Home Loan Bank of New York, where he monitored banks in New York, New Jersey and Puerto Rico. Mr. van Doorn has additional experience in the mutual fund and computer software industries. He holds a bachelor of science in business administration from Long Island University.