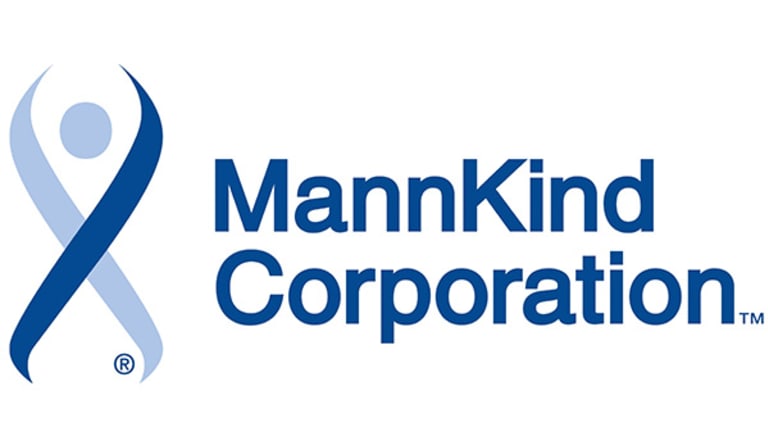 MannKind's Afrezza Lags Behind Biggest Failure in Inhaled Insulin
The number of prescriptions written for MannKind's inhaled insulin drug Afrezza are barely making a dent in the diabetes market five months after partner Sanofi launched the product.
BOSTON (TheStreet) -- The number of prescriptions written for MannKind's (MNKD) - Get Free Report inhaled insulin drug Afrezza have barely made a dent in the diabetes market since partner Sanofi (SNY) - Get Free Reportlaunched the product five months ago.
Afrezza is even underperforming Exubera, the first inhaled insulin drug, launched by Pfizer in 2006. Exubera was a commercial failure, forcing Pfizer (PFE) - Get Free Report to abandon the product after one year.
Here's a graphical representation of just how badly MannKind's Afrezza is performing relative to other diabetes drugs.
The three lines clustered tightly together at the bottom of the chart represent the number of Afrezza prescriptions written weekly since launched in early February, as reported by healthcare data providers IMS Health and Bloomberg (Symphony).
The light blue line with the "X" hashmarks represents the number of prescriptions written for Exubera at the start of its launch in 2006. Afrezza prescriptions today are lagging behind that track. MannKind claims Afrezza is superior in every way to Exubera, and therefore should succeed where Exubera failed. However, almost five months into its launch, MannKind's promise rings hollow. 
The purple line in the chart zooming into orbit tracks prescriptions written for Tanzeum, a GLP-1 injection marketed by GlaxoSmithKline (GSK) - Get Free Report. Tanzeum isn't insulin, but it's included in this comparison because it helps illustrate Sanofi's poor job marketing Afrezza.
Tanzeum is a me-too drug in the GLP-1 class of diabetes products. It requires an injection. Glaxo has almost no experience marketing diabetes drugs. Tanzeum isn't benefiting from social media buzz, and sales expectations for it are nil. Yet, Tanzeum is doing quite well since launch. 
Afrezza is supposed to be the next great diabetes product, a convenient inhaled insulin. It's the only inhaled insulin on the market, sold by a company with extensive experience and expertise in diabetes treatments. If you believe MannKind and its supporters, Afrezza is a game-changing insulin with enormously positive word-of-mouth endorsements across the Internet and social media. Yet Afrezza isn't selling. 
The second quarter closes tonight, which means Sanofi will soon report earnings, including sales from its diabetes business unit. In the first quarter, Sanofi reported Afrezza sales of $1.1 million, although inventory spend was not broken out. The second quarter represents the first full quarter of Afrezza's launch and should give a more accurate picture of current demand. 
MannKind supporters will likely make more excuses for whatever Sanofi reports for Afrezza sales later this summer. The reaction to poor weekly prescription reports so far from the Al Mann peanut gallery has been, "Sanofi is conducting a controlled [slow] launch on purpose." A digital and print advertising campaign for Afrezza is about to kick off, which has MannKind shareholders hopeful more marketing dollars spent will boost lagging prescriptions. 
Perhaps Afrezza might even start beating Exubera.
One more noteworthy set of numbers: Afrezza is having no impact at all on market share of competing injectable, mealtime insulins.
As compiled by Bank of America/Merrill Lynch from IMS Health data, the market share for Sanofi's Apidra is unchanged at 2.9% since Afrezza hit the market. The market share of Eli Lilly's (LLY) - Get Free Report Humalog has increased from 40.78% to 40.96%. Likewise, market share for Novo Nordisk's (NVO) - Get Free Report Novolog franchise has risen from 46.39% to 46.54%. 
Afrezza's market share: 0.10%.
Adam Feuerstein writes regularly for TheStreet. In keeping with company editorial policy, he doesn't own or short individual stocks, although he owns stock in TheStreet. He also doesn't invest in hedge funds or other private investment partnerships. Feuerstein appreciates your feedback; click here to send him an email.