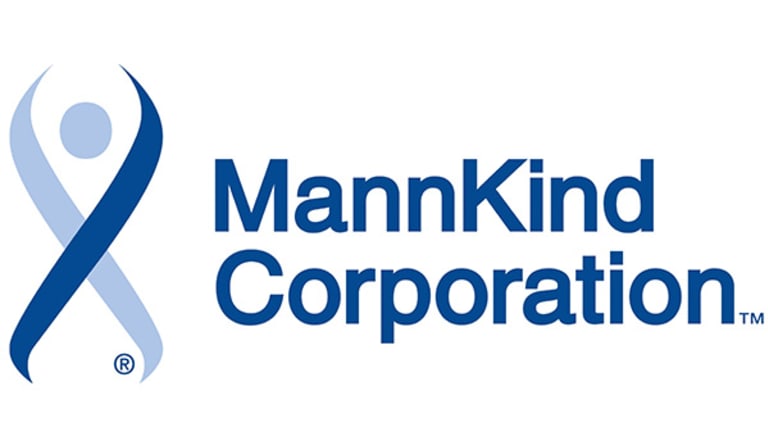 MannKind Relies on 'Death Spiral' Financing to Help Settle Looming Debt
MannKind isn't at risk of shutting down imminently because of the death-spiral convert, but the company was forced into a weakened negotiating position because Afrezza is selling poorly.
VALENCIA, Calif. (TheStreet) -- MannKind (MNKD) is using a mix of discounted stock and more debt to settle a $100 million convertible loan coming due in two weeks.
The stock-for-debt exchange, which covers a bit more than half of MannKind's obligation, is the worst part of the agreement announced Wednesday because the exchange price of the stock is determined by the price of Mannkind shares over the next 10 trading days.
This is the classic definition of a death-spiral convert, a form of distressed financing which forces companies to hand over more shares when the stock price falls. MannKind was able to negotiate a floor price for its stock conversion, which does mitigate some of the potential damage.
MannKind isn't at risk of shutting down imminently because of the death-spiral convert, but the company was forced into a weakened negotiating position with its debt holders because Afrezza, an inhaled form of insulin for diabetes, is selling poorly and its long-term financial health is uncertain at best.
Money is very easy to come by in the red-hot health care sector today, so MannKind's inability to settle its $100 million debt on more favorable terms is a sign that investors have low confidence in Afrezza and the company's management.
If Afrezza continues to be a commercial disappointment, MannKind will face a cash shortfall in the next year because of other significant spending obligations.
Sanofi (SNY) , which sells Afrezza under a license from MannKind, reports second-quarter earnings on Thursday.
MannKind shares are down 7.6% to $4.45 in Wednesday trading following the announcement of the new financing agreement.
Under the agreement, MannKind is issuing new convertible debt due in 2018 to settle $28 million of the existing $100 million convertible debt. Terms of the new debt are similar to the old debt.
For $57 million of the existing debt, MannKind has agreed to issue company stock. The amount of MannKind stock to be issued will be determined by price of the stock over the next 10 trading days, through Aug. 11.
MannKind did not disclose how it plans to settle the remaining $15 million owed to holders of the $100 million convertible debt, but it's likely the company will use existing cash.
"This seems like the best MannKind could do," says a health care portfolio manager who specializes in convertible debt financings but does not own any of the MannKind debt. His firm's compliance rules don't allow him to be quoted by name.
"MannKind doesn't have the cash [to settle] so this is the best deal for them -- roll some bonds and pay back with worthless equity."
Adam Feuerstein writes regularly for TheStreet. In keeping with company editorial policy, he doesn't own or short individual stocks, although he owns stock in TheStreet. He also doesn't invest in hedge funds or other private investment partnerships. Feuerstein appreciates your feedback; click here to send him an email.