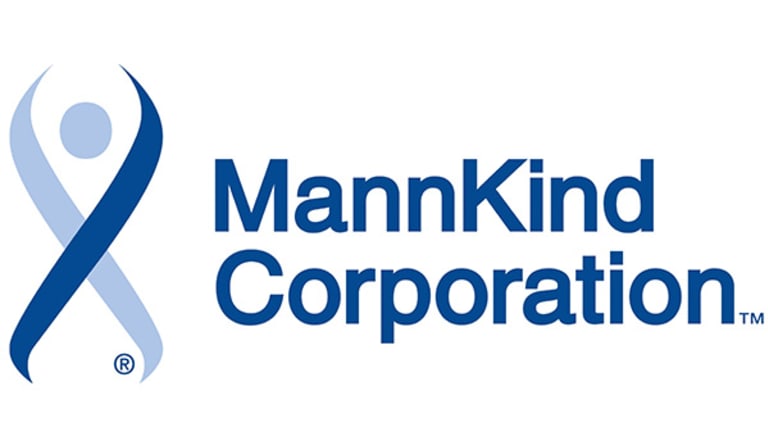 MannKind Perilously Close to Bankruptcy After Sanofi Exit
MannKind is as close to financial insolvency as it can possibly be without actually declaring bankruptcy after Sanofi terminated its agreement and will no longer sell the inhaled insulin Afrezza.
MannKind (MNKD) - Get MannKind Corporation Report is as close to financial insolvency as it can possibly be without actually declaring bankruptcy after Sanofi (SNY) - Get Sanofi Sponsored ADR Report terminated its license agreement and will no longer sell the inhaled insulin treatment Afrezza.
Sanofi's Afrezza exit from the partnership was announced by MannKind on Tuesday morning, the second business day of the year.
Contractually, Sanofi wasn't allowed to inform MannKind about a decision to terminate the Afrezza partnership until Jan. 1. Most everyone following the failed Afrezza commercial launch knew Sanofi wanted out. And as expected, Sanofi wasted no time running away from MannKind as soon as it could.
MannKind shares are down 26% to $1.07 but even this sharp decline underplays the company's financial peril. The company is short on cash, deeply in debt and has no established infrastructure to sell Afrezza.
The most likely end game for MannKind is bankruptcy. If the company is lucky, its Afrezza assets could be picked up by an opportunistic acquirer for pennies on the dollar. Even if that rosy scenario unfolds, MannKind's creditors will receive the proceeds. Equity holders will be left with nothing.
MannKind is holding a conference call this afternoon to discuss the Sanofi exit. The financial challenges facing the company now are just about insurmountable.
In November, after raising additional money by listing in Israel, MannKind had enough cash on hand to remain operational for two or three quarters. But that was with Sanofi footing the bill for two-thirds of the Afrezza commercial launch.
MannKind's 35% share of the Afrezza joint venture loss in the third quarter was $15 million. Without Sanofi, the loss in the quarter attributed to the inhaled insulin product would have been $43 million -- all on MannKind's books.
MannKind owed Sanofi $44 million at the end of the third quarter under the cost-sharing arrangement for the Afrezza partnership. The company's Sanofi debt is already larger and must be repaid unless Sanofi offers loan forgiveness as a going-away present. Even then, MannKind maintains significant debt on its books held by Deerfield Capital Management. The Deerfield debt is secured by Afrezza assets, including MannKind's manufacturing facility.
MannKind's effort to raise more money to sell Afrezza on its own -- or find another partner willing to do so -- will also be complicated by fixed spending requirements. Most notably, the FDA is requiring MannKind to conduct a five-year, 8,000-patient lung safety study of Afrezza. This study, not yet started, was to be funded by Sanofi.
The company can tap an existing at-the-market equity financing facility for additional cash, and founder Al Mann can also lend the company $30 million. But without Sanofi's support, taking these funds would be like putting a bandage on a bullet wound to the chest.
Game over, MannKind.
Adam Feuerstein writes regularly for TheStreet. In keeping with company editorial policy, he doesn't own or short individual stocks, although he owns stock in TheStreet. He also doesn't invest in hedge funds or other private investment partnerships. Feuerstein appreciates your feedback; click here to send him an email.