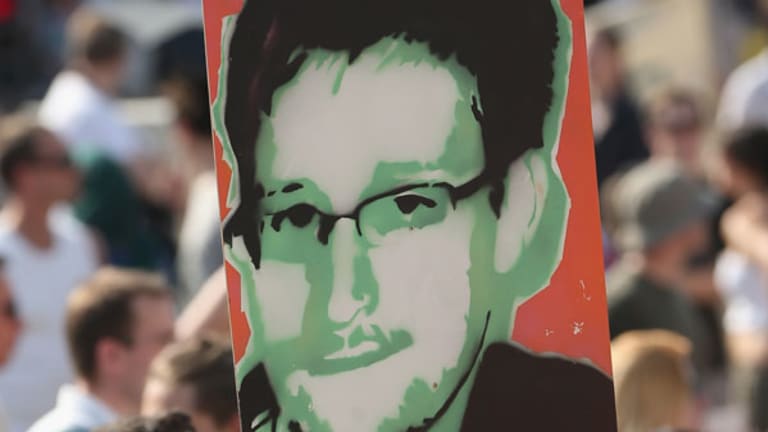 Manning, Snowden: World Weighs Treason vs. Nobel Prize
The U.S. government regards them as criminals, but two leakers of secret U.S. documents find sympathy at home and internationally.
The U.S. government regards them as criminals, but two leakers of secret U.S. documents find sympathy at home and internationally.
Updated from 2:26 p.m. ET with new information of the verdict in Bradley Manning's trial.
NEW YORK (
) -- Bradley Manning and Edward Snowden, both of whom leaked secret U.S. military and government documents to the public, have each been nominated twice for the Nobel Peace Prize, according to European media reports.
Manning is currently in jail in Fort Meade, Md., following the closing of his military trial last week. According to media reports late in the afternoon July 29, the judge in the case, Army Col. Denise Lind, said she expects to announce the verdict 1 p.m. ET Tuesday, July 30. Manning has pleaded guilty to 10 lesser charges out of the 22 filed against him.
Manning spent 11 months in solitary confinement following his arrest May 27, 2010, before being moved first to Leavenworth and later to Fort Meade.
Witnesses have testified that Manning downloaded and leaked hundreds of thousands of documents, among them a now-famous video,
, of a U.S. helicopter firing on a two groups in Baghdad, including children. The attacks killed a dozen people including a
Reuters
TV news cameraman, according to a
CNN
account.
The government claims the leaked documents jeopardized national security and put lives in danger. Vice President Joe Biden in 2010 dismissed the portrayal of Manning as a whistle-blower and said his actions were more those of "a high-tech terrorist." The defense and Manning's supporters claim the leaks had very little impact beyond publicly shaming the military and the administration.
Edward Snowden remains in an international transit zone in a Moscow airport since his arrival from Hong Kong. He is wanted by the U.S. and has appealed to several nations for asylum, including Russia, but has been stripped of his U.S. passport, limiting his ability to travel.
News outlets in Europe report Snorre Valen, deputy chair of the Norwegian parliament's committee on foreign and domestic affairs, last week nominated both men for the Oslo-based prize. Snowden had previously been nominated by Swedish sociology professor Stefan Svallfors. Mairead Corrigan-Maguire, a Northern Ireland peace activist who won the prize in 1976, had previously nominated Manning.
Valen, who represents the Socialist Left, the fourth-largest political party in Norway, does not necessarily represent the political majority, and in fact his country is among those that have, to date, turned down Snowden's request for asylum. His position however underscores a noticeable and growing level of support for the two men.
The
reports that "thousands of people" demonstrated in the streets in German cities on Saturday to protest reports of the U.S. spying on European nations and to voice support for Snowden. The largest demonstration was of about 1,000 people in Frankfurt, the report said.
Within the U.S., the imprisonment and prosecution of Manning and the attempt to extradite and arrest Snowden have proven polarizing. While the administration has broad support for the prosecution of both men, a large public following describes them both as "whistle-blowers" -- someone who follows their conscience for the common good, in defiance of authority.
The balance of opinion appears to be fickle. According to a recent
ABC-Washington Post
poll, 53% of responders feel Snowden should be charged with a crime, while 36% disagree. Only a month ago, a similar poll showed the balance in favor of Snowden, with 48% opposed to him being charged. Small changes in wording among polls produce different results on this issue, showing that regardless of their feelings toward Snowden, suspicions of the government's surveillance efforts remain high.
Valen cited as a service Snowden's revelation of the "magnitude of surveillance that we are subjected to in the name of the 'war on terror'." He also implicitly acknowledged the U.S.'s attempts to bring Snowden to trial, but said the Geneva Convention "gives everyone the right to say no to following orders when it contradicts their own conscience."
The Nobel Prize committee accepts nominations from anyone within a range of government and civic leadership positions, including some academics and former prize winners. Anyone may be nominated, but nominators may not nominate themselves. The Nobel Prize committee itself does not disclose nominations, but nominators may choose to make that information public.
Previous winners of the Nobel Peace Prize have included controversial revolutionary leaders, including Nelson Mandela, who spent years in prison for his opposition to South African apartheid, Liu Xiaobo, who participated in the Tiananmen Square protest of 1989 and was imprisoned in China for publishing his views on the need for shifts toward greater democracy, and Aung San Suu Kyi who opposed the military junta that had ruled Burma since 1962 and was later held by the government under house arrest for years.
Controversies follow many, if not all, of the Nobel winner announcements. The choice of President Obama for the prize in 2009, for instance, "for his extraordinary efforts to strengthen international diplomacy and cooperation between peoples" was widely criticized as premature.
Other European leaders have voiced sympathy for Snowden. Germany's President Joachim Gauck told a German newspaper Friday that Snowden's decision to leak surveillance information "deserves respect."
"The fear that our telephones or mails are recorded and stored by foreign intelligence services is a constraint on the feeling of freedom and then the danger grows that freedom itself is damaged," he said. The issue has domestic significance in German politics, as some reports indicate German spies cooperated with the U.S. intelligence gathering efforts.
"We Germans have had to experience the abuse of state power with secret services twice in our history," Gauck is quoted as saying. "And therefore we are sensitive (to this) and our American friends must accept that."
Snowden, former CIA employee and a contractor with the National Security Agency, has publicly admitted to leaking top secret documents regarding the U.S. surveillance program in a series of
video interviews with U.K. news outlet TheGuardian
.
Snowden is wanted by the U.S. on felony charges of leaking vital information and is currently living in the international transit zone of Moscow's Sheremetyevo Airport. The
Washington Post
July 24 reported that Russia may allow Snowden to leave the airport, granting him temporary asylum. Russia has already denied the U.S. request for extradition.
However a
Voice of America
report July 29 seems to shed doubt on the temporary asylum arrangement, with a Russian official saying it was safer for Snowden to remain in the airport and that outside of that zone, Russia can't guarantee his safety.
Meanwhile U.S. Attorney General Eric Holder assured Russian authorities that any criminal charges Snowden may face back home will not carry the death penalty. In
, former NSA head Gen. Michael Hayden suggested that Snowden and the media have exaggerated his claims about the surveillance program and his access to sensitive data.
In a
, Hayden said the current debate about surveillance as a result of Snowden's leaks "came at a tremendously high price," undermining the credibility of U.S. intelligence community with its international partners and giving terrorist targets the opportunity to shift their communication patterns to elude intelligence gather efforts.
Hayden, who is currently a principal in the Chertoff Group with a focus on terrorism intelligence, also put the fallout in business terms: "American firms, doing nothing but obeying American law to protect the United States are now going to be punished economically internationally for their participation and that's terribly unfair."
In Europe and elsewhere, however, the damage to American credibility and businesses is being seen as caused not by Snowden's revelations, but by U.S. policies. In particular, the government's consistent push for Internet freedom around the world now seems sinister in light of revelations about its secret surveillance programs and cooperation elicited from U.S.-based data conduits like
Google
(GOOG) - Get Report
and
Microsoft
(MSFT) - Get Report
.
From an editorial in the
Frankfurter Allgemeine
, titled "The Price of Hypocrisy": "Today, the rhetoric of 'Internet freedom agenda' looks as trustworthy as George Bush's 'freedom agenda' after Abu Ghraib."
-- Written by Carlton Wilkinson in Asbury Park.