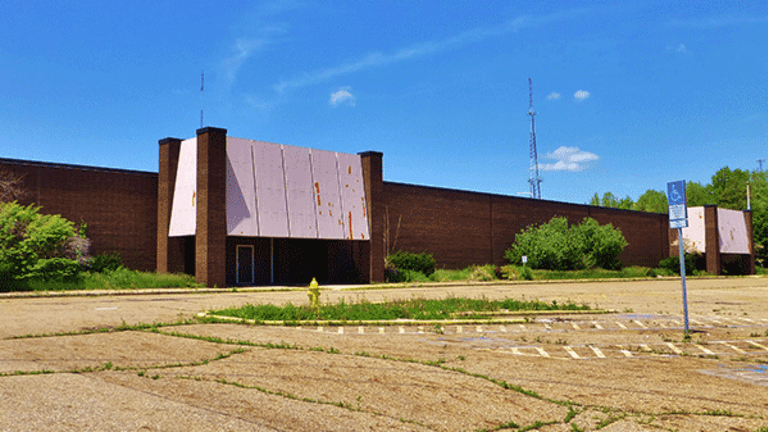 Malls Are Still Absolutely Falling Apart, According to This New Study
If someone tells you the traditional shopping mall isn't dead, they're lying.
We've heard it time and time again.
Malls are dead because people are shopping with online giants like Amazon (AMZN) - Get Amazon.com, Inc. Report instead of at traditional bricks-and-mortar retailers such as Sears Holdings Corp. (SHLD) , which has seen its liquidity and operations essentially unravel.
While some may deny it, or offer up positive alternatives for the dying sector, the numbers don't lie.
In May, total retail traffic in the U.S. is expected to have plunged 8.9%, compared to April when it declined 4.1%. In the last week of May alone, the seven-day period ended Saturday, traffic fell 9.41%, a sharp drop from the 0.75% increase seen in the same period last year, according to Cowen & Co. research.
Cowen analysts said in a research note on Tuesday that year to date, retail traffic is down an eye-popping 8.4%. For the week ended Saturday, U.S. retail same-store sales tumbled 6.62%, worse than the 3.97% slip recorded for the same period last year.
Breaking it down further, Cowen said for the last week of May, apparel retail traffic fell 6.65%, compared to the same period a year ago when it only decreased 1.04%, while at wireless and electronics retailers, traffic plummeted a whopping 20.95%.
"We are skeptical there will be a positive change in bricks-and-mortar traffic trends until back to school nears," Cowen analysts said, predicting that retail traffic will plunge 5% to 7% in the first week of June.
Meanwhile, Morgan Stanley said Memorial Day weekend did nothing to reverse the downward traffic trend for retailers in the Northeast, at least. In the third week of May leading up to the holiday weekend, the firm estimated that traffic tumbled 6%.
"May weather was variable across regions, with the Northeast experiencing its first heatwave of the season in week three," Morgan Stanley said. "This pattern reversed in week four with the Northeast forecasted to be the coolest in at least 11 years, a negative for summer categories."