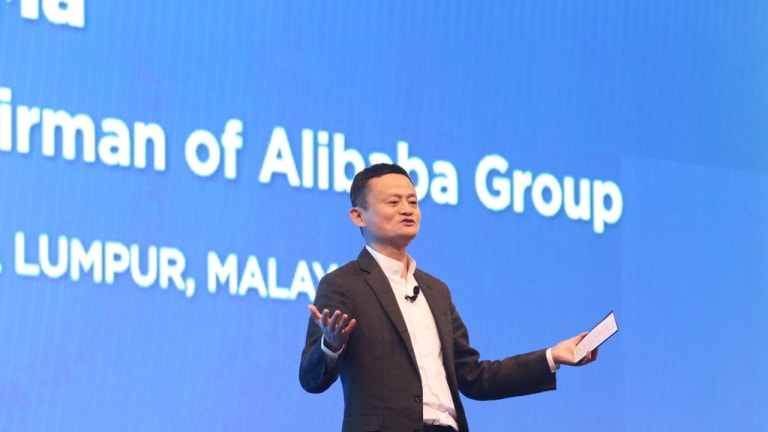 Malaysia Just Became Alibaba's First Overseas E-Hub
Jack Ma aims to counter the growing trade protectionism sentiment with global digital free-trade zones.
Jack Ma aims to counter the growing trade protectionism sentiment with global digital free-trade zones.
Jack Ma, the founder and executive chairman of Chinese e-commerce behemoth Alibaba (BABA) - Get Report , is one step closer to completing his ambitious plan of global free trade.
Hangzhou, China-based Alibaba signed a bilateral deal with the state-run Malaysia Digital Economy Corp. on Wednesday for the country to host the first overseas e-hub for what Ma calls the Electronic World Trade Platform (eWTP).
Alibaba's public-private partnership deal with Malaysia includes a fulfillment center based near Kuala Lumpur International Airport, which will function as a customs clearance, warehousing and fulfillment center for the region. The deal will also help facilitate e-payments and financing for business-to-business trade for small and medium-sized enterprises in Malaysia.
To cater to the company's fast-growing business in Malaysia, Alibaba's Cloud division will build a cloud-computing platform in Malaysia to support businesses, while also offering training to potential engineers in the country. Alibaba's finance arm, Ant Financial as well as Malaysia's largest financial services providers - CIMB Bank and Maybank will look to offer payment services to Chinese tourists visiting Malaysia.
"This is an exciting development for the country, and to be an early participant in eWTP will provide a plethora of opportunities for Malaysian organizations," said Malaysian Prime Minister Dato' Sri Mohd Najib Tun Abdul Razak about the pact.
First proposed by Ma at the G20 summit in Hangzhou last year, the concept envisions a future where small and medium-sized enterprises can easily practice e-commerce in digital free-trade zones with lower trade barriers and equitable access to global markets.
"I laid out the vision for eWTP last year, and we as a company have taken on the responsibility to make this a reality. The first e-hub under the eWTP outside of China will go a long way towards making global trade more inclusive and provide much needed support to a hugely important constituent: SMEs and the younger generation," said Ma in a statement released on Wednesday.
Ma views the eWTP as complementary to the World Trade Organization, which he believes has fostered a more integrated global economy through agreements that lowered trade barriers during the last two decades. The Chinese billionaire also said at the Davos World Economic Forum in January that "a trade war would be a disaster for the world."
Alibaba's collaboration with Malaysia follows its recent partnership with the Danish government to launch Denmark Pavilion on one of its main online shopping sites Tmall Global that now includes more than 20 Denmark fashion, lifestyle, household and food brands.
Besides gaining another governmental support, Alibaba's boosted presence in Malaysia adds to its chest of conquests in Southeast Asia, a region with 620 million population and in particular, 250 million smartphone users who are digital-savvy and eager to use mobile technology to shop online.
Ma already signed in December last year an agreement with Thailand's Deputy Prime Minister Somkid Jatusripitak to help the country's small- and medium-sized businesses succeed in e-commerce. Last April, Alibaba made its largest overseas investment totaled at $1 billion for a majority control of Singapore-headquartered Lazada, which operates in Singapore, Malaysia, Thailand, Indonesia, the Philippines and Vietnam, six of Southeast Asia's biggest e-commerce markets. Meanwhile, Alibaba's digital payment arm Ant Financial acquired a 20 percent stake in Thailand's Ascend Money, which offers e-payment services and micro-loans to customers who are underserved by big financial firms. Bangkok-based Ascend Money operates in Indonesia, the Philippines, Vietnam, Myanmar and Cambodia.