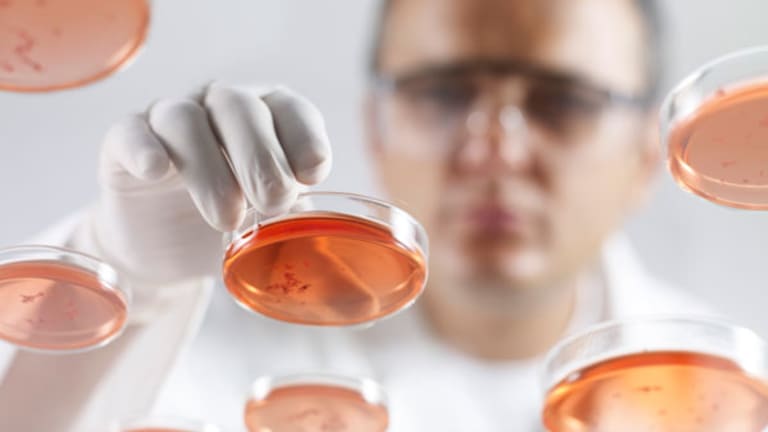 Making The Call: Celgene's Abraxane Will Work in Pancreatic Cancer
A key question is whether Abraxane will be used more than a cheaper, four-drug chemo cocktail.
NEW YORK (
) --
Celgene's
(CELG) - Get Celgene Corporation Report
phase III trial of Abraxane in pancreatic cancer will be a statistical success, my research predicts. The trickier question is whether or not the Abraxane survival benefit observed in the trial will be clinically meaningful. I think it will.
Results from the Abraxane pancreatic cancer study are expected later this quarter.
Acquired through Celgene's $2.9 billion purchase of Abraxis BioScience in 2010, Abraxane is an albumin-bound formulation of the chemotherapy drug paclitaxel. Abraxane generates annual revenue of $450 million as a treatment for breast cancer but hasn't lived up to investor expectations thus far. That may be changing. Earlier this month, Celgene unexpectedly reported positive Abraxane data from a phase III study in melanoma. Last week the FDA allowed expansion of the drug's label to include treatment of non-small cell lung cancer (NSCLC). Both of these indications are likely modest commercial opportunities and investor expectations seem low.
Pancreatic cancer is another matter.
In late 2011, investigators from Abraxis published results from a single-arm phase I/II study of Abraxane plus gemcitabine in front-line metastatic pancreatic cancer in the
Journal of Clinical Oncology
. These data showed an impressive 48% overall response rate with median progression-free survival of 7.9 months and median overall survival of 12.2 months. These data compare favorably to historical results for gemcitabine monotherapy in pancreatic cancer -- progression-free survival of 3.5 months and overall survival in the range of 6-7 months.
Based on the positive phase I/II data, Celgene initiated a randomized phase III trial of Abraxane plus gemcitabine compared to gemcitabine monotherapy. Originally slated to enroll 630 front-line pancreatic cancer patients, investigators increased the trial's size to 842 patients in the fall of 2010. As far as I can tell, this is the largest clinical trial ever in pancreatic cancer. The primary endpoint is overall survival.
Even if the combination meaningfully underperforms earlier results in the Phase III study and single-agent gemcitabine outperforms expectations, it seems likely that Abraxane will show a statistically significant, 2-3 month survival benefit over the control group.
The more challenging questions about Abraxane have to do with the drug's tolerability and whether or not any observed survival benefit will be clinically meaningful. Tarceva was approved in pancreatic cancer but is rarely used because the drug was shown to improve survival by a paltry 12 days over gemcitabine monotherapy.
Likewise, some physicians suggest that in order for Abraxane to garner widespread use in pancreatic cancer, it will have to outperform FOLFIRINOX, a four-drug chemotherapy regimen.
It's hard for me to believe that physicians wouldn't consider a 2-3 month survival benefit clinically meaningful, but the concern about the drug's absolute survival seems plausible.
Let's take a closer look at FOLFIRINOX.
In the FOLFIRINOX study, 48% of patients survived for one year and median overall survival reached 11.1 months. My "worst reasonable case" estimate -- which excludes outright failure -- is that Abraxane-gemcitabine patients will report a median overall survival of 9.8 months. I think it's more likely that the respective survival duration for Abraxane and FOLFIRINOX will be similar.
With cancer drugs, efficacy is usually regarded as more important than safety given the life-threatening nature of the disease, but FOLFIRINOX's toxicity is an issue to consider.
Compared to FOLFIRINOX, Abraxane appears to cause less severe vomiting, diarrhea and febrile neutropenia, a sign of infection. However, Abraxane is responsible for more severe thrombocytopenia (low platelets) and sensory neuropathy, or nerve damage, in the arms and legs, than FOLFIRINOX
Febrile neutropenia and sensory neuropathy are the most worrisome side effects for each drug, with good reason. An infection with a low white blood cell count can kill, and persistent, severe tingling of the hands and feet can meaningfully impair quality of life. (Consider Celgene's Thalomid and
Takeda's
Velcade, both of which have been hindered commercially by a tendency to cause sensory neuropathy.)
The most common pushback against FOLFIRINOX becoming widely used in pancreatic cancer is that the regimen is too toxic for patients to tolerate. I don't think that's true, at least for relatively healthy patients. Nevertheless, Abraxane's side effects are worth keeping an eye on.
The most significant hindrance to FOLFIRINOX's adoption in the pancreatic cancer treatment landscape may be the simple fact that the four drugs in the regimen are all generic, meaning no company is out there actively marketing it to doctors.
Celgene, however, will be marketing Abraxane aggressively to pancreatic cancer specialists, if approved. The company's salesforce will likely be able to assuage concerns about Abraxane's toxicity, suggest appropriate patients for initial use, and highlight potentially compelling details in the dataset -- such as the possible correlation between high levels of secreted protein acidic and rich in cysteine, a membrane protein known as SPARC, and longer median survival.
There is one point of concern that makes me a little nervous. Based on an interim analysis, the independent monitors overseeing the Abraxane pancreatic cancer study recommended to Celgene that the trial increase in size by nearly 34%. That's potentially important, as it could indicate the data monitors saw a smaller-than-expected benefit for Abraxane versus control during the interim analysis. It's more likely that I'm being too much of a worrywart.
In aggregate, the data suggest Abraxane will have favorable risk-benefit profile in pancreatic cancer. Current analyst consensus estimates include only roughly $730 million in 2015 Abraxane sales across all indications, well below management's guidance of sales reaching $1 billion to $1.25 billion. That suggests most Street analysts don't expect the drug to work. Clearly, success in phase III would force those projections upwards.
Time will tell.
Two related notes: Read Jim Silverman's column on buying the
Celgene contingent value rights
(CVR)
(CELGZ)
as a
bullish trade tied to the positive outcome in the Abraxane pancreatic cancer trial
.
If Abraxane demonstrates a clinically meaningful survival benefit in pancreatic cancer,
Threshold Pharmaceuticals'
(THLD)
pancreatic cancer drug
even before its phase III study is completed.
Sadeghi has no position in Celgene.
Follow Nathan Sadeghi-Nejad on
.
Nathan Sadeghi-Nejad has 15 years experience as a professional health-care investor, most recently as a sector head for Highside Capital. He has worked on the sell side (with independent research boutiques Sturza's Medical Research and Avalon Research) and the buyside (at Kilkenny Capital prior to Highside). Sadeghi-Nejad is a graduate of Columbia University and lives in New York. You can follow him on Twitter @natesadeghi.