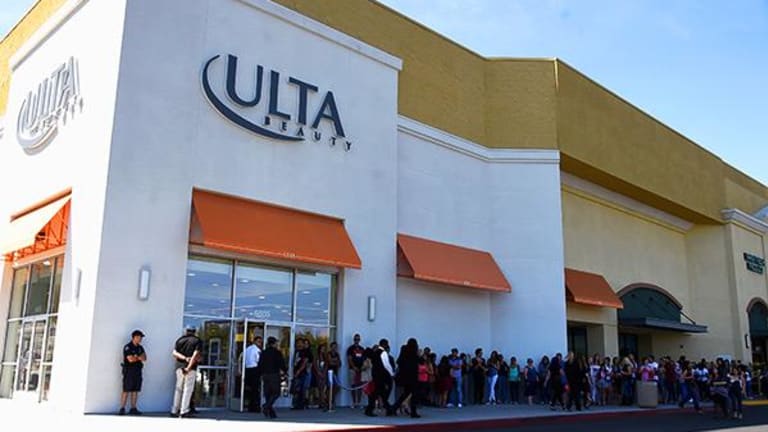 Here's Why Amazon Hasn't Crushed Makeup Retailers Yet
Companies like Ulta and e.l.f. have managed to sell their products both online and in bricks-and-mortar stores.
Despite the widespread retail doldrums, specialty makeup retailers like Ulta Beauty Inc. (ULTA)  and Sally Beauty Holdings Inc. (SBH) are able to balance both selling in bricks-and-mortar locations and expanding their online presence.
In 2016, the U.S. prestige makeup category grew 12%, according to NDP Group data, while the U.S. mass makeup category grew 5%, according to Nielsen data. According to estimates by Jefferies LLC analyst Stephanie Wissink, members of the Generation Z and Millennial generations, all those under the age of 35, are price-conscious shoppers who prefer new products and "seek frequent change," with "upgrade cycles" occurring every two years. They also regularly use more individual products than Baby Boomers and Gen Xers.
"The rate of shopping outpaced the rate of regimen change, which skewed slightly higher toward quarterly," Wissink wrote in June, citing a proprietary survey. "This is a signal of the micro-trend orientation of the category--trend cycles are shortening as beauty participants engage, experiment, are inspired by something new, and transition onto the next micro trend."
More of What's Trending on TheStreet:
78% of purchases are done in stores, according to the Jefferies survey, with the top seven retailers accounting for 70% of "mindshare." Ulta led the pack at nearly 18%, followed by Walmart Stores Inc. (WMT) , LVMH-backed Sephora, Target Corp. (TGT) , Walgreens Boots Alliance Inc.'s (WBA) Walgreens, CVS Health Corp. (CVS) , Amazon.com Inc. (AMZN) and Macy's Inc. (M) .
Pure-play beauty retailers like Ulta have taken a beating from fears of encroachment from department stores like Macy's and online retailers like Amazon, according to Cowen analyst Oliver Chen, who added that these fears are overblown. Ulta could become the "Amazon of retail," he wrote, and the company plans to grow online sales to 10% of the mix, up from 7.9% in the first quarter, itself a 71% year-over-year increase.
At Ulta, "the online shopping experience reflects the bricks experience given the mix between discovery, trial, and newness," Chen said, with more than 90% of e-commerce customers also shopping in stores.
Sally Beauty, in contrast, is testing a partnership with Amazon Prime Now to reach new customers and improve its brand recognition. This is an attainable goal, Chen notes, as Amazon Prime customers have significantly higher household incomes than Sally customers and there's very little overlap between the two.
A newer entrant to the market is e.l.f. Beauty Inc. (ELF) , which sells its products in specialty retailers like Ulta, drugstores and its own company-owned stores and online channels, is also beefing up its online presence. Wells Fargo Securities LLC analyst Bonnie Herzog estimates that e.l.f., which went public last fall, currently garners 11% of sales from its website, with online efforts set to accelerate in 2018. The move to an online platform based on Salesforce.com Inc. (CRM) "should improve user experience and functionality, and for ELF increase speed, efficiency and enhance CRM and loyalty capabilities."
Watch More with TheStreet:
Say Hello to the Next Gold Rush: Cryptocurrency Miners Are Showing Off Insane Rigs on Instagram