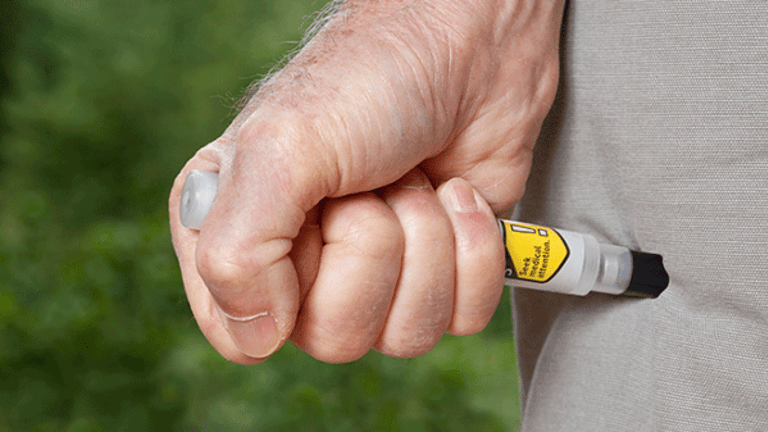 What Mylan Has in Common With the Word Disaster
Mylan might be trapping the bears here in a big way.
Shares of U.K.-based generic drug player Mylan NV (MYL) are trading all over the map on Wednesday following an earnings report that can only be characterized with one word: disaster.
The stock has been down as much as 8.8% in pre-market trading to turning positive for a flash this morning, after the company spooked investors with not just its lack of earnings for the quarter, but also with a dismal forward guidance. Mylan said earnings came in at $1.10 per share, which was well below Wall Street consensus estimates of $1.16 per share, and revenue came in at $2.96 billion, also below estimates of $3.04 billion.
In regards to forward guidance for all of 2017, Mylan said it expects to generate earning per share in the range of $4.30 to $4.70 and revenue between $11.5 billion to $12.5 billion. Both of these forecasts came in well off the mark of Wall Street consensus estimates of $5.12 in earnings per share and $12.46 billion in revenue.
The company is getting hit from every angle fundamentally, since generic drug prices are trending lower and competition is ramping up as the FDA speeds up generic drug approvals. Competition for their high-priced Epipen is also delivering shots to MYL, as well as issues with FDA delays, which seems to run counter to the new fast-moving generic regulatory market.
More of What's Trending on TheStreet:
Mylan threw another wrench in the works after they said the U.S. regulatory market uncertainty is forcing them to defer all major U.S. launches from their full-year 2017 financial guidance to 2018, including for Advair and Copaxone.
At last check, MYL is trading off by 0.5%, to $31.60 a share.
Despite all this uncertainty, the stock has already attempted a powerful reversal on massive volume. Volume so far for Wednesday's trading session has already registered over 23 million shares, which is well above its three-month average action of 5.44 million shares.
If you take a look at a longer-term chart for Mylan, you're going to notice something very interesting about the way this stock has traded so far on Wednesday. A monster trendline that dates back to early 2014 has acted as major support for the stock multiple times, and it has been the exact place that buyers have stepped up aggressively to own shares.
Shares of Mylan briefly broke below that trendline this morning, and no doubt had avid chart readers like myself that were looking to go long or go short taking swift action. It's still early in the ballgame, but that trendline is the key to the next major move for MYL. A close below it either Wednesday or in the very near future will be a major victory for the bears if they can sustain the trend. It will mean they are in full control of the stock, and it's heading likely to $20 a share if not lower.
On the flip side, a close above it by the bulls will mean business as usual since this trendline has been area the stock has bounced from and held since early 2014. Considering the sharp reversal this morning off its low of $28.71 a share, I think the market managed to trap potential new bears and run some existing bull stops. I'm leaning in favor of the bulls here, but of course we need to see if they can maintain a close and trend above this key area in the coming days.
The bottom line, it looks like a powerful reversal is underway for Mylan after an extremely bearish open for the stock and break of that major trendline support. Watch that area like a hawk, it will be the factor for the next big trend, and it's looking like the bulls are going to win again.
Watch More with TheStreet:
This article is commentary by an independent contributor. At the time of publication, the author held no positions in the stocks mentioned.