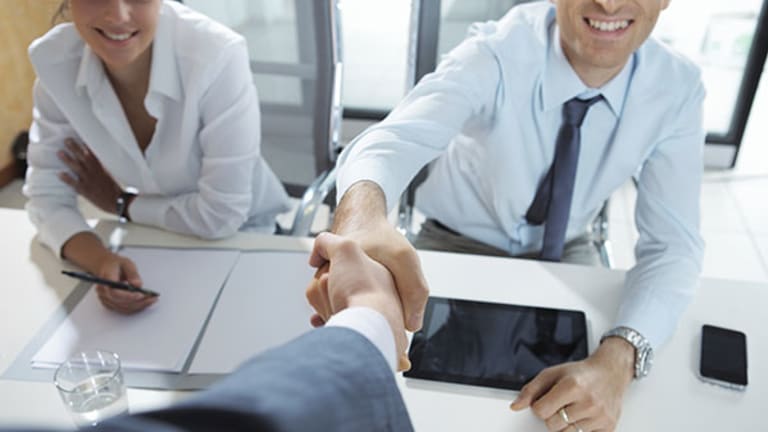 Maguire Asset Management Prods Search Firm CTPartners to Start Formal Auction
Activist investor Maguire estimates CTPartners may be worth as much as $139 million in a sale.
NEW YORK (TheDeal) -- As activist shareholder Maguire Asset Management adds to pressure on CTPartners Executive Search Inc. (CTP) to evaluate a sale, DHR International Inc. and other potential buyers remain concerned about the defection of senior members of the embattled C-suite search firm.
The New York-based executive search company could be worth between $12 and $16 a share in a sale, or from $104 million to $139 million based on its 8.7 million shares outstanding, according to Laguna Beach, Calif.-based Maguire Asset Management, which holds an undisclosed stake in CTPartners.
In the middle of that range, at $14 a share or about $122 million, a deal would be worth about twice the $61 million at which DHR's $7-a-share values CTPartners.
Chicago-based DHR launched an offer for its smaller rival on Feb. 6. The significant depreciation of CTPartners' shares--following reports by The New York Post that depicted CTPartners as a "boys club," detailing confidential complaints of sexual impropriety and sex-bias including allegations aimed at top executives -- created an opportune time for DHR to take a swing at its peer.
As of a week ago, CTPartners' board and financial adviser on its strategic review process, Robert W. Baird & Co., hadn't engaged with DHR. Since then there has been minimal communication between the two companies.
The addition of activist pressure may speed up the process.
"Rather than attempt to resuscitate investor confidence over the next several quarters (and perhaps years), we believe that you, as directors, will better fulfill your fiduciary duty to all shareholders by exploring a sale of the entire company," Maguire wrote in a March 20 letter to the board of the executive search firm. "CTPartners has attractive prospects to a strategic buyer within a rapidly growing industry; a healthy M&A environment and clear interest from strategic buyers suggest an attractive premium could be achieved through a well-orchestrated sale process."
Shares of CTPartners, listed on the New York Stock Exchange, jumped 8.6%, to $6.70 in Monday trading.
While DHR still remains very interested in acquiring its smaller rival, there is concern surrounding the number of senior personnel at CTPartners who have left the company in the past several weeks to work for the target's competitors, noted a source familiar with the matter.
The source pointed to the recent departure of director and vice chairman Joseph McCabe, who has joined the company's larger competitor Korn/Ferry International (KFY), of Los Angeles.
In addition to McCabe, the list of recruiters who have left CTPartners includes vice chairman Ernie Brittingham, who joined rival firm Russell Reynolds Associates Inc.; Daniel Kaplan, who joined competitor Heidrick & Struggles International Inc. (HSII) as a co-managing partner of its human resources practice; and Jeremy Zeman, who joined Korn/Ferry in its financial services practices, according to Hunt Scanlon Media LLC, a market research firm concentrated on the retained search, HR and talent acquisition industries.
CTPartners, with a roughly $55 million market capitalization, isn't that large a company to begin with, and therefore a mass defection could affect its profitability and ultimately its valuation, the source noted.
At the same time, the departure of former Chief Executive Officer Brian Sullivan does appear to remove a major barrier for CTPartners. Sullivan, who was among those named in the Post article, announced his resignation on March 12, effective April 2.
"CTPartners is globally diversified with 163 partners and principals worldwide, up from 157 on Jan. 1, 2015, and 128 on Jan. 1, 2014," CTPartners CEO-designate Sylvain Dhenin said in an e-mail. "We have always had some of the lowest employee turnover in the industry, and no female consultant has left CTPartners since November 2014, demonstrating that CTPartners' provides the industry's best professional environment for staff to deliver the highest quality for clients. It also demonstrates just how misleading and exaggerated allegations from a tabloid are about our firm."
A second source familiar with the situation agreed that the market overreacted to the allegations, explaining that fundamentally speaking, CTPartners remains a compelling investment and good business.
Still, the source described CTPartners as "leaderless," noting that Dhenin is based in France. With the company's operations in New York and work needed to restore its credibility and reputation, the best thing for CTPartners to do is run a formal auction process and sell, the source added.
Whether any of DHR's larger rivals -- Korn/Ferry, Russell Reynolds, Hedrick & Struggles, Spencer Stuart and Egon Zehnder -- will emerge as bidders remains to be seen. Scott Scanlon, chairman and CEO of Hunt Scanlon Media, previously told The Deal he believes it's an unlikely scenario.
Read more: http://pipeline.thedeal.com/tdd/ViewArticle.dl?id=13087632#ixzz3VFJGSz4z