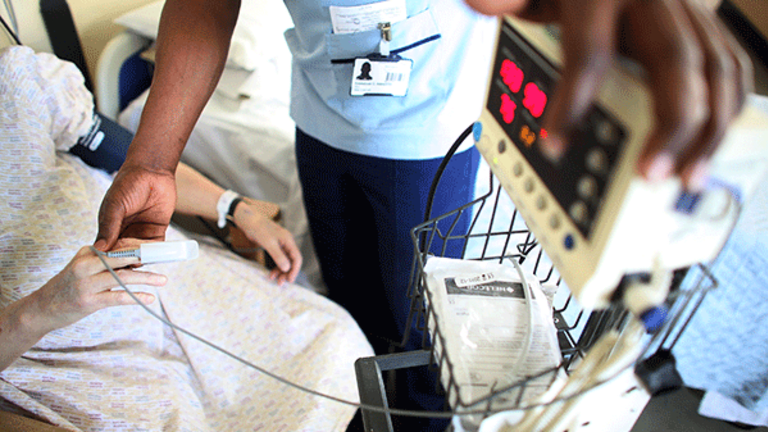 Magellan Shares Up Strong After Shelling Out $400M to Buy Senior Whole Health
Shares of Magellan surged during mid-morning climbing 4.51% within the first hour.
Shares of Magellan surged during mid-morning climbing 4.51% within the first hour.
Magellan Health Inc. (MGLN) - Get Report announced its intent to acquire privately-held Senior Whole Health for $400 million in cash, which will precede a $10 million contingent payment.
Shares of Magellan surged during mid-morning trading in light of the news, climbing 4.51% to $76.55 on Thursday, July 13.
The acquisition will allow Columbia, Md.-based Magellan to expand its depth into Massachusetts' Senior Care Options program and further presence in New York City's long-term care market. Senior Whole Health's sound system and "culturally competent clinical model" will attempt to further position Magellan in managed long-term service (MLTC) care.
"Senior Whole Health is a well-regarded, quality health plan that has served government-sponsored programs since 2004," said Barry M. Smith, chairman and CEO of Magellan Health in a press release. "This acquisition will enhance Magellan's geographic reach, membership and expertise in the MLTC market, leveraging Senior Whole Health's intimate knowledge of both the Massachusetts and New York markets."
Wayne Lowell, chairman and CEO of Senior Whole Health, also expressed enthusiasm about the deal. "We are excited to be joining Magellan at such an opportune time," Lowell said in a press release.
Magellan expects SWH's 2017 revenue to reach approximately $1 billion, forecasting $60 million of that to be profit. The acquisition will also leverage Magellan against competitors Quorum Health Corp. (QHC) - Get Report and PharMerica Corp. (PMC) .
Senior Whole Health is known for developing customized care plans and currently insures seniors in the Massachusetts and New York areas. The plans are designed to accommodate at-home living situations for seniors.
Magellan Health is a healthcare company focused on behavioral healthcare with a particular interest in complex areas of health, which they consider to be special populations and pharmacy.
Weil, Gotshal & Manges is advising Magellan Health. Partner Raymond Gietz is leading the M&A portion alongside associates Giancarlo Ruscio and Geoffrey Weinberg.
The tax piece of the deal is represented by partner Helyn Goldstein and associate Eric Remijan. Partner Douglas Urquhart, Alice Pang and associate Justin Lee will oversee the banking side of the deal whereas Partner Corey Chivers and associate Janeane Ferrari will manage the capital markets side. Partner Amy Rubin and associate Aaron Cha will be responsible for handling benefits.
The transaction is expected to close by the end of the first quarter in 2018. Further details will be made available during the second quarter earnings call taking place on Friday, July 28.
"Our companies are a great fit culturally, with an individualized approach to member care and service, as well as an eye toward new and innovative ways of helping our members live healthy, vibrant lives," said Smith.