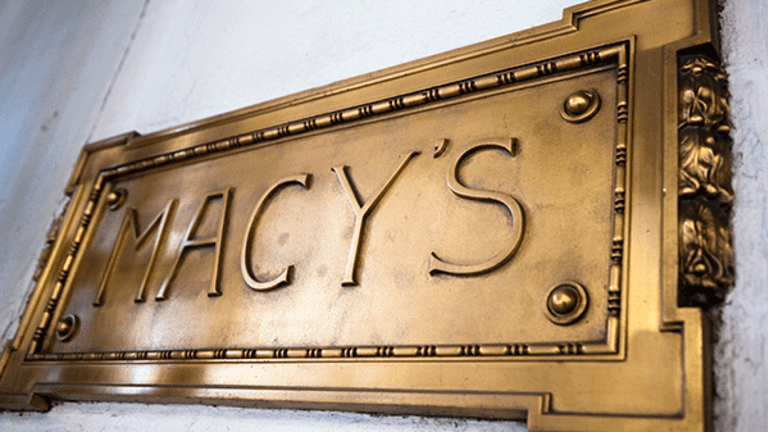 Macy's Is Primed for a Sale, but It Might Be Too Little, Too Late
The beleaguered department store might find itself on the auction block soon, insiders say. But is there value for investors?
Shares of department store stalwart Macy's (M) jumped Thursday following a report that the company is gearing up for a sale, but not one on dresses or shoes.
Instead, it looks like the beleaguered department store chain might put itself up for sale in a last-ditch effort to send Chairman and Chief Executive Terry Lundgren out without triggering an all-out board war. Already, Macy's has seen major carnage in its stock.
Lundgren said last summer that he intends to step down this quarter as chief executive but remain as chairman.
However, Starboard Value, the activist investor hedge fund run by Jeffrey Smith, is pressuring for seats on Macy's board. Starboard Value bought its Macy's stake in 2015 and from the start has pressed the company to spin off its real estate holdings.
Since Smith's July 2015 purchase, shares of Macy's have cratered by nearly 60%.
So it is no wonder that he wants to unlock more value from the company. And with the company's annual meeting expected to occur in the spring, big shake-ups are undoubtedly looming.
Lundgren is attempting to "avoid an ugly board shake-up" and is open to a sale, according to The New York Post, 
An unidentified private-equity firm partner reportedly told The Post that he had been contacted by a real estate investor about a potential Macy's sale.
Selling its real estate assets would make sense for Macy's.
In 2015, Smith said that the company's real estate was worth more than $20 billion alone.
Compare that with Macy's market capitalization, which is about $9.4 billion. Macy's owns about 50% of its stores outright.
Sears Holdings, another troubled department store chain, spun off its own real estate investment trust, Seritage Growth Properties, in 2015.
Last year, Macy's added a REIT chief executive, William Lenehan of Four Corners Property Trust, to its board, as well as striking a deal with Brookfield Asset Management to redevelop 50 under-performing stores.
Macy's is closing locations left and right.
Already this year, the company has said that it plans to close 68 additional stores.
Macy's -- as well as practically the entire brick-and-mortar retail industry -- has seen its sales plummet, thanks to the rise of ecommerce companies such as Amazon.
Apparel sales had long been considered beyond the scope of ecommerce because consumers can't take online merchandise into a dressing room. But Amazon is poised to blow past the department store giant to become the country's largest retailer of accessories and clothing.
Although Macy's has made efforts to sell more merchandise online, its ecommerce initiatives have been too little, too late.
---
Unless you're willing to speculate on a Macy's sale, this company remains too risky for investors who like to play it safe. And although no investment is 100% without risk, there is a way you can make $67,548 per year safely, quickly, and easily. In fact, I know a trader who has won eight out of every 10 trades - GUARANTEED. Find out about this lucrative strategy here.
The author is an independent contributor who at the time of publication owned none of the stocks mentioned.