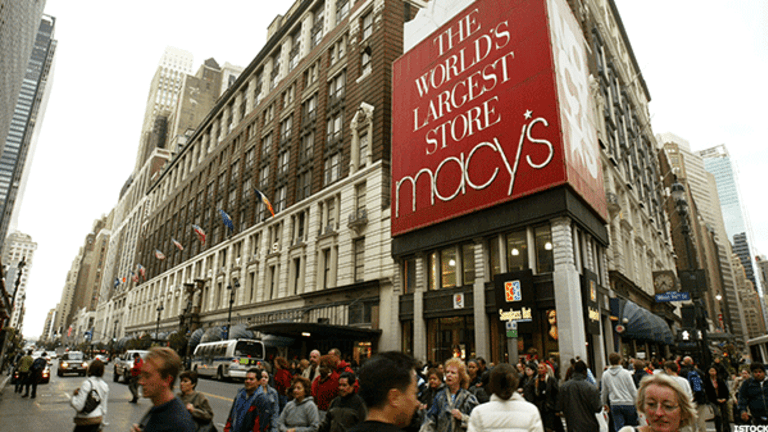 Macy's Is Becoming America's Flea Market in Amazon Fight
Macy's continues to add new shops in a bid to thwart online competition.
The flea market, an icon of shopping in the 1970s where assorted business owners set up shop to hawk their wares. It could have been fancy jewelry or collectible baseball cards, but a trip to the flea market offered an array of choices not found in the typical department store.
Sort of sounds like a visit to department store Macy's (M) - Get Macy's Inc Report circa 2016.
Macy's said Monday it will start selling merchandise from Brookstone such as kitchen gadgets, audio technology and other paraphernalia at some 347 stores nationwide and its website for the holiday shopping season. The deal with Brookstone comes on the heels of Macy's opening an Apple (AAPL) - Get Apple Inc. (AAPL) Report shop at its Herald Square flagship store in New York City to sell the latest iPhones, iPads and Apple Watches. Macy's will also make the Apple Watch available at more than 180 stores nationwide and on its website. 
For Macy's, the addition of shops that offer one on one customer service and the best assortments from top vendors is its attempt to fight back online retailers such as Amazon (AMZN) - Get Amazon.com, Inc. Report and drive more productivity from its stores. After all, Amazon can't walk you through all the ins and outs of buying an Apple Watch in person.
"LensCrafters is a great service, and it doesn't cannibalize anything else in our stores. So when you think about what we do with Sunglass Hut and all of a sudden you have prescription lenses on designer frames from LensCrafters -- that's a great marriage. One should expect that we continue to bring things into our building -- both owned and leased -- that will make us a more interesting destination," incoming Macy's CEO Jeff Gennette explained to TheStreet in an August interview about the retailer's store reinvention. 
Gennette is also keen on potentially opening restaurants inside of Macy's stores to drum up traffic. 
Speaking at Goldman Sachs' annual retail conference in September, Gennette signaled an interest in "scaling" its business with coffee king Starbucks and didn't shoot down the notion of building restaurants in some locations. Macy's currently has 49 stores that have a Starbucks.
Macy's could use the competitive advantages created by its various new shops. The chain's same-store sales have fallen 3.8% so far this year, and were down 2.5% in 2015.  
TheStreet looks at several other major shops Macy's has added in a bid to jazz up its stores. 
Finish Line has found success selling shoes in Macy's
Finish Line
Year Added: 2012
Approximate Number of Stores Now Open: 391 
Macy's never did athletic shoes well, so it inked a deal with Finish Line (FINL) to offer a better assortment and customer service from a Finish Line employee. The sneaker retailer manages the inventory. It pays Macy's a license fee based on a percentage of sales.  
Since the shops launched, Finish Line has begun to remodel the stores to include more kids and women's offerings. The efforts appear to be paying dividends. Sales of kids sneakers surged by a triple digit percentage during the second quarter, Finish Line told analysts on a recent call. Overall sales for the shops surged 27.3% from the prior year to $77.4 million in the quarter. 
Finish Line still expects to ring up $350 in sales from its Macy's shops by 2017.  
Now you can rent a tuxedo at Macy's
Men's Wearhouse
Year Added: 2015
Approximate Number of Stores Now Open: 300
Macy's never was big in the tuxedo game, until last year. The company now has a tuxedo rental service provided by Men's Wearhouse in hundreds of locations. Similar to Finish Line, the shops are staffed by Men's Wearhouse trained tuxedo pros and the menswear retailer owns the inventory.
Need new eyeglasses? Head to Macy's
Lenscrafters
Year Added: 2015
Approximate Number of Stores Now Open: 80
Amazon can't test a person's eyes and then walk them through the purchase of eyeglasses or contact lenses. Macy's can, however, amid plans to bring LensCrafters shops to 500 locations over the next three years.
Macy's plans to added 200 more Lenscrafters shops in 2017.
Yes, there are some Macy's stores with a Best Buy
Best Buy
Year Added: 2015
Approximate Number of Stores Now Open: 10
Opened in November 2015, the shops are staffed by Best Buy (BBY) - Get Best Buy Co., Inc. Report employees and feature Samsung (SSNLF) smartphones, tablets and smart watches, as well as Bluetooth speakers and phone cases from other vendors.
The shops are about 300 square feet in size, and give Macy's a long overdue presence in a category -- electronics -- that its higher-income shoppers are demanding and in which it has historically not been a major player.
It's unclear if Macy's intends to open more Best Buy shops. 
Stuffed friends from Build-a-Bear can be bought at some Macy's stores
Build-a-Bear
Year Added: 2014
Approximate Number of Stores Now Open: 7
The partnership has allowed Build-a-Bear (BBW) - Get BuildABear Workshop, Inc. Report to sell its cuddly creatures to tourists seeking souvenirs from their trips to flagship Macy's stores in urban markets. For Macy's, which is not known for its toy departments, a Build-a-Bear shop has given it some exposure to the thriving toy industry.