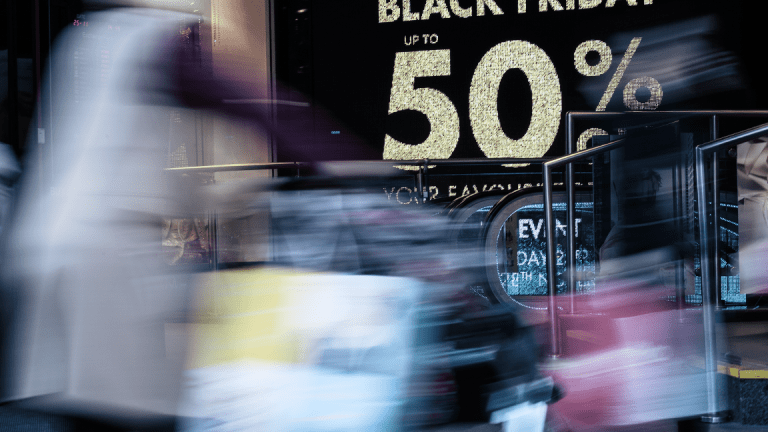 Macy's and J.C. Penney Deliver Post-Holiday Gifts for Investors
J.C. Penney posts a 3.4% uptick in same-store sales in the nine-week stretch ended Dec. 30, while Macy's reports a 1.1% increase for the combined November and December period.
Santa Claus was generous this year.
Both Macy's Inc. (M) and J. C. Penney Co.  (JCP)  reported comparable-store sales increases in the holiday period, the department stores announced Thursday, Jan. 4, portending strong fourth-quarter earnings to come.
J.C. Penney posted a whopping 3.4% uptick in same-store sales in the nine-week stretch ended Dec. 30, while Macy's reported a 1.1% jump for the combined November and December period.
The boost in some sales for J.C. Penney is largely due to strong category performance in home, beauty and fine jewelry, according to CEO Marvin Ellison. The Plant, Texas-based chain also saw double-digit sales growth in its e-commerce platform. "Our ability to execute e-commerce fulfillment from 100% of our brick-and-mortar stores helped fuel the growth in e-commerce for the holiday season," Ellison said in a statement.
Macy's, meanwhile, saw exceptional performance in active apparel and other clothing categories, as well as home and fine jewelry. Sales improved across all Macy's verticals, including Macy's Backstage, Bloomingdale's and Bluemercury. The Cincinnati-based company also reported double-digit digital sales growth for the period. "Consumers were ready to spend this season, and we delivered with solid execution, fresher inventory, a curated gift assortment and a focus on customer experience," CEO Jeff Gennette in a statement.
Macy's also announced Thursday that it will be shuttering 11 stores in early 2018, four of which had been previously disclosed. These closures — in Southern California, Miami and Indiana — will bring the retailer closer to its planned 100 store closures announced August 2016. It will shutter an additional 19 locations as leases expire.
All eyes were on holiday sales this year after a shaky third quarter, during which even heavyweights like TJX Companies (TJX) reported flat comp sales. Somewhat miraculously, J.C. Penney reported a 1.7% comp sales increase year over year.
"It looks like we're going to have a decent fourth quarter because retail exited the third quarter with momentum that will continue, " Susquehanna analyst Bill Dreher told TheStreet in November, after Macy's, J.C. Penney and their peers reported third-quarter earnings. "The fourth quarter is the most important one. For a company like Macy's, it constitutes something like 80% of their fiscal year."
Black Friday and Cyber Monday results also pointed to a strong holiday sales season, with 174 million total Americans who shopped online and in-stores between Thanksgiving Day and Cyber Monday, according to the National Retail Federation, which attributed the brisk turnout to warm weather, high consumer sentiment and an overall healthy economy.
A fruitful Christmas, nonetheless, is not enough to turn a bad year around. Like Macy's and J.C. Penney, L Brands Inc. (L) , the parent company of Victoria's Secret and Bath & Body Works, posted a 1% comp sales increase as well Thursday morning, but the Columbus, Ohio, retailer reported a year-over-year decrease in net sales for the 48 weeks ending on Dec. 30.
Shares for Macy's were up 1% since Wednesday, Jan. 3, trading at about $24. J.C. Penney shares bounced upward about 1% since for the same period, trading at $3.45.
Watch the replay of Jim Cramer's full NYSE live show:
More of What's Trending on TheStreet: