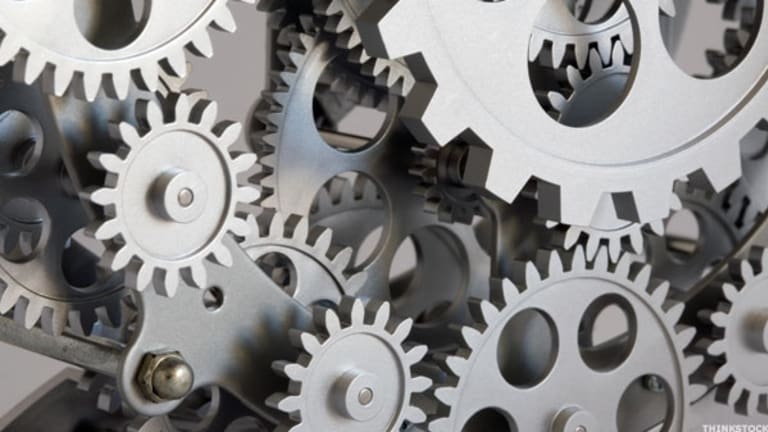 Machinery Stocks Feel Pain of Weak Orders
Eaton, Illinois Tool and Parker Hannifin feel the brunt of weak orders.
Even before the Commerce Department reported that machinery orders tumbled 26% in January from a year earlier, TheStreet.com Ratings' quantitative model graded capital-equipment companies as decidedly "risky."
Each of the firms in the accompanying table is marked in the "D" range -- on a scale from A-plus to E-minus -- for its respective "risk grade" from TheStreet.com Ratings.
Orders for capital goods shriveled 8.8% last month from December. Demand isn't likely to pick up soon, as U.S. industry is currently running at 72% of capacity, the weakest in 26 years.
The consensus among analysts is that net earnings per share for
Eaton
(ETN) - Get Eaton Corporation PLC Report
will fall 35.8% this year before recovering 15.1% next year. Its stock, which touched $100 in late 2007, declined sharply in the second half of last year, rose modestly toward year-end and then resumed its descent this year.
Illinois Tool Works'
(ITW) - Get Illinois Tool Works Inc. Report
EPS is expected to slide 34.2% this year and resume earnings growth with a gain of 12.5% next year. Its stock price touched $60 in late 2007 before spinning downward to its current level of about half that value.
Analysts expect earnings at
Parker Hannifin
(PH) - Get Parker-Hannifin Corporation Report
to decline 28.1% this year and then slip an additional 8.8% next year. The firm's stock is down more than 50% from a high of more than $80 reached in 2008.
The fiscal years of Eaton and Illinois Tool end in December, while Parker Hannifin operates on a June cycle.
Although the three stocks in the table have marks in the "D" range for their respective "risk grades" from TheStreet.com Ratings, each still maintains an "overall grade" of C, which equates with a "hold" recommendation.
Dividend yields ranging from 2.67% for Parker-Hannifin to a shade under 5% for Eaton help boost the appeal of these mid-American industrial firms. (Eaton and Parker Hannifin are based in Cleveland, and Illinois Tool's headquarters is in the Chicago exurb of Glenview, Ill.)
Relatively modest forward price-to-earnings ratios -- less than 10, based on current-year estimated net for Eaton and Parker Hannifin -- also help maintain the "hold-recommended" status of the stocks.
Richard Widows is a senior financial analyst for TheStreet.com Ratings. Prior to joining TheStreet.com, Widows was senior product manager for quantitative analytics at Thomson Financial. After receiving an M.B.A. from Santa Clara University in California, his career included development of investment information systems at data firms, including the Lipper division of Reuters. His international experience includes assignments in the U.K. and East Asia.