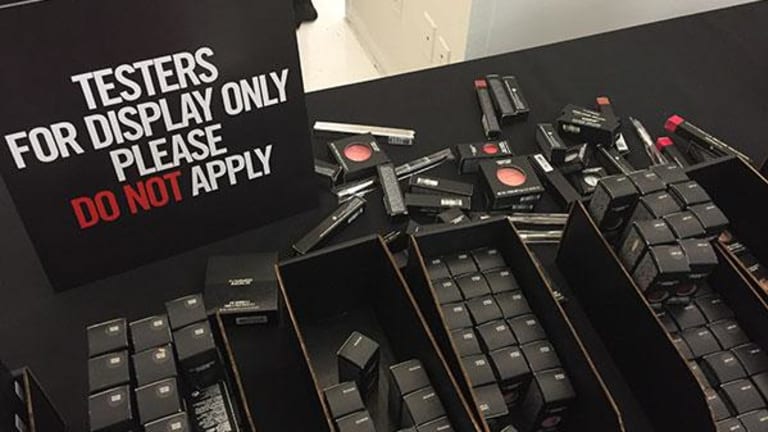 MAC's First-Ever Sample Sale – Worth a Three-Hour Wait In Line?
The sale promises 60% off MAC retail value, runs for three days and ends Friday. Here's my view as a consumer in the crowd.
The first-ever MAC cosmetics sample sale started on Wednesday at the Metropolitan Pavilion in New York City, with doors open from 2 p.m. to 7 p.m. The sale promises 60% off MAC retail value, runs for three days and end Friday. Being the intrepid, selfless explorer that I am, I thought I'd brave the initial crowd and blazing hot weather to see the madness firsthand. Here's my experience of Day One:
1:30 p.m. -- Dear God, the line wraps around the entire block. I never thought I'd be upset about getting off the subway, but at least it had air conditioning.
1:36 p.m. -- Just kidding, it wraps around Sixth Avenue. I'm not thrilled that I forgot my sunglasses.
1:48 p.m. -- There are now 100+ people behind me. Chatting with my line brethren, they wish they had taken off earlier in their lunch hours for this. Looks like a lot of younger female New Yorkers, not a ton of tourists. The people at the front were better prepared, with umbrellas and folding chairs. They seem like the type A part of the crowd. Or professional line sitters.
2:00 p.m. -- The doors, shockingly, open on time. I move about 50 feet to the corner of the avenue. I'm changing out of wedges and into flats; I'm not a martyr.
2:04 p.m. -- I realize Trader Joe's is, like, six blocks away. I rarely feel regret, but there it is.
2:07 p.m. -- People keep approaching and asking us what the line is for. They usually respond with, "what, are they giving it away?" It stopped being funny the first time.
2:13 p.m. -- I've found shelter under the Container Store awning and have never felt more grateful for discounted shelvings' embrace. We're moving another 50 feet and now security from the Container Store is flipping out about our inadvertently blocking the doorway. I understand his concern but don't appreciate the tone, buddy.
2:20 p.m. -- We move another 30 feet and @rackedny has published the prices on Twitter (TWTR) - Get Twitter, Inc. Report. I show the prices to the girls I'm next to, and we all agree this is too expensive/not much of a discount until we notice the extra 60% off note below. I feel illiterate. I eat a Kind bar and feel somewhat satiated physically, if not emotionally.
2:29 p.m. -- Via Racked's Twitter we realize we can't open the boxes to check colors or test. A slight panic ripples through the crowd, and I'm pretty sure a chick has jacked my spot in line. I'm apathetic. There are larger problems in the world. And just like that, the line moves.
2:38 p.m. -- OMG, I've reached the corner and can see the door in the far distance. Pretty sure it's not a mirage.
2:45 p.m. -- We realize from the Racked Twitter that people are buying armloads. I assure my new friends that this is only the beginning of the sale, there has to be enough -- at least for us. Fate can't be that cruel.
2:53 p.m. -- I am no longer under the shelter of the Crate & Barrel awning, so I take a page from the people in front of me and pull out my packable umbrella. A little part of me dies inside. At least it's Brooks Brothers.
3:08 p.m. -- Someone walks by and informs us there's no foundation left and that most categories are selling out quickly. People seem unperturbed and are pocketing the line waiters' business cards nonchalantly left along a ledge.
3:10 p.m. -- Patrons are yelling, "the line is not worth the wait" as they come out. The people in line are commenting that they've come too far to give up the ship. My Snapchat crush hasn't responded to me. Things are not looking up.
3:32 p.m. -- A woman with a stroller saunters by yelling, "there's only nail polish left." A truck driver asks us if we're in line for Justin Bieber. Capitalism, everyone!
3:41 p.m. -- Speaking to the girls behind me, I ask if they would shop MAC again after this hellish experience we've willingly subjected ourselves to. One says yes, but they're here more for the experience. The other says no because so many other makeup companies out there have rewards systems, unlike MAC.
4:07 p.m. -- I run back to check how long the line is -- it stretches back to where I originally started, winding along two blocks. The #thirst is real. My new friends (whatever their names are) and I are convinced they'd have to have restocked by now.
4:10 p.m. -- A breeze comes through. I lift my arms in gratitude, as if in prayer.
4:26 p.m. -- We're in! And then have to walk up four flights of stairs. At the top, we're assured more makeup awaits.
4:34 p.m. -- After I check my precious bag I get in line (again) to scope out lipsticks. A girl in front of me is using a foreign messaging service to take photos of each item and then talk into the phone, clearly buying for other people. The people behind her are outraged, and one of the employees tells her no photos. No one stops me. All of the categories are clearly restocked.
4:48 p.m. -- I'm in line with an eye shadow palette because I feel like I should at least buy one thing after waiting through this little "adventure" (I have too much makeup at home), but most shoppers have 7+ items or full baskets. I haven't eaten lunch because I didn't think this would take that long, and my tolerance and blood sugar are slipping. There are multiple children screaming -- who would bring their kids to this seventh circle of hell?
5:13 p.m. -- All checked out, bag returned, I AM OUT OF HERE. All in all -- 60% off is a great, most likely, unbeatable deal if you have an afternoon to kill and an undying love for MAC, but I will not be returning. Life is too short for this. If you're planning on swinging by on Wednesday or Thursday, they definitely have enough stock left for you -- just bring a book and comfortable shoes for the wait.