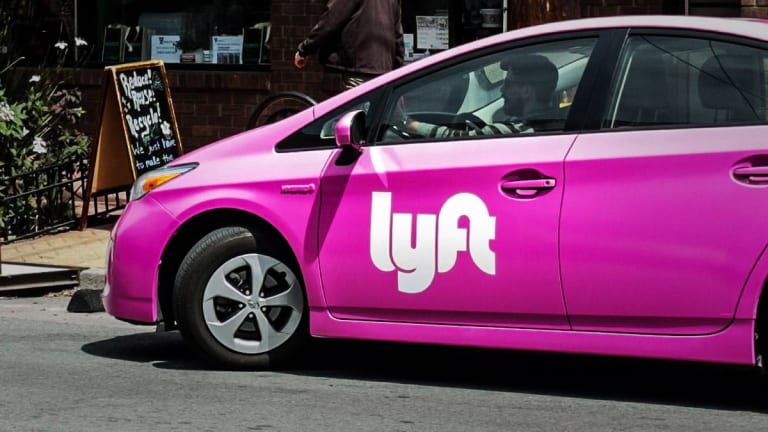 Lyft Raises Estimated IPO Price in Sign of Demand, But There Are Risks
Lyft Inc. raised its price range, issuing a new estimate between $70 and $72 per share ahead of its IPO. Lyft is expected to list on Nasdaq this Friday.
Ahead of its highly anticipated IPO, Lyft Inc. jacked up its estimated price range to between $70 and $72 per share. 
The ridehailing giant is expected to go public this Friday. In a new SEC filing posted on Wednesday afternoon, it raised its share price range from a previous estimate of $62 to $68 per share. Under the new price estimate, Lyft's valuation comes in at about $20 billion.
Lyft's valuation, and its prospects as a public company, is a subject of much debate as it prepares for a Friday listing on the Nasdaq stock exchange. As the first ridehailing company to go public and the first of several unicorn IPOs anticipated this year, Lyft's public offering will be seen as a bellwether for Uber's, and possibly as a test of investor appetites for new tech listings. Uber Technologies is expected to follow Lyft into the public markets in the coming months. 
In its recent S-1 filing, Lyft reported revenues that have increased over time as well as significant losses. In 2018, Lyft's reported earnings amounted to $2.2 billion in revenue on $8.1 billion in total bookings. But it also reported losses that have increased year-over-year since 2016, with a net loss of $911.3 million in 2018, up from $688.3 million in 2017.
Lyft describes itself as a "multimodal platform that offers riders seamless, personalized and on-demand access to a variety of transportation options," and wrote in the filing that its business performance will be tied to its ability to attract and retain riders in its operating markets and increase the amount customers spend over time.
Unlike multinational Uber, Lyft operates only in U.S. markets. And the company reported that its active ridership has steadily increased over time, at 18.6 million as of the fourth quarter. But it also warned investors that it may not be profitable for a long time, if ever, listing the potential for its expenses to keep rising as one of the primary risk factors to potential shareholders. 
Another potential area of concern for investors? The amount that Lyft spends to win and retain customers, including marketing, special offers and other incentives to win ridership and driver loyalty from rival Uber. The intense competition between Lyft and Uber for U.S. market share has the potential to pressure both companies, explained DJ Kang, CEO of ValueChampion. 
"Ridesharing companies' primary mode of competition has been subsidizing drivers and riders. Although they could make profit more easily if they both stopped this strategy, the prospect of losing market share if only one of them stops forces them into a bitter knife fight where both are constantly burning money to compete," he said. 
Apart from its core ride-hailing marketplace, Lyft has also branched out into other lines of business such as bikes, scooters and a concierge service for organizations. Revenue from those divisions was "not material" in 2018, the filing stated. 
Lyft's IPO is due to price on Thursday, with the stock due to open for trading on Friday under the ticker LYFT.