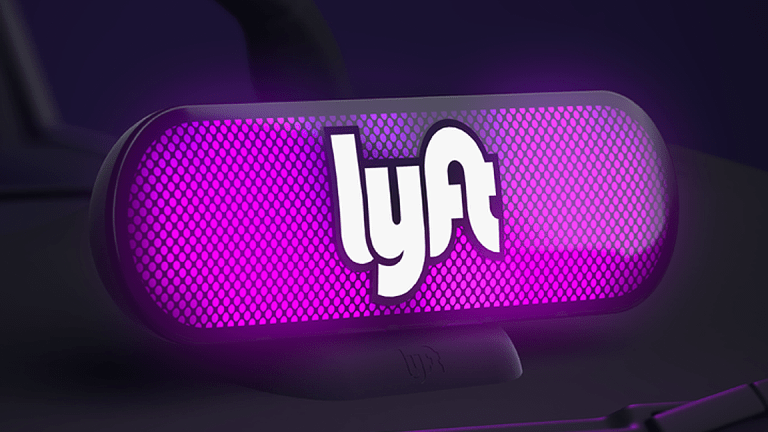 Lyft's IPO: 7 Key Things for Investors to Watch for After Its Debut
Lyft's rider metrics, take rate and free cash flow are among the things investors should keep an eye on in the months following the ride-hailing firm's IPO.
Lyft (LYFT) - Get Lyft Inc. Report  started trading with a bang on Friday, opening up 21% above its offer price of $72 a share and recently maintaining a 10% gain at $80.67.
However, that initial pop doesn't guarantee smooth post-IPO sailing for Lyft, which at its opening price of $87.24 a share was valued at about $30 billion after accounting for outstanding stock options and restricted stock units (RSUs).
As I discussed in a previous column, Lyft's revenue growth -- recently boosted by price hikes and an improved take rate on rides -- is likely to slow in the near future, and though the company has been showing signs of margin and cash-flow improvement, the company's cost structure and stiff competition from Uber could make it tough for Lyft to deliver the kind of profits needed to justify its IPO valuation.
Here are some key figures for investors to keep an eye on in the coming months, as Lyft begins its life as a public company.
1. Lyft's U.S. Ride-Hailing Market Share
Unlike Uber, which operates in many large foreign markets, Lyft only operates in the U.S. and Canada. Also unlike Uber, whose UberEATS food-delivery service has seen tremendous growth, Lyft doesn't have a food-delivery offering.
That naturally makes it crucial for Lyft to keep adding to its recent share gains in the U.S. ride-hailing market. Payments analytics firm Second Measure has been providing monthly monthly market share stats; for February, the firm estimates Lyft had a 30.3% U.S. ride-hailing share (up about 5 percentage points from a year earlier), and Uber a 67.3% share.
2. Lyft's Rider Metrics
In its IPO filing, Lyft broke out its active riders per quarter, as well as the total number of rides it gave and its revenue per active rider. And with some simple math, investors can figure out how many rides the typical Lyft rider took in a quarter, as well as its revenue per ride.
In Q4, Lyft's active riders were up 48% annually to 18.6 million, its revenue per active rider rose 32% to $36.04 and the number of rides it gave rose 53% to 178.4 million. The average Lyft rider took 9.6 rides (up from 9.2 a year earlier), and revenue per ride (after backing out the driver's cut and things like tolls and fees) totaled $3.75 (up from $2.96).
3. Lyft's Take Rate
In 2018, Lyft's take rate on rides -- defined as the ratio of its revenue to its gross bookings -- was 26.8%, up from a 2017 level of 23.1% and a 2016 level of 18%. And in Q4, its take rate was 28.7%, up from a year-ago level of 23.4%.
It's an open question whether Lyft can keep seeing major increases in its take rate without sparking a backlash among drivers. If the company's fledgling bike and scooter-sharing operations (more on them shortly) see strong growth, that would boost Lyft's take rate, since the company records 100% of its bike and scooter bookings as revenue.
4. Any Stats Shared About Lyft's Bike and Scooter-Sharing Businesses
Lyft entered the bike-sharing market last July through a deal to buy top North American bike-sharing service provider Motivate. A couple months later, the company launched an electric scooter-rental service that now operates in over a dozen cities.
Thus far, Lyft hasn't shared many stats about its bike and scooter-sharing businesses. The scooter-sharing market has taken off over the last two years, but it's also an intensely-competitive field, with startups Lime (backed by Uber) and Bird currently out in front.
5. Lyft's 'Contribution Margin'
Lyft's contribution margin, which has much in common with other companies' gross margins, rose to 42.7% in 2018 from a 2017 level of 37.8%. Price hikes and higher take rates have helped boost Lyft's contribution margin, as have greater economies of scale for things such as cloud infrastructure expenses.
Lyft says it expects its contribution margin to keep rising over the long run. However, the company has cautioned that investments in its bike and scooter-sharing fleets will pressure contribution margin in the near-term.
6. Sales and Marketing Spend
While Lyft's revenue rose 103% in 2018 to $2.16 billion, its sales and marketing spend rose a more subdued 42% to $803.8 million. With Lyft's R&D and operations and support spend still growing at much faster rates, keeping sales and marketing spending growth at relatively moderate levels will likely be crucial to improving the company's bottom line.
7. Free Cash Flow
As many of the write-ups about Lyft's IPO have mentioned, the company's GAAP net loss rose 32% in 2018 to $911.3 million. However, thanks to a large increase in Lyft's insurance reserves, as well as some other accounting factors, its free cash flow (FCF) wasn't nearly as bad. In 2018, FCF was negative $349.4 million, improved from a 2017 level of negative $401 million.
Judging by its recent numbers, Lyft could become cash-flow profitable sooner than it becomes GAAP profitable. Whether the company can keep improving its cash-flow profile in 2019 as it increases capital investments in its bike- and scooter-sharing businesses bears watching.
Will You Have Enough Money to Retire?
Want to learn about retirement planning from some of the nation's top experts? Join TheStreet's Robert "Mr. Retirement" Powell live in New York on April 6 for our Retirement Strategies Symposium. For a limited time, tickets are available for $99 for this full-day event. Check out the agenda, learn about the speakers and sign up here.