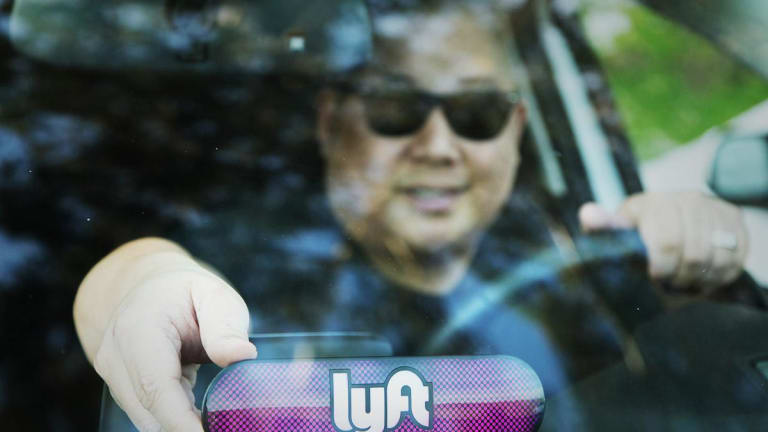 What Lyft's IPO Means for Uber, Pinterest and Other Tech Unicorns
After Lyft's successful debut, performance going forward will be seen as a test of investor appetite for other high-growth unicorns like Uber, Pinterest and Airbnb.
On Friday, Lyft Inc. (LYFT) - Get Lyft, Inc. Class A Reportkicked off what should be a very busy season for tech IPOs.
With the market still healthy, more unicorns could trot out into public trading soon. And as the first multi-billion-dollar firm to hit the markets this year, Lyft will be seen as a test of investor appetite for other high-growth, but often unprofitable companies. Pinterest Inc. and Uber Technologies are expected to list in the near future, with Pinterest filing its S-1 form with the Securities and Exchange Commission last week. Lyft closed on Friday at $78.29 for an 8.7% gain. 
Bolstered by high demand for the offering, Lyft raised its IPO price to $72 per share in advance of its Friday listing and opened trading at $87.24, 21% above its offer price. The stock's performance in the coming days and weeks will be closely watched by other IPO candidates and prospective public investors. With a trading volume of around 70 million in its public debut, Lyft stock was among the most actively traded stocks on Friday in a sign of healthy demand for the offering. 
"In the context of the sudden and rapid market downturn at the end of 2018, investors are looking to Lyft's IPO to set the tone for the rest of unicorns," said Duckju Kang, CEO of the consumer finance research firm ValueChampion. "It signals that the public market still has the appetite to massively fund companies that might not be profitable for years to come."
According to Kang, the demand for Lyft's IPO could bode especially well for highly valued startups that are the dominant players in their industries -- namely Uber or Airbnb, which also could go public this year -- provided that market conditions remain stable. But it could also be a bellwether for others like Pinterest, which compares favorably to public companies in the realm of social media, such as Twitter (TWTR) - Get Twitter, Inc. Report , on the basis of market capitalization per monthly active user, he said. 
As the first of several unicorn IPOs anticipated in the coming quarters, Lyft made an ideal candidate to set the tone for further offerings, according to Duncan Davidson, a partner at Bullpen Capital. 
"We've kind of forgotten what a well-managed IPO looks like," he said. "It was priced at the high end of the range, there was a lot of interest in the stock, and we saw about a 20% pop...that's exactly what you want to start this thing out."
How Lyft shares are received going forward could also spur other unicorns to recalibrate their timelines, added Steve Vintz, CFO of cybersecurity firm Tenable (TENB) - Get Tenable Holdings, Inc. Report .
"If you look at Lyft, they're at $8 billion in bookings and growing. That's phenomenal growth, and I think a lot of other companies look at this and could potentially reconsider their IPO plans," he said. "This has the potential to change the game for a lot of people."
Vintz added that when Tenable went public in July 2018, it bumped up its IPO plans by several quarters when it saw favorable investor sentiment around fellow cybersecurity player Zscaler (ZS) - Get Zscaler, Inc. Report , which had gone public a couple of months earlier. And similarly, other companies eyeing an IPO this year will be watching Lyft's IPO and closely taking stock of investor appetites for certain types of stocks -- as well as risks.
For its part, Lyft has warned investors that it may not be profitable for a very long time, if ever. Pinterest reported a fourth-quarter profit, but also has a record of losses. And Uber, which may well be the biggest IPO of the year, is also a money loser. At least for right now, that doesn't seem to be worrying investors that much. 
"I do think it's a careful balance -- having a focus on growth short term and profits long term, that's healthy for a company," Vintz added. "I think investors are willing to give you some latitude and liberty to go out and invest." 
Will You Have Enough Money to Retire?
Want to learn about retirement planning from some of the nation's top experts? Join TheStreet's Robert "Mr. Retirement" Powell live in New York on April 6 for our Retirement Strategies Symposium. For a limited time, tickets are available for $99 for this full-day event. Check out the agenda, learn about the speakers and sign up here.