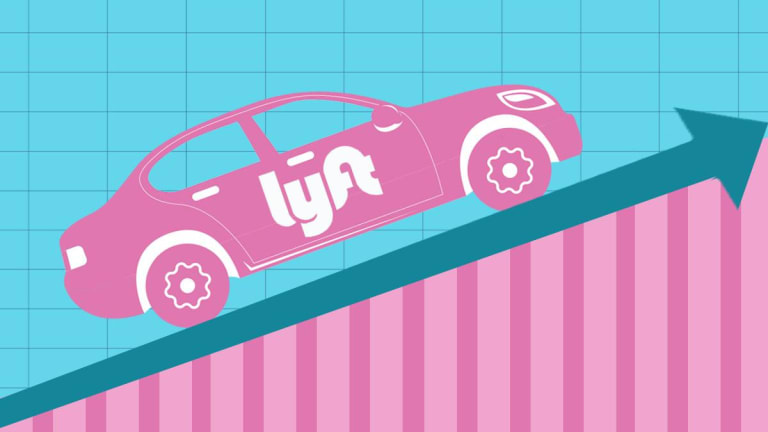 Lyft's First Earnings Report: 3 Things to Watch For as Uber's IPO Looms
In the run-up to its earnings report on Tuesday, Lyft shares can't escape Uber's long shadow.
Lyft's maiden earnings report is this week, and there will be much to discuss.
Since its March 29 public offering, Lyft (LYFT) - Get Lyft Inc. Report shares are down about 20% -- and it's among the most-shorted stocks on the market with 80% short interest as a percentage of overall float. For Lyft and its investors, it is also impossible to escape one big event looming over its shares: The upcoming IPO of its larger rival, Uber.
By revenue and reach, Uber is far larger than Lyft: Lyft reported $2.16 billion in revenue for 2018, while Uber raked in $11.3 billion in the same period. Uber is expected to price its IPO on Thursday night and begin trading on Friday. 
On Tuesday after the close, Lyft investors and analysts will have a chance to dig deeper into Lyft's outlook. Here are some issues likely to come up:
1. A Maturing U.S. Market
Lyft operates only in the U.S., arguably the most mature ridehailing market in the world, while Uber also operates in several international markets. That also means the U.S. market is highly competitive, with the two players subsidizing various incentives to attract more drivers and riders. In a note initiating coverage of Lyft, D.A. Davidson's Tom White pointed out that Lyft provided $837 million in overall incentives to drivers and riders, an increase of 55% year-over-year.
That's led to heavier losses relative to its rival. "In fact, Lyft's losses have worsened in recent years, while Uber's moderated last year," White wrote. While Lyft's stock has several upsides -- such as its differentiated brand, as well as overall growth in the "transportation-as-a-service" market -- its timeline for profitability is also quite uncertain.
2. Take Rates and Other Key Metrics
Despite their identical core business models, comparing Lyft to Uber won't be apple-to-apples. Even after Uber released its S-1 filing, Wedbush's Dan Ives wrote: "We think investors don't yet have a whole lot more clarity on some of the key comparable metrics," noting that Uber doesn't break out metrics between U.S. and international markets, and also includes Uber Eats, which has different economics, within its ride metrics.
Ives pointed out that Lyft's take rate -- what it takes from the overall cost of a ride, or revenue in effect -- was 26% in 2018, compared to 22% for Uber. But things such as tolls, international trips and driver incentives can muddy the picture -- and investors will look for more clarity on this key metric when Lyft reports its quarterly earnings on Tuesday.
3. The Autonomous Factor
There's been no shortage of hype around autonomous driving and its potential to upend the ridehailing business model (case in point: Elon Musk's stated ambition to create a ridehailing service by 2020 with Tesla (TSLA) - Get Tesla Inc. Report  electric vehicles). But given the technological and regulatory barriers to overcome, it is a huge question mark when, and if, an autonomous ridehailing fleet could render human drivers obsolete.
While investors may not get a solid timeline on Tuesday, the autonomous question will be watched closely in the coming years. Notably, Uber and Lyft drivers plan to strike over wages this week, highlighting what Ives called the "lack of regulation currently in the ridesharing industry," another potential risk going forward.