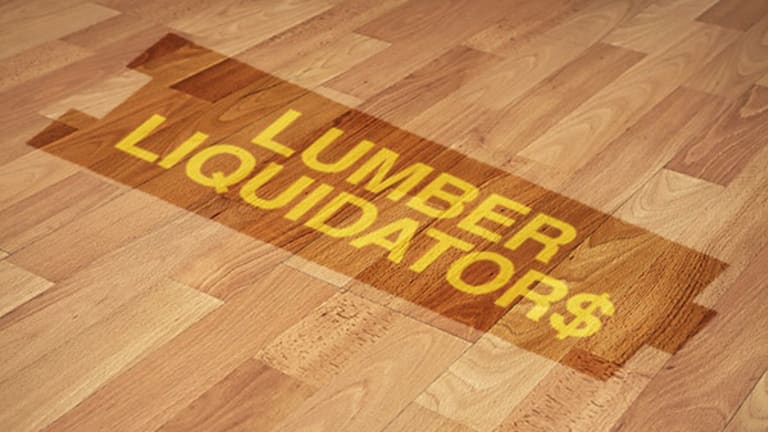 Publish date:
Lumber Liquidators Formaldehyde Scandal: Are Other Retailers at Risk?
Major retailers like Home Depot and Lowe's import wood laminate products from China and could be at risk.
Major retailers like Home Depot and Lowe's import wood laminate products from China and could be at risk.
NEW YORK (TheStreet) -- Once nearly a $3 billion concern and considered one of America's Best Small Companies, Lumber Liquidators (LL) - Get Lumber Liquidators Holdings, Inc. Report has lately fallen from grace.
Its stock price has been halved over the past week and its market cap is now hovering closer to $900 million. The culprit? It could depend on who you ask.
Investors and consumers might say it was a report on the CBS news program 60 Minutes that revealed that much of the cheap laminate flooring that the company sells has illegal and potentially dangerous levels of formaldehyde. The company's executives might say that it's the testing methods 60 Minutes used in its piece. Either way, it's a problem for the embattled retailer -- and could become a problem for others. 
"Any company that buys products made in China and other low-cost sourcing countries are at risk of some kind of quality problem," says Paula Rosenblum, an analyst with Retail Systems Research. "We've seen it with food, pharma, flammable kids clothes, and toys, at minimum."
Major retailers like Home Depot (HD) - Get Home Depot, Inc. (HD) Report and Lowe's (LOW) - Get Lowe's Companies, Inc. (LOW) Report import wood laminate products from China. Still, they could be at risk even though testing of flooring products from those stores passed tests conducted by 60 Minutes. Neither retailer has yet returned request for comment. 
Lumber Liquidators said it tested its suppliers rigorously and offered documentation to support each step of the process, including vendor agreements, vendor invoices, California Air Review Board (CARB) certificates, and test results. And independent third-party test results are available on the company's safety website. Regardless, the company's products failed the 60 Minutes test and investors are paying the price. 
"If the cost of the problem is less than the cost of the testing and checking, a retailer might choose to bypass consistent testing and checking," Rosenblum says. "However, when something like the '60 Minutes' story comes out, the risk of brand damage is far beyond the math of a product recall."
This may be the latest example of retailers relying too much on self-policing by manufacturers, according to Paul D. Blanc, M.D., a professor of medicine who holds the Endowed Chair in Occupational and Environmental Medicine at the University of California, San Francisco. 
"If you look at the history of imported lead and later imported cadmium in toys and cheap jewelry, the reason these toxic products were sold in the U.S. was over reliance on voluntary adherence to standards without the backup laboratory testing you must have," Blanc says. 
Formaldehyde, the carcinogenic chemical at the center of the Lumber Liquidators flap, is going the road of some of these other toxic materials. 
California regulators have identified formaldehyde as a chemical for which children may have increased susceptibility to adverse effects. But the impacts are not limited to children. The costs to people's health and the healthcare system can be tremendous when people get ill because of toxic exposures, including the people who work making or installing such products, according to Blanc.
In 2010, Congress passed a law to adopt nationwide formaldehyde regulations for pressed wood products similar to the CARB 2 standard, but Environmental Protection Agency has not yet finalized regulations. Those rules are expected this year. The delay has been costly for U.S. wood product manufacturers of flooring, cabinets, plywood and other engineered wood products. Imports of Chinese cabinets have nearly tripled from 2009 to 2014 to $600,000 million. Imports of flooring have increased to $478 million, up from under $50 million ten years ago. Today, about 50% of engineered wood products sold in the U.S. are made in China.
Chinese suppliers have gained market share at the expense of domestic producers, many of whom have spent time and money upgrading their facilities and processes to meet new standards. Additionally, formaldehyde-free products are at a disadvantage in the marketplace from a cost standpoint, according to Brad Thompson, president and CEO of Columbia Forest Products, which produces formaldehyde-free plywood. 
"For those companies that made the investments and took the risks of converting to zero-content or low-emitting formaldehyde components and systems years ago, the delay and lack of clarity has arguably diluted any early-adapter benefit coming from the momentum generated by the formaldehyde legislation and the public's interest in the topic five years ago," Thompson says. "Unfortunately, the delay has played well for certain suppliers of materials and finished products that rely on conventional formaldehyde systems in their manufacture, such as low-priced wood products that often come from places like China."
The cheaper product comes with a risk. Just look at what has happened to Lumber Liquidators. 
Since the scandal broke, Lumber Liquidators has moved to limit the damage. It has called into question the testing methods used by 60 Minutes and has put out numerous statements.
In response to requests for comment from TheStreet for this story, a spokesperson for Lumber Liquidators wrote in an email that "60 Minutes used a test method that we believe is inappropriate, as it does not measure a product according to how it is actually used by consumers. 60 Minutes used a 'deconstructive test,' which would be like testing the emissions of a car by removing the catalytic converter and muffler."
Its stock prices has recovered somewhat but is nowhere near where it was just weeks ago -- and it could have further to drop. 
Critics aren't buying the company line. Kip Howlett, president of the Hardwood Plywood and Veneer Association, a third-party certifier for CARB standards involved in the 60 Minutes testing, said the test methods used were the right tests under the California rules and the rules expected from EPA.
"It is disingenuous to say the problem is the test," Howlett says. "The problem is how they go about doing their business."
In the days following the 60 Minutes piece, Senator Bill Nelson of Florida (D) requested an investigation into unfair or deceptive trade practices by Lumber Liquidators. 
As for the public health issue that products with formaldehyde present, the laws that have been in place for years are still awaiting enforcement rules. 
"It is critical that EPA get the regulation right and do everything possible to keep the situation that was reported in 60 Minutes from happening again," says Tom Neltner, special adviser on regulatory affairs for the National Center for Healthy Housing. "Recent history shows we should be prepared for cheating by certain Chinese and other manufacturers of wood products. EPA must provide for mechanisms to catch these cheaters."
An EPA spokesperson told TheStreet that it is now diligently working to write the rules for the formaldehyde law. 
This article is commentary by an independent contributor. At the time of publication, the author held no positions in the stocks mentioned.