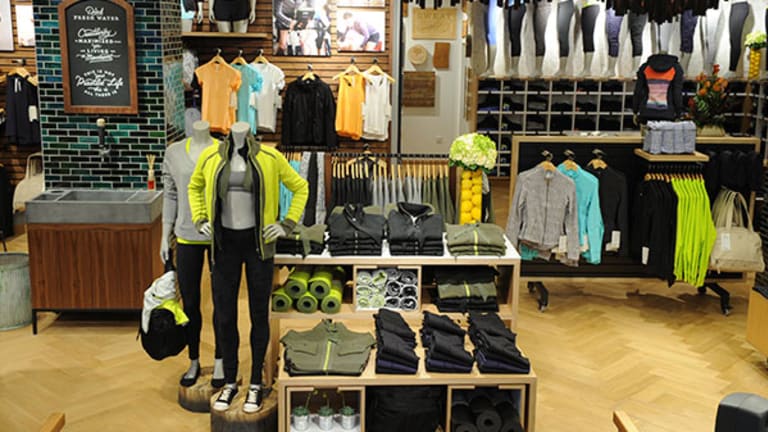 Lululemon Stock Bulls May Be Completely Blindsided In A Few Short Hours
Lululemon's impressive stock run this year may come to a screeching halt due to elevated Wall Street expectations.
Lululemon's (LULU) red-hot stock may soon cool off as some black clouds are approaching on the horizon.
Shares of the yoga apparel maker have surged about 18% since the company's first quarter earnings release in early June, and are now up a jaw-dropping 54% year to date. Wall Street is genuinely in agreement that Lululemon benefited during the second quarter from the strong athletic apparel cycle that is also lifting rivals such as Under Armour (UA) and Nike (NKE) . "We forecast second quarter same-store sales growth of 7%, slightly above the high end of the company's mid-single digit percentage growth guidance based on positive store checks throughout the quarter," wrote Wedbush analyst Morry Brown ahead of the results. Brown's read on Lululemon's quarter was echoed elsewhere.
"Compelling product and improved execution should [have] fueled a healthy second quarter performance," D.A. Davidson's Andrew Burns said. Wall Street also seems to agree that Lululemon's stock run could come to an end shortly, for several reasons.
Lululemon investors may be at risk from difficult sales comparisons later this year, new tank tops that will lack significant innovation, and the stock's already nosebleed valuation, said Canaccord Genuity analyst Camilo Lyon. "We see the risk relative to reward ratio tilting downward," he said.
Meanwhile, analyst Brown said "flawless execution is [now] embedded into Lululemon's current valuation levels", which is something that is definitely not guaranteed to happen in the often fickle apparel market.
If Lululemon disappoints Wall Street in any way with its Thursday afternoon earnings report, shares could tank. And execs would have nobody to blame but themselves for setting the bar too high.
During an investor presentation in late June, Lululemon CFO Stuart Haselden said the company plans to double its sales -- and more than than double its earnings -- by the year 2020. That would roughly bring Lululemon to revenue of $4.6 billion and net profit of $600 million, using results from last year as starting points.
What's more, the company anticipates doubling sales of its women's and men's businesses over that time-frame to about $3 billion and $1 billion, respectively.
Lululemon bulls may need a relaxing yoga session after Thursday's second quarter release.
What's driving Lululemon's uber-bullishness other than typical executive hubris? Well, the company is keen on the benefits of an improved pipeline of innovative products, opening more stores in key U.S. and overseas markets, expanding the size of existing stores and partaking fully in the digital shopping age.
Unfortunately for Lululemon, those targets may be tough to hit in light of multiple factors.
First, the trend has not been a friend to Lululemon. The company's gross and operating profit margin have declined for four consecutive years as its once enviable market share has been encroached on by larger apparel competitors and smaller upstarts including Gap's (GPS) Athleta and Zella, which is Nordstrom's (JWN) in-house athletic-wear brand.
Further, the company has borne the brunt of internal operating inefficiencies. Same-store sales have risen by mid-single digit percentages in each of the past three years, down from the blistering double-digit percentage gains when it first burst onto the apparel scene in the mid-2000s. In fact, Lululemon barely doubled its revenue in the five years from 2011 to 2015 when it was on fire in the U.S. -- according to Bloomberg data, sales reached $2.03 billion last year compared to $1 billion in 2011.
Meanwhile, Lululemon's present-day performance has been tepid.
The yoga apparel maker reported first-quarter earnings fell 11.8% from the prior year to 30 cents a share excluding one-time items, missing Wall Street forecasts of 31 cents. Total revenue rose 17% to $495 million, narrowly surpassing estimates of $487 million. Comparable-store sales rose 3%, or 5% excluding the influence of the strong dollar. Total comparable-store sales, which include sales online, increased 6% or 8% when stripping out currency fluctuations. Sales online increased 17% in the first quarter from the prior year to $97.6 million.
In the fourth quarter, total comparable-store sales and online sales increased a healthier 11% and 20.8%, respectively.
On a June 8 call with analysts, Haselden acknowledged that traffic to its stores were weak in May and remained soft into the early stages of June.
Those eternally upbeat on Lululemon's prospects may be in bad need of relaxing via a downward dog pose after Thursday evening.