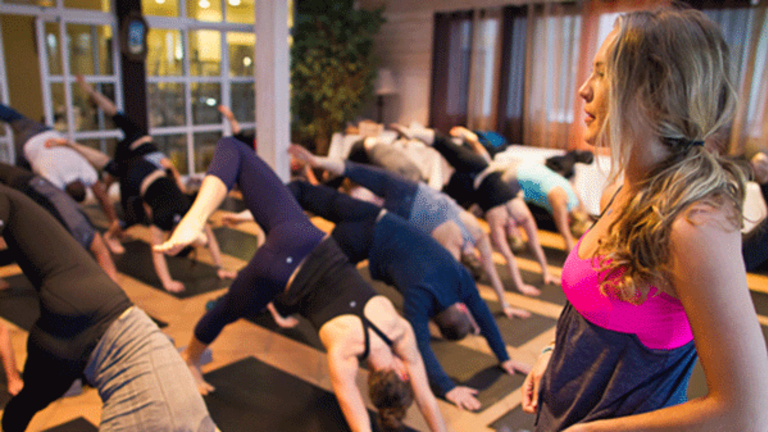 Lululemon's Founder Blasts Struggling Under Armour, Which Is Bizarre Considering What Just Happened
Chip Wilson is on a roll.
Oh Chip Wilson, you just always know how to make some waves. 
The outspoken Lululemon (LULU) - Get Lululemon Athletica Inc (LULU) Report founder and former chairman recently took out a bus station ad in Vancouver (below) with a rather provocative caption. "Lululemon Buy Under Armour Now!" the sign reads in large white font. "Lululemon's business model is to have no debt and $1 billion in the bank and to be ready for an extraordinary opportunity. Under Armour is now weak. They have junk bond debt, too much inventory and technology purchases they cannot monetize."
When asked by TheStreet if Under Armour would really be a good fit for Lululemon, Wilson replied, "No, it was a joke." On Friday, Wilson was even more blunt, tellingCNBC that Under Armour was "super weak right now," and that he "wouldn't want to be working at Under Armour right now."
One can't help but to think, however, that there is some small part of Wilson that believes Lululemon should leverage up its balance sheet and buy a wounded Under Armour (UA) - Get Under Armour, Inc. Class C Report . In a Bloomberginterview in 2015, Wilson pontificated, "I know that three years ago, when I was chairman and Lululemon was worth twice as much as Under Amour, I personally was thinking of buying Under Armour. So I would think now that Under Armour is worth three times the amount of Lululemon, someone's got to be thinking something out there."
Lululemon buying Under Armour would be a terrible idea, for a multitude of reasons.    
For Under Armour to better compete with Nike (NKE) - Get NIKE, Inc. (NKE) Report and other competitors such as Adidas (ADDYY) and Puma, it will require several big-time investments over the next two years that stand to take a bite out of profit, and possibly even more of the company's value. The investments would have to be made as the company's apparel sales are slowing after years of torrid growth, brick-and-mortar retailers are shuttering stores in droves thanks to the shift toward online shopping, and Adidas and Reebok (owned by Adidas) have re-emerged on the cool club scene.
Jim Cramer sat down Wednesday with four market experts to talk about how to play the Trump tax plan. Click here to check out their recommendations.
One area of investment for Under Armour, and arguably its most important, will be on the sports marketing front. Nike pioneered the use of athletes and deals with sports teams to help hawk clothing and shoes, and now Under Armour will have to disrupt the standard bearer by opening up its checkbook. As it stands, Under Armour's main athletes are NBA star Stephen Curry, golf phenom Jordan Speith and football icon Tom Brady
Under Armour will need a stable of athlete sponsors in the future as it seeks to roll out expanded footwear offerings, high-end sportswear and connected fitness gear. Indeed, putting together those contracts will come at a steep cost to Lululemon.
Elsewhere, the upheaval in retail has placed extra importance on Under Armour establishing a more formidable store network of its own. Under Armour has over 160 company-owned stores in North America, made up mostly of outlets and several flagship stores in major urban markets. Nike has hundreds more stores in North America, and in total operates more than 900 retail locations globally.
Under Armour also will need product for its growing list of athletes to wear and for its new retail stores to carry to compete with Nike, Adidas and Reebok. Developing that will require investment in people, processes and infrastructure. In particular, expanding footwear, which Under Armour sees growing to $1.7 billion in annual sales by 2018 from $678 million in 2015, is receiving extra attention from embattled CEO Kevin Plank and his team.
To aid this product development, Under Armour is expected to open a high-profile new Portland office (near Nike's HQ) in the spring or summer of this year.
Lululemon doesn't have the infrastructure or finances in place to pull off all of these must-dos for Under Armour. And so much focus on fixing Under Armour could come at the expense of Lululemon, which has seen its results improve of late as it has focused on product innovation. 
Under Armour founder Kevin Plank
One company that does have what it takes to buy Under Armour—if not Lululemon—is VF Corp. (VFC) - Get V.F. Corporation Report . VF is already the parent company of such successful brands as North Face and Vans and has gained high marks for reviving once-struggling bootmaker Timberland through a $2 billion acquisition in 2011.
"We have had discussions with a lot of companies that have said yes. The day will come when we are ready to do a deal, but today is not that day. Some of those companies are large, some are small, but we never know when it's going to happen. Eventually something will happen," retiring VF CEO Eric Wiseman told TheStreet in an interview last year.
Another possible suitor would be PVH (PVH) - Get PVH Corp. Report , that like VF, has successfully acquired other brands. PVH has bought clothing brands Calvin Klein, Tommy Hilfiger and Izod over the past two decades.
Retail consultant and Worldwide Enterprises CEO Jan Rogers Kniffen called VF Corp. and PVH "serial acquirers."
"They are the kind of companies that have successfully acquired brands in the past, run strong brands and have the management team in place to integrate operations," Kniffen told TheStreet.
As for the takeover price for Under Armour, it could still be a pretty penny.
Using a formula involving enterprise value to revenue multiples, TheStreet's Chris Versace calculated an acquisition price of about $40 per share, or $18 billion, for Under Armour, including a takeout premium. That represents a premium of more than double Under Armour's current stock price of $18.58.
In the end, maybe Wilson should just team up with a fellow founder in Under Armour's Plank and buy the company. Just pledge all their assets to take on a mountain of debt and make a bet on the future of athletic clothing. 
If investing in retail isn't your thing, try these Trump tech stocks.