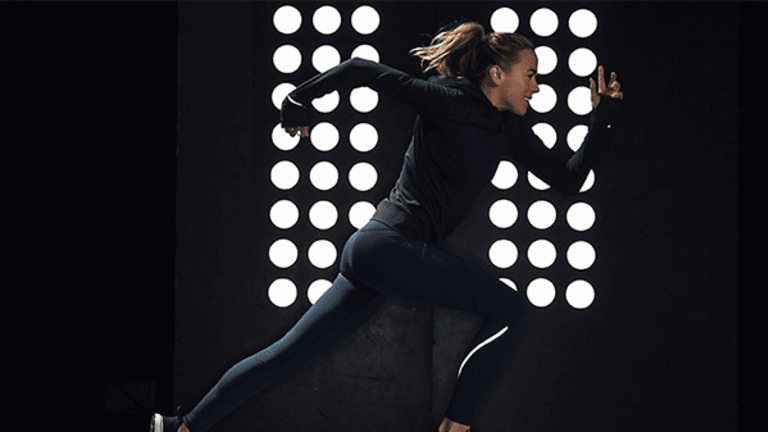 Apple and Lululemon Surprisingly May Have One Thing in Common
It makes sense.
Editors' pick: Originally published Jan. 10.
Apple (AAPL) - Get Apple Inc. (AAPL) Report and Lululemon (LULU) - Get Lululemon Athletica Inc (LULU) Report may be more alike than you think. 
"I really think of ourselves as a tech company more than an apparel company," Lululemon CEO Laurent Potdevin told TheStreet in an interview Tuesday. For Potdevin, it's the success at broadening Lululemon's brand into training, running, swim and other categories for both men and women that will prove instrumental in achieving some robust long-term targets. So will continuing to hatch innovative new fabrics that solve the needs of athletes, sort of like how Apple perpetually develops new tech hardware and software to meet new consumer demands. 
Apple is a holding in Jim Cramer's Action Alerts PLUS Charitable Trust Portfolio. Want to be alerted before Cramer buys or sells AAPL? Action Alerts PLUS Charitable Trust Portfolio
Lululemon said last summer that it wants to double its sales -- and more than double its earnings -- by the year 2020. What's more, the company anticipates doubling sales of its women's and men's businesses over that time to about $3 billion and $1 billion, respectively.
The company, known for its high quality offerings, took a nice step toward achieving those goals during the holidays. Potdevin raised sales guidance for the fourth quarter from between $765 million and $785 million, to between $775 million and $785 million. To be sure, Lululemon's holiday sales were a bright spot in an otherwise disappointing season for retailers.
TheStreet talked with Potdevin about what the future holds for Lululemon and overall trends right now in retail. What follows is a condensed and edited version of our conversation.
Lululemon CEO, Laurent Potdevin
TheStreet: Have you put any thought behind creating a separate label for men, something more rugged, say "Lulu X" so that men know Lululemon isn't just female yoga pants?
Potdevin: When I came on board, there were a lot of discussions on whether we should have a different men's brand. While the initial process of translating a women's brand into a men's brand is a little more work, I believe that having one brand vision across men and women is so much more powerful in the long-run. 
With this in mind, our new head of men's has played with different iterations of the company's logo, but still keeping it true to Lululemon but maybe with a bit more masculinity.
TheStreet: You have brought in a lot of new talent to Lululemon -- especially from outside the company -- over the past year or so. How is that shaping Lululemon?
Potdevin: The team is a really interesting balance between people that have a lot of tenure and the Lululemon DNA. The people that came from the outside are just as good a cultural fit, but have a different set of experiences. For example, we just promoted Celeste Burgoyne to Executive Vice President, Retail, Americas, who has been with the company for over 10 years. My head of strategy, Vivian Yeung, has been with the company for quite some time as well. And Ken Lee started leading Asia a couple months before I came aboard, so I can't take credit for hiring him -- he is awesome. 
TheStreet: Some of the new hires seem to have a strong background in the luxury goods industry. 
Potdevin: I think we really pride ourselves on sitting at the high end of the market. I would be careful to say the word luxury because that industry could be fickle. But we are definitely at the premium end of the market. 
The mandate from a product standpoint is that we always feature function that is able to solve problems for athletes, some that they don't even know they have. When we do that, we actually succeed.
Lululemon's ambassadors remain a huge help
TheStreet: Is having athlete endorsements to promote Lululemon, such as the models used by Nike (NKE) - Get NIKE, Inc. (NKE) Report and Under Armour (UA) - Get Under Armour, Inc. Class C Report , completely off the table? 
Potdevin: I think we have 1,500 people endorsing our products via our brand ambassadors. We support their studios, we drive traffic to their studios, we support them with personal development -- and in turn they are a huge part of how we develop products and get into new categories. And I think that is an incredibly authentic way to engage with athletes. When they speak on our behalf, it's not because they get paid to do so, it's because they know the brand and love the product. 
When you think about millennials today they don't necessarily like or respond to the endorsements -- the endorsement model is past its peak strength. I think people might really love an athlete, who may be getting paid to wear the product, but I don't think it does as much for the brand as it has in the past.
The days of the brands telling you what to wear, when to wear it and how to wear it are gone. I think millennials will relate a lot more to bloggers and influencers, and our ambassadors. The ambassadors are the local heroes, you can see them, touch them and aspire to be them and I think that's really powerful. 
TheStreet: In making the rounds with analysts and bankers, what's the one misconception they still have about Lululemon? Is it that Lululemon only sells black yoga pants?
Potdevin: I think I put that on us. I think we can probably do a better job articulating who we are as a brand and what we stand for. We still hear the perception that we just sell expensive yoga pants. But when you look at the categories we are involved with -- from swim to run to Crossfit to dance -- you can see we are much more. 
We have done such an amazing job at grassroots marketing and in our local communities. We will be doing a lot more of this in the coming year and are also going to take those messages globally to make one powerful message.
TheStreet: From weak holiday sales to new store closures announcements from Macy's (M) - Get Macy's Inc Report and Sears Holding Corp. (SHLD) , the mall seems to continue to fall apart. Yet, there is Lululemon posting good holiday numbers. How does that happen?
Potdevin: Saying that the mall is falling apart it's a little bit of a shortcut, there are still many malls that are doing fairly well. The macro environment for traffic is challenged. I do think we will find an equilibrium at some point, but we aren't waiting for equilibrium to happen. We are trying to go where the traffic is.
We are focused on driving high quality traffic. If you were in our stores during the holiday season, they were packed. Our conversion was outstanding.
Yes, Lululemon does training gear
TheStreet: How do you get the guys business to $1 billion in sales by 2020?
Potdevin: I think it starts with giving the guys more permission to wear the brand, having more male educators in the stores. It's having a greater ratio of male ambassadors. It's really thinking that when building content, we think about how we want to target guys.
The product is there, and I really do feel our offerings continue to get stronger. We have the offerings to achieve those numbers. From the retail standpoint, I love what we are doing with our co-located formats such as the one in Flatiron NYC. We have a much larger percentage of the sales floor dedicated to guys here and other stores, and that's tremendous.
TheStreet: Do you see stand-alone Lululemon men's stores soon?
Potdevin: We have one in Soho in NYC, which is an interesting exercise. You have men's and women's stores right across from one another, so it's an interesting play. At some point I think there will be room for stand-alone men's stores, but the step in between is co-located stores because women still buy a lot of products for guys. Often, guys discover the products through women. I really like both genders being in the same environment.
TheStreet: What's up with your kids brand Ivivva, on the last earnings call it sounded as if you would be less focused on operating stand-alone retail stores.
Potdevin: It's interesting. If I had been around when Ivivva was created I would have probably called it Lululemon, because I feel as though the brand name Lululemon has the elasticity to target a younger audience as well. The Ivivva business is permitting us to do something very different.
We recently promoted an executive to be general manager of the brand, which is the first time Ivivva has had someone in this position. Her mandate is to be disruptive and grow Ivivva as quickly as possible. We want as many Ivivva young girls in North America as possible because they love the product, but also it's an amazing incubator for the Lululemon brand.  
Women are still Lululemon fanatics 
TheStreet: Lululemon has recently entered China and London, how has the expansion abroad worked out so far?
Potdevin: It's early. Both the stores in Shanghai and Beijing opened a week before Christmas. Right now, they are exceeding our expectations which is great. The locations are amazing. We have seen faster momentum in Asia than in Europe, but it doesn't really surprise me. I think the European customer is a bit more skeptical on new brands from North America. It takes a bit more time to develop a brand there. Once they adopt the brand, however, I think they are incredibly loyal. 
We are being patient. Nothing has changed in how I think about growth for each of those markets. 
TheStreet: What could the potential for Lululemon be in Asia?
Potdevin: We have said that by 2020, we see the international business being 25% of our total revenue. Honestly, the international opportunity is probably one of the most exciting factors in what brought me to Lululemon. I mean the rest of the world should be greater for us than North America. It won't happen overnight. 
TheStreet: Why are women so obsessed with Lululemon clothes?
Potdevin: I think that's where people have a misunderstanding of the brand. We aren't just a product company. It's really about the product and the experience. The quality of our people is equally as important as the quality of our products. I really think of ourselves as a tech company more than an apparel company. 
When we deliver innovation, we see no resistance to price points for new fabrics and designs. That loyalty is a result of our focus on our people in the stores and ambassadors.