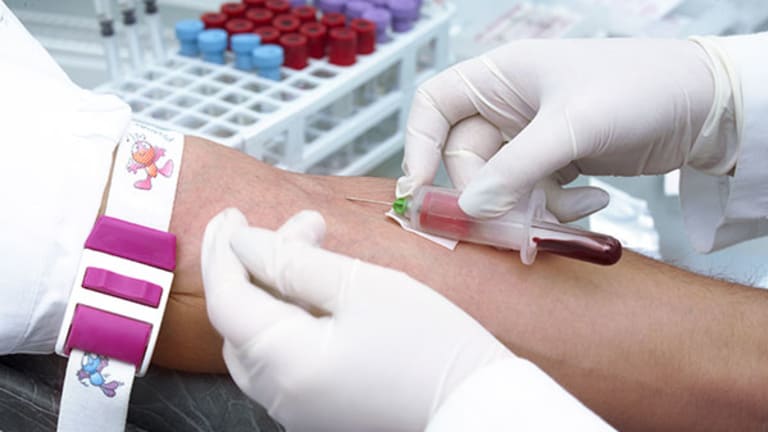 Loxo Drug Notches Strikingly High Response Rates in Genetically Defined Tumors
The Loxo data also represent another advance for precision cancer medicine, in which patients are treated with drugs that target specific tumor mutations, regardless of where the cancer originates.
CHICAGO -- Treatment with an experimental drug designed by Loxo Oncology (LOXO) - Get Loxo Oncology Inc Report to target a rare genetic flaw found across a range of cancer types demonstrated a response rate of 76%, according to results from a clinical trial announced Saturday at the American Society of Clinical Oncology annual meeting.
That's a strikingly high response rate, particularly in patients with advanced cancer, so notch these study results as a win for Loxo.
The data also represent another advance for precision cancer medicine, in which patients are treated with drugs that target specific tumor mutations, regardless of where the cancer originated in the body.
At Friday's $48.98 close, Loxo carried a $1.32 billion market value. The stock is up 82% over the past year. In early trading Monday the shares spiked to $70.33, a climb of $21.35 or43.59%
Loxo enrolled patients with 17 different types of advanced cancer into its clinical trial. All the tumors in these patients tested positive for the same genetic alteration called a TRK gene fusion, which acts like an "on" switch for cancer cells to grow. Loxo's drug, larotrectinib, targets TRK gene fusions and blocks that "on" signal.
TRK gene fusions are rare, occurring in 0.5% to 1% of common cancers. Loxo estimates between 1,500 and 5,000 patients in the U.S. have cancer with TRK gene fusions.
Loxo intends to submit larotrectinib to the FDA by the end of the year, or no later than early in 2018. The company will seek a "tissue agnostic" indication, meaning larotrectinib would be approved for any cancer that harbors a TRK gene fusion regardless of where the cancer is found in the body.
Years ago, seeking FDA approval for any drug based on tumor genetics alone would have been a risky strategy. But In May, the FDA granted the first-ever tissue agnostic drug approval to Merck's (MRK) - Get Merck & Co., Inc. Report checkpoint inhibitor Keytruda for patients with tumors containing one of two different genetic mutations. Keytruda was first approved for lung, skin, bladder and other organ-specific cancers.
"In anything regulatory, it's always nice to be second rather than first," quips Loxo CEO Josh Bilenker. "We have always had support and strong feedback from FDA so we were not really worried, but still, it's nice to see FDA do it for Merck," he added.
Forty-three adults and 12 children were enrolled in the Loxo clinical trial, all treated with larotrectinib, a pill taken twice per day. Results from 50 patients with confirmatory scans were presented Saturday at the ASCO annual meeting.
For these 50 patients, the overall response rate was 76%, including 12% complete responders and 64% partial responders. Median duration of response and median progression-free survival have not yet been reached, with 75% of all enrolled patients either still on drug or undergone surgery with curative intent. The longest duration of treatment response with larotrectinib to date is 25 months.
Investigators at each clinical trial site measured the response of their patients. Loxo plans to have all the patient scans reviewed independently as a requirement for FDA submission.
Normally functioning TRK proteins regulate neurons, so side effects of larotrectinib related to the central nervous system are being watched more closely. In the Loxo study, 22% of patients reported mild (grade 1) dizziness, with 2% of patients reporting more serious grade 3 dizziness.
Seven (13%) of patients required a dose reduction due to an adverse event, "nearly all" due to infrequent neurocognitive adverse events, Loxo said. No patients discontinued larotrectinib due to an adverse event.
"The clinical data are very strong, showing good efficacy for this inhibitor across different TRK fusion cancers," said Dr. Trever Bivona, an oncologist and professor of medicine at the University of California, San Francisco.
He added, "I think the caveat on these data are we're still relatively early in terms of numbers of patients but I think the data are very compelling and I think this will lead to an FDA approval for TRK-altered cancers, in my opinion." Bivona was not involved in the larotrectinib study but will be discussing the study results at the ASCO meeting later today.
Six patients in the study responded initially to larotrectinib but then progressed when their tumors mutated again and became resistant to the drug. Loxo studied samples of these growing tumors and found, in five of six cases, that the resistance to larotrectinib was due to same secondary genetic alteration known as a solvent front mutation.
Loxo is developing a second-generation TRK gene fusion drug known as LOXO-195 designed to target and block solvent front mutations.
Separate from Saturday's ASCO presentation, Loxo announced the publication of a research paper describing two patients with solvent front mutation tumors treated successfully with LOXO-195 under compassionate use protocols.
Assuming approval, larotrectinib peak sales could reach a range of $300 million to $600 million, according to some of Loxo's largest institutional investors. Getting a better understanding of larotrectinib's duration of response will help narrow that revenue projection range.
Loxo isn't providing a sales guess for larotrectinib, but CEO Bilenker says the company's biggest challenge will be to work with diagnostic companies and insurers to grow the number of patients who undergo testing to find tumors positive for TRK gene fusions.
"We think there is really one real risk remaining for this [larotrectinib] program that we have to execute against for the next several years. The risk is diagnostic testing and making sure patients with this rare genetic marker are identified," Bilenker said.
He adds, "For that to happen, you need patients going through the top of the testing funnel in the first place. So, to another all-tumor story puts the pressure on the lab community to say maybe we have to do more comprehensive testing for everybody."
Adam Feuerstein writes regularly for TheStreet. In keeping with company editorial policy, he doesn't own or short individual stocks, although he owns stock in TheStreet. He also doesn't invest in hedge funds or other private investment partnerships. Feuerstein appreciates your feedback; click here to send him an email.