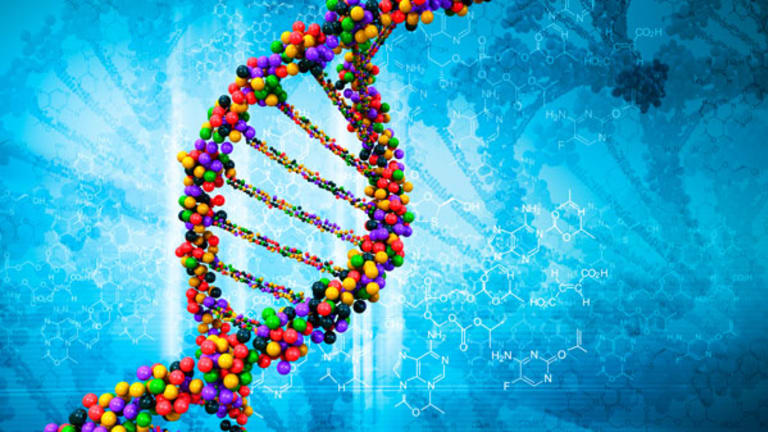 Loxo Cancer Drug Targets Gene Mutation With Durable Responses in Early Study
Six patients, all with TRK fusion cancers unresponsive to current therapies, reported tumor shrinkage following treatment with Loxo's drug LOXO-101.
Precision medicine applied to cancer works like this: A sample of a patient's tumor is analyzed on a molecular level, looking for genetic mutations in the cells known to cause cancer. Once identified, doctors can use drugs that target these specific genetic mutations to treat and hopefully kill the cancer cells.
Cancers and the drugs that treat them are still identified largely by the affected organ -- lung, breast, prostate, colon. If precision medicine takes hold in the future, cancer drugs will be developed and approved based on the genetic mutation they target, not the body part.
Loxo Oncology (LOXO) and Ignyta (RXDX) are presenting new data at a medical meeting Sunday on drugs designed to target a mutation known as TRK gene fusions found in a cluster of different anatomically identified cancers.
Results from Loxo's Phase I study are particularly striking, although with a small number of patients.
Six patients, all with TRK fusion cancers unresponsive to current therapies, reported tumor shrinkage following treatment with Loxo's drug LOXO-101.
Five of the six patients treated with LOXO-101 achieved independently confirmed partial responses. The sixth patient's tumor also shrunk but not enough to meet the criteria for partial response.
All six of the patients remain on study with no tumor growth for a minimum of seven months and as long as 14 months.
The tumor shrinkage was seen in five different anatomically defined cancers: sarcoma, gastrointestinal stromal tumor, mammary analogue secretory cancer of the salivary glands, thyroid cancer and non-small cell lung cancer.
A seventh patient, also with a TRK fusion cancer, was treated with LOXO-101 in the study but not enough time has passed for an evaluation of tumor response.
The same Loxo study enrolled an additional 36 patients with solid tumors that did not contain a TRK gene fusion, making it unlikely LOXO-101 would be effective. Sure enough, none of these patients responded to treatment with LOXO-101, providing additional evidence the drug is sensitive only to tumors with TRK gene fusions.
The new LOXO-101 data were presented at the American Association for Cancer Research annual meeting.
"We're seeing that TRK fusion cancers are very sensitive to LOXO-101 and they all seem to regress regardless of the context in which they're found," said Loxo CEO Josh Bilenker, in an interview ahead of Sunday's data presentation. "You can have a thyroid cancer or a lung cancer or a GIST cancer that has TRK fusion and they all seem to shrink with single-agent LOXO-101."
One of the jobs of a gene known as NTRK is to produce a TRK protein which help regulate neurons. But in rare instances, a part of the NTRK gene snaps off and becomes fused with another gene. The resulting fused gene produces a malfunctioning TRK fusion protein that acts like an on switch for cancer cells.
Loxo's LOXO-101, which was developed originally by chemists working for Array Biopharma (ARRY) , is designed to block the on signal made by the mutated TRK fusion protein.
Given that normally functioning TRK proteins regulate neurons, side effects of LOXO-101 related to the central nervous system are being watched more closely. In the Loxo study, 23% of patients reported mild dizziness. There was also reports of grade 3 delirium. No grade 4 adverse events were reported and Loxo says the frequency of toxicities did not correlate with dose level of LOXO-101.
Pfizer's (PFE) Xalkori is another example of a drug which acts against a different gene fusion producing the mutated protein ALK. Pfizer was able to run a relatively fast and small clinical development program to get Xalkori approved for ALK-positive non-small cell lung cancer in 2011.
Loxo intends to follow the Pfizer blueprint to secure approval of LOXO-101.
The company is conducting a Phase II "basket" trial enrolling patients with any type of solid tumor as long as it harbors a TRK gene fusion. All the patients, no longer responding to previous drugs, will be treated with LOXO-101 and followed for tumor shrinkage and duration of response.
Loxo CEO Bilenker believes a LOXO-101 objective response rate "north of 50%" that is also durable in the basket trial should be sufficient to win FDA approval. Loxo is still speaking with the FDA about the exact requirements for LOXO-101's approval, so Bilenker doesn't plan to provide specifics on the basket's study enrollment timelines until later this year.
The FDA approved Xalkori based on two, single-arm studies totaling 255 patients. The response rates were 50% and 61%, respectively, with duration of responses of 10 and 12 months.
Xalkori was approved for ALK-positive lung cancer. The drug's label was later expanded to include lung cancers containing a different mutated protein, ROS1.
Loxo's regulatory plan for LOXO-101, if successful, would cover any solid tumor containing the TRK gene fusion, making it a true genetics-based precision cancer medicine.
Ignyta is developing a similar drug known as entrecitnib except it targets tumors with three different gene fusions -- TRK, ROS1 and ALK. In an early stage study also presented Sunday at the AACR annual meeting, 13 of 18 patients treated with entrecitinib reported objective tumor shrinkage -- a response rate of 75%.
Responses were seen in three of four patients with TRK gene fusions. After a median of 11 months of follow-up, 11 of the 18 responding patients continued on the study without tumor regrowth.
Adam Feuerstein writes regularly for TheStreet. In keeping with company editorial policy, he doesn't own or short individual stocks, although he owns stock in TheStreet. He also doesn't invest in hedge funds or other private investment partnerships. Feuerstein appreciates your feedback; click here to send him an email.