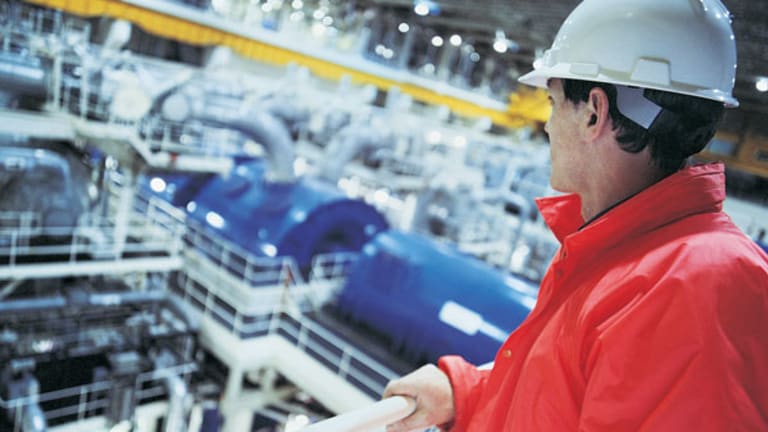 Lower Revenue Hurts Aixtron Earnings
The company's first quarter earnings dropped 7.4%.
Once these most recent quarterly results are finalized, they will be run through TheStreet.com Ratings' model and our ratings will be adjusted accordingly. To keep up to date on all of our ratings, visit TheStreet.com Ratings Screener.
On May 8, 2009,
Aixtron AG
(AIXG)
reported that its Q1 FY09 earnings declined 7.4%, hurt by lower revenue. Net income for the quarter stood at EUR 5.49 million or EUR 0.06 per share compared to EUR 5.93 million or EUR 0.07 per share in the prior year's quarter.
Total revenue plunged 26.2% to EUR 46.22 million from EUR 62.59 million a year ago due to lower revenue across segments. Sales of silicon semiconductor equipment plummeted 97.6% to EUR 0.20 million from EUR 8.30 million, while sales of compound semiconductor equipment and other equipment dropped 12.3% to EUR 41.90 million from EUR 47.80 million in Q1 FY08. Moreover, other products sales declined 36.9% to EUR 4.10 million from EUR 6.50 million in the year-ago quarter. Geographically, revenue from Asia plunged 39.5% to EUR 31.40 million from EUR 51.90 million. Revenue from the U.S. halved to EUR 3.30 million from EUR 6.60 million a year earlier. On the positive side, revenue from Europe more than doubled to EUR 11.50 million from EUR 4.10 million on a year-over-year basis. Finally, cash flow from operating activities stood at EUR 13.35 million, down 18.8% from EUR 16.43 million in Q1 FY08.
Recently, Aixtron AG received an order for two new MOCVD systems from the Changchun Institute of Optics, which is based in China. Also, the company received an order from the National Taiwan University for a Close Coupled Showerhead MOCVD system. As of March 31, 2009, the company had an order backlog of EUR 100.70 million. Management plans to recommend payment of a dividend of EUR 0.09 per share, in a shareholders' meeting scheduled for May 20, 2009.
The company expects its FY09 revenue to be in the range of EUR 200.00 million to EUR 220.00 million and EBIT margin of 10.0% to 11.0%.