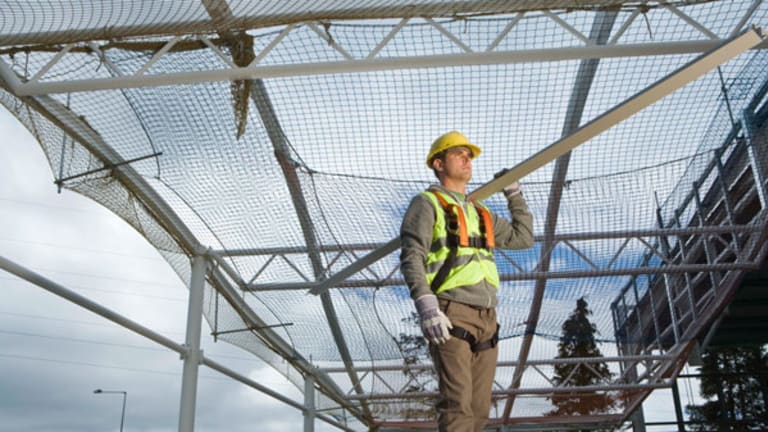 Lower Expenses Help Boost Dycom
The company's net income grew more than 10% in its third quarter.
Once these most recent quarterly results are finalized, they will be run through TheStreet.com Ratings' model and our ratings will be adjusted accordingly. To keep up to date on all of our ratings, visit TheStreet.com Ratings Screener.
On May 19, 2009,
Dycom Industries
(DY) - Get Dycom Industries, Inc. Report
reported that its Q3 FY09 net income grew 10.3%, helped by lower expenses and one-time gains. Net income increased to $7.60 million, or $0.19 per share, from $6.89 million, or $0.17 per share, in Q3 FY08. Loss from continuing operations included a pre-tax gain of approximately $1.70 million related to the buyback of $10.00 million aggregate principal amount of the company's senior subordinated notes due 2015. On a non-GAAP basis, income from continuing operations was $5.01 million, or $0.13 per share, compared to $5.55 million, or $0.14 per share, in the year-ago quarter. The quarter results beat the consensus estimate of $0.04 per share.
Total contract revenue from continuing operations declined 12.2% to $257.72 million from $293.44 million in the year-ago period due to reduced customer spending in a tough economic environment. Cost of earned revenues, excluding depreciation and amortization, slipped 13.7% to $206.73 million from $239.60 million. Meanwhile, general and administrative expenses inched down 2.8% to $24.28 million from $24.97 million a year ago. Depreciation and amortization costs decreased 6.6% to $16.16 million from $17.30 million. Interest expenses increased 1.7% to $3.16 million from $3.11 million in the prior year quarter. Finally, interest income dropped to $60,000 from $238,000 in Q3 FY08.
Cash and cash equivalents more than tripled to $78.76 million from $22.07 million in the same quarter of last year. Shareholders' equity dropped 13.8% to $382.76 million from $444.09 million, while long-term debt decreased 10.3% to $135.49 million from $151.05 million. As a result, the debt-to-equity ratio improved to 2.83 from 2.94 a year ago.