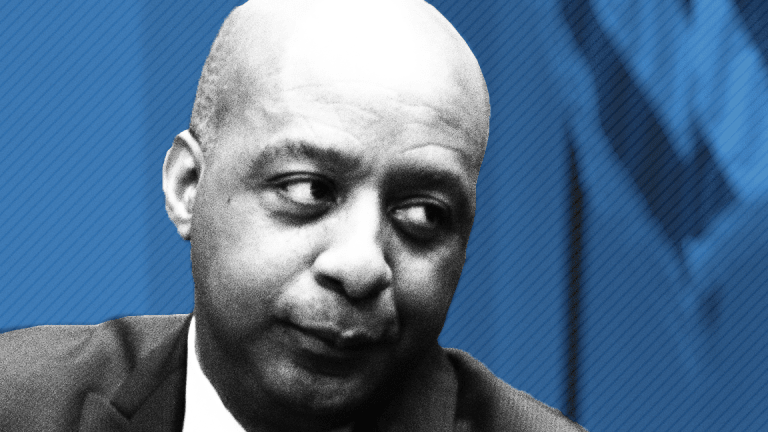 Lowe's Taps Home Depot Veteran As New CEO
The insurgent behind Pershing Square accumulated about $1 billion worth of shares. He also backs Marvin Ellison, a Home Depot veteran tapped to be the company's next CEO. Ellison is taking on the company that he helped build into a powerhouse.
The insurgent behind Pershing Square accumulated about $1 billion worth of shares. He also backs Marvin Ellison, a Home Depot veteran tapped to be the company's next CEO. Ellison is taking on the company that he helped build into a powerhouse.
Now we know why Lowe's Co. (LOW) - Get Report  shares soared by 9% on Wednesday, May 23, even though they should have crashed and burned on a second consecutive quarterly earnings miss announced earlier in the day.
Bill Ackman's Pershing Square LP on Wednesday accumulated $1 billion worth of the home improvement retailer's shares. Ackman, who reportedly revealed the position at a conference in New York on Wednesday, suggested that he supports the company's incoming CEO, Home Depot veteran Marvin Ellison, who was tapped by the retailer on Tuesday.
That make's Ackman the second insurgent manager involved in Lowe's, all of which suggests a wolf pack of activist hedge funds could be forming.
Activist-pressured Lowe's Corp (LOW) - Get Report  on Tuesday, May 22 set its sights on Home Depot Inc. (HD) - Get Report , saying said it's was snagging Marvin Ellison, the current CEO of J.C. Penney (JCP) - Get Report , as its new chief executive.
The news comes one day ahead of the home improvement giant's first-quarter earnings announcement and follows a key January settlement between the retail giant and an up-and-coming activist hedge fund.
As part of that deal with the insurgent fund, D.E. Shaw & Co., Lowe's agreed to add a three-director minority-slate of director candidates to its board. The agreement coupled with poor fourth-quarter results contributed to the ouster of the previous CEO, Robert Niblock, in March.
A key reason Ellison was chosen for the job: His experience at Lowe's number one rival, Home Depot. Ellison spent about 12 years at Home Depot, in various senior roles, until 2014, including a stint as executive vice president.
"Ellison is well regarded, and this is a positive for Lowe's especially at a time when Lowe's is looking to improve store productivity," said Alvaro Lacayo, an analyst at Gabelli & Co. "At Home Depot, Ellison was in charge of making sure stores were running efficiently, and productivity per square foot increased substantially between 2008 and 2014 and beyond."
Securities filings show that during Ellison's four years as executive vice president for U.S. Stores, between 2008 and 2014, sales per square foot rose to $352.22 by 2014 from $299.53 in 2008. He's also recognized for his role in improving Home Depot's supply chain.
According to analysts, he had been on the short list to succeed the chain's departing CEO Frank Blake, in 2014. In the end, Craig Menear replaced Blake and, now, Ellison is taking on the company that he helped build into a powerhouse.
Interestingly, Ellison and one of the three dissident directors D.E. Shaw installed in January, David Batchelder, have a history of working together at Home Depot. According to relationship mapping service BoardEx, a service of TheStreet, Ellison, and Batchelder both worked at Home Depot between 2008 and 2011. An activist himself as co-founder of the now-defunct Relational Investors, Batchelder in 2007 lead the charge that drove out Home Depot CEO Robert Nardelli, in a very public, highly-publicized battle. He subsequently obtained a position on Home Depot's board. 
And Batchelder had a crucial role in bringing Ellison to Lowe's, considering that the two worked together at Home Depot and that Batchelder led the retailer's board search committee for a new CEO. It is likely that D.E. Shaw insisted that Batchelder is installed as chief of the board subcommittee set up to find a new CEO as part of its settlement agreement. 
"He [Batchelder] definitely was influential and played an important role in the decision process that led to bringing on Ellison," said Lacayo. 
Batchelder was in the trenches with Ellison and then CEO Blake working on improving productivity at Home Depot between 2008 and 2014, according to a person familiar with the situation. Ellison and Batchelder knew each other well during that time, he added.
Ellison's experience with Batchelder at Home Depot is critical since a key goal of both the activists and Lowe's is to close the margin gap with their much bigger rival. That appears to be a big chore considering that rising U.S. home prices favor Home Depot, which beat expectations in February and generally has more stores in better locations.
One issue: Lowe's has roughly the same amount of stores and square footage as Home Depot, and both spend about the same on employees. However, Lowe's has about one-third of its rival's enterprise value. Also, Lowe's spends more per store than Home Depot.
Ellison had mixed success during 3.5 years as chairman and CEO of J.C. Penney Co. Inc. (JCP), though he cut costs and oversaw the rollout of the chain's move into major appliances. J.C. Penney's shares plunged following the announcement Tuesday, trading down 8% to $2.30 a share in pre-market trading. Lowe's shares jumped up on the move, trading 3% higher to $90 a share in pre-market trading.
Lowe's moved in March to replace Niblock after the chain in February announced that it had missed fourth-quarter earnings expectations. At the time The Deal reported that the miss suggested that the activist investors on the company's board would have more influence in the company's future.
Brian Sozzi contributed to this article.
Editor's note: A complete version of this was published by The Deal, a sister publication of TheStreet that offers sophisticated insight and analysis on all types of deals. Click here for a free trial.