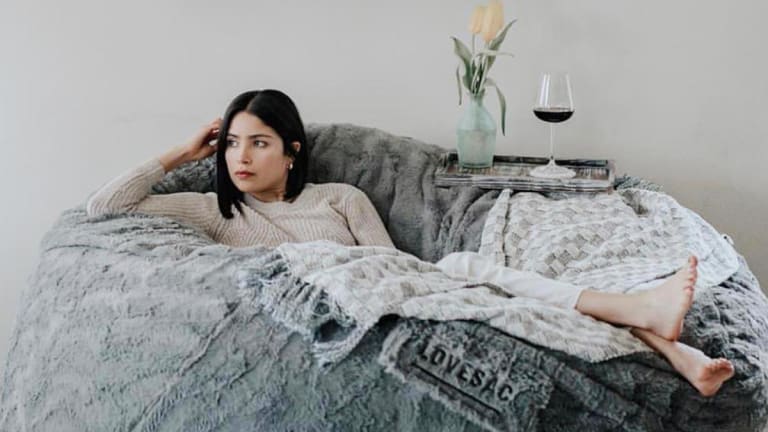 Lovesac CEO: Public Markets Are Kinder to High-Growth Firms Today
Lovesac soars more than 30% on the day of its initial public offering. CEO Shawn Nelson tells TheStreet why now is the best time to list shares.
Lovesac soars more than 30% on the day of its initial public offering. CEO Shawn Nelson tells TheStreet why now is the best time to list shares.
Wall Street looks to be taking the newest ticker symbol on the Nasdaq quite literally.
The Lovesac Co., which began trading Wednesday, June 27, under the apt ticker (LOVE) - Get Report , jumped more than 34% by midday after its initial public offering. The company designs, manufactures and sells high-tech modular furniture geared toward a high-earning millennial crowd.
But initiating public trade in a market that's barely eked out gains year to date is a harrowing prospect, right? Wrong, according to Lovesac CEO Shawn Nelson. 
Nelson told TheStreet that now -- even as the stock market teeters -- is the time for a company like Lovesac to hit the public markets. According to Nelson, "There aren't a lot of direct-to-consumer companies out to dominate a category on the public markets yet. There are plenty of them still private and lots of unicorns. But Lovesac is one of the first."
Nelson noted that his company will have an easier time aligning values with traders on Wall Street than it might in the private equity or venture capital markets. Nelson noted that, on an adjusted basis, Lovesac is EBITDA positive. That's a stark contrast to some of the company's startup peers, which Nelson said have recently adopted the preference to "just burn through cash."
While it registered a net loss of about $5.5 million, Lovesac had about $9.2 million in cash and cash equivalents at the end of the last fiscal year.
"It's a great time in the economy but more importantly as financial markets go ... the valuations and the way that companies are being valued and looked at through that lens is not always as favorable to businesses like ours as the public market were," Nelson said. "What the public investors value is very much in line with what we do."
In its prospectus filed with the Securities and Exchange Commission, Lovesac said it had $101.8 million in net sales for the year ended Feb. 4, 2018. That's up about 33% from a year earlier. 
About $77.8 million of the last year's sales were attributable to Lovesac's showrooms, a network of 68 locations at top tier malls and lifestyle centers in 29 states in the U.S. But Nelson was quick to explain that those shouldn't be grouped in with traditional bricks-and-mortar classifications. 
"We are neither an e-commerce true play or a retail company at all," Nelson said. His company makes sales in showrooms, but all pieces are delivered to customers' homes, usually using FedEx Corp. (FDX) - Get Report . Because it operates through successful showrooms, growing online sales and a series of pop-up locations at Costco Wholesale Corp. (COST) - Get Report locations throughout the U.S., Lovesac isn't being eaten up by the much-feared Amazon.com Inc. (AMZN) - Get Report "Amazon effect."
"Amazon or Wayfair Inc. (W) - Get Report cannot deliver a high end sectional in a box like we can," Nelson said. "We just allow people to touch, feel and sit. They can buy sitting there in the store or they can go home and buy online."
Lovesac also said in its prospectus that its key customer makes at least $100,000 a year, has high purchasing tendencies, has or plans to have kids and is aged between 24 and 45 years. The brand has subsequently resonated well with highly sought-after millennials, Nelson said. 
"The top two years of the millennial cohort at this moment just resonate with our brand. It's not your mom's Pottery Barn," Nelson said. "Lovesac's appeal as a brand also appears with the youngest millennials. We show up at Coachella, at the X Games. You name it. It's not strange for Lovesac to be there but it might be strange for Pottery Barn to show up there with a bus."
While Nelson said his company is "absolutely" open to growing its brand through mergers and acquisitions, it's "not on the road map in the near term." Should Lovesac commit to an inorganic growth strategy, Nelson said, any target would have to align with its ideals geared toward sustainability and brand awareness -- "designed for life," as he calls it.