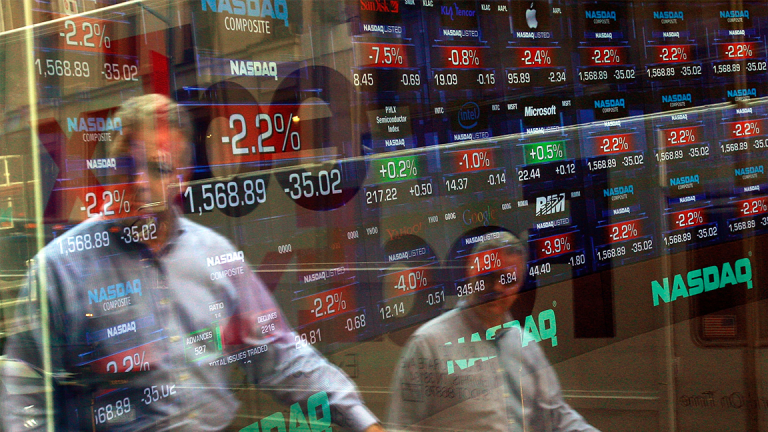 Blockchain Stock Longfin Halted Yet Again After Shares Soar Another 47%
Nasdaq halts trading 'pending receipt of additional information.' Meanwhile, the SEC has placed an emergency freeze on $27 million in stock sales.
Nasdaq officials halted trading in blockchain company Longfin Corp. (LFIN)  on Friday morning after shares rose another 47% despite growing questions about the firm. The exchange stopped Longfin trading under reason code T12, under which "trading is halted pending receipt of additional information requested by Nasdaq."
The Securities and Exchange Commission on Friday placed an emergency freeze on $27 million in stock sales for Longfin, which it called a "purported cryptocurrency company." According to SEC litigation documents, Longfin CEO Venkata Meenavalli allegedly caused the company to issue more than two million unregistered restricted shares to Longfin corporate secretary and director Amro Altahawi.
The SEC document also alleges that Meenavalli caused the company to issue what could be tens of thousands of restricted shares to two other Longfin affiliates, Suresh Tammineedi and Dorababu Penumarthi.
The halt represents the fourth time the stock has been halted this week after days of volatility that saw Longfin rise 64% Thursday on about 6.4 million shares of volume. That's way above LFIN's average daily volume of just 560,000 shares.
Thursday's gain was the largest single-day boost for the stock since Dec. 18, when Longfin rose as much as 549% after acquiring Ziddu, a smaller firm focused on blockchain-technology solutions and microlending.
The stock surged another 46.8% Friday morning to $28.10 before the latest trading halt, but Longfin started the week on a downward trajectory after disclosing Monday that it's facing an SEC probe. The company said the SEC's Enforcement Division is investigating trading in Longfin stock and has requested documents related to the company's initial public offering and Ziddu acquisition.
LFIN has also caught the eye of short sellers. About 14.6% of Longfin's float was shorted as of Thursday, and noted short seller Andrew Left's Citron Research tweeted recently that the SEC "should not be far behind" the company's meteoric rise:
Longfin has already has a wild ride since listing on the Nasdaq just four months ago. It acquired Ziddu in December, was tentatively added to the Russell 2000 in February, but was removed from the index in March. This month, the company disclosed the SEC investigation. 
LFIN also soared 17% on Wednesday after CEO Venkat Meenavalli told CNBC that he's holding onto his shares for three years and was going to "write the SEC and [regulatory agency] FINRA" in the ongoing battle against short sellers like Left.
"We got information, we have a special investigation. ... According to us, there are 28 billion shares shorted of [a] $1.4 billion bet against me," Meenavalli said. "The guys are going to destroy us. I'm fighting here."
But according to S3 Analytics, those shorts aren't what the problem is.
"Unfortunately, LFIN's short activity does not back up Meenavalli's narrative, and this is yet another example of blaming short sellers for long-shareholder selling activity," S3 wrote in a research note. "In fact, the greatest increase in short-selling occurred during the largest sustained upswing in LFIN's stock price."
S3 pointed out that from March 7 to 23, Longfin's short interest increased by 760,587 shares, or 204%, while its stock price rose by $36.06, or 112%. On the flip side, when Longfin's stock price decreased by $59.09, or 84%, its shares shorted decreased by 138,505 shares, or 12%.
"Longfin is comparatively a lightly shorted security; with over $1.2 billion of market cap, its short exposure has never topped $100 million," S3 wrote.
The massive price move Thursday came as the "longs are bidding up LFIN's price yet again," the firm wrote. "LFIN looks like a momentum-stock play, and we can expect wild price swings as long demand ebbs and flows at different stock-price points without the counterbalance of active short-selling in the name."
(This story has been updated with Friday's price action and trading halt.)
Watch all of Jim Cramer's full NYSE live shows right here: