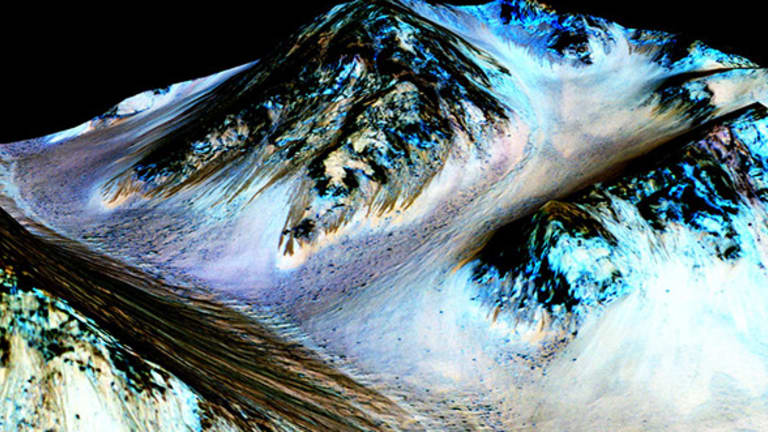 Lockheed Unveils Plan to Send Earthlings Into Space to Live on a Mars Base Camp
Yes, you read that right. Lockheed Martin wants to send humans to Mars, and it wants to do it in a decade.
Lockheed Martin Corp. (LMT) unveiled plans for a Mars Base Camp alongside a timeline for sending humans to the Red Planet in about a decade at the International Astronautical Congress in Australia.
Lockheed said in a statement late Thursday, Sept. 28 that the Mars Base Camp will be a "sound, safe and compelling mission architecture centered around an orbital outpost where scientist-astronauts can perform unprecedented, real-time scientific exploration of the Red Planet."
Lockheed's announcement was made at the same event Tesla Inc. (TSLA) and SpaceX CEO Elon Musk showed how interplanetary rocket systems could be used for long distance travel. 
"Sending humans to Mars has always been a part of science fiction, but today we have the capability to make it a reality," Lockheed VP and general manager of commercial civil space Lisa Callahan said. The aerospace and security firm is partnering with NASA to leverage hardware already in development and production.
Lockheed's Mars Base Camp and corresponding plans for Mars expeditions are in line with NASA's Deep Space Gateway program, which will send astronauts to live and work in cis-lunar space for months at a time to gain experience with "extended operations far from Earth" before being sent to Mars. The Mars Base Camp would eventually be built at the Deep Space Gateway before being sent to the planet.
The Mars Base Camp program will start with an orbit and then build up to a landing. The surface missions could last for two weeks with up to four astronauts who perform missions around the Red Planet before returning to the orbiting Mars Base Camp unit for refuel.
Lockheed stock traded close to flat in early trading Friday.
More of What's Trending on TheStreet: